Hello there and welcome!
Thanks for stopping by. It's just a quiet, stormy evening here in Galax. In the Blue Ridge Mountains if you don't like the weather just wait five minutes. Sheets of rain are pouring across the roof of our country house…the woodstove is making crackling sounds and pops occasionally. It is calm.
It's moments like this I realize how fortunate we are. I sincerely wish that some of this peace and calm can be spread to others who need it around the world.
Carl and I have recently returned from our Southern travels to Louisiana, Alabama, Georgia and Texas. We danced at Texas dance halls, tasted Boudin, taught at the Alabama Folk School - what a wonderful time! In fact, that was the wind-up of ten amazing music camps we taught at this summer and fall. We look forward to these resuming next year and you will find us at Kaufman Kamp, Rocky Mountain Old-Time Fest, Swannanoa, American Banjo Camp, the Alabama Folk School again and others.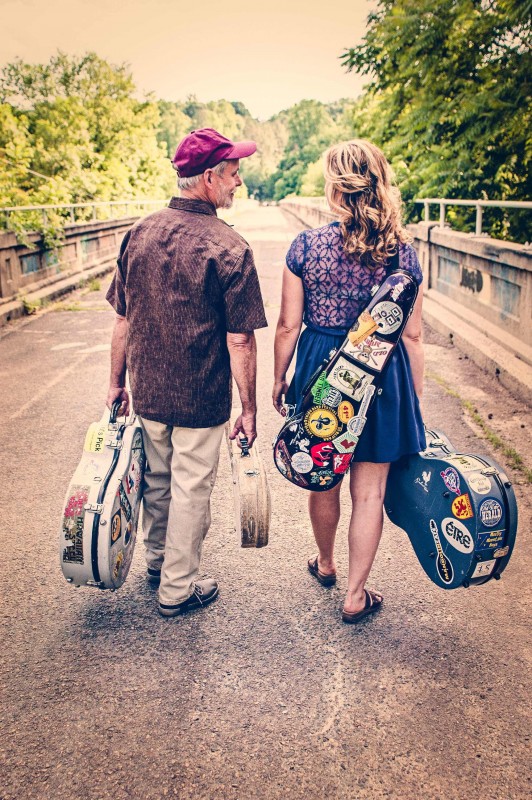 Carl and I are also excited to be traveling to Canada this winter, California in early spring and the United Kingdom (Ireland, Wales and England) for a month starting late March. It will be especially fun to collaborate with Mick Moloney and Athena Tergis on a couple of shows at the Freight & Salvage (Berkley, CA) & Star Theater (SF). We can't wait! 2016 is shaping up to be another wonderful year of music ahead in many of our favorite places in the world and we hope to see you - our friends along the way.
On the recording front we are both dreaming of making new albums… Erynn a recording of all original tunes, Carl is still up in the air on what he would like to tackle next but it will surely be good. Any instrument in his hands still turns to gold.
Hard to believe it will soon be Christmas and all the outdoor festivals just a memory. Warm hearths, good company and cozy, indoor, music sessions will be the new norm. In your home, we hope you will find time to enjoy music, be around family and reflect on how much beauty is around us everyday in the world. We are certainly grateful of so much – especially visitor's like you. Thanks for your interest in what we do and for supporting our music! It allows us to keep traveling the world to share it. Happy Holidays everyone.
Best Wishes, Erynn and Carl
November 19, 2015
p.s. For holiday gift ideas we have many CDs, instructional DVDs, a book and more at our website: www.Dittyville.com
Also here is a video we just made on our new Dittyville youtube channel:
---
2 comments on "Erynn Marshall & Carl Jones - News Nov 19, 2015"

dbrooks Says:
Friday, November 20, 2015 @3:31:58 PM
Another great update, Erynn. Glad to see you so active with your teaching and playing.

ITACUD Says:
Wednesday, December 2, 2015 @4:53:33 PM
Glad you passed thru Alabama and we enjoyed the show.
You must sign into your myHangout account before you can post comments.