---
20 O'Carolan Irish Classics for 5-String Banjo and All Instruments has standard notation and chords. Each tune is played twice on the audio downloads which use the same chords as the transcriptions (also tab). This is my fourth collection (books, eBooks and audio) demonstrating Irish and #Celtic fingerstyle #banjo. Please find them in the Mel Bay catalog under Author.
20 O'Carolan Irish Classics for 5-String Banjo and All Instruments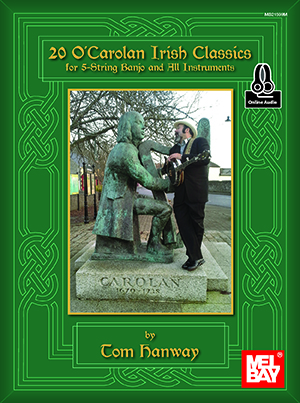 Product Description: O'Carolan's best-loved harp tunes are notated in a contemporary style that makes them accessible to all instrumentalists. This ideal collection with accompanying audio lays bare 20 classic Irish compositions for melody and backing players using standard notation and chords. For all 5-string banjo players, fretting and picking-hand fingerings are included in the transcriptions which match the play-along tracks. This is Hanway's fourth collection demonstrating Celtic fingerstyle banjo in G tuning. It is part of a Celtic 5-string series that includes Mel Bay's Easy Irish and Celtic Tunes for 5-String Banjo: Best-Loved Jigs and Reels (2012) and Mel Bay's Easy Irish and Celtic Melodies for 5-String Banjo: Best-Loved Airs and Session Tunes (2013). Tom Hanway's pioneering work, Mel Bay's Complete Book of Irish & Celtic 5-String Banjo (1998), was acclaimed by Bluegrass Unlimited magazine (1999) "as 'the bible' for any 5-string player with an interest in this joyous music." The current collection breathes life into the Gaelic classical melodies of Ireland. Access to online audio download.

Note: I researched this collection for well over a decade while living here in Ireland, and I have been delving into Carolan tunes on guitar since the '80s. It's intended for anyone who reads tab or standard, and also those who want to back the tunes (with safe chords in mind). It's for everybody who wants to go back in time and add something of their own to the music.
Each tune is played twice through on the mp3 audio download, which matches the transcriptions note for note and chord for chord. I recommend getting the recording: Carolan harp tunes are quite extraordinary in their simplicity, with hints of the Baroque.
For serious students, I wrote Notes to the Tunes, discussing origins, anecdotes, and playing techniques in detail. I included all my bibliographic sources as well. This newest collection is Celtic fingerstyle banjo taken to a new level.
20 O'Carolan Irish Classics for 5-String Banjo and All Instruments
---
4 comments on "20 O'Carolan Irish Classics for 5-String Banjo and All Instruments"
Tom Hanway Says:
Wednesday, October 14, 2015 @10:15:09 AM
Mel Bay Publications, Inc. released this (Mel Bay 21599) as a book, also as an eBook, both with online audio. All four of my ‪Celtic‬ tune collections are now found in the online catalog under 'Irish/Celtic' and 'Banjo: 5-String', also under 'Author', and I couldn't be happier about it. I'll be following up on this with online lessons.

AllanJ Says:
Saturday, October 17, 2015 @3:35:48 AM
About time too, Tom - I've been waiting for a follow up to the lovely setting of Planxty Irwin from the first book!
Tom Hanway Says:
Monday, November 23, 2015 @2:22:15 PM
Thank you for writing Allan. I've been at this for donkey's years, as you know. You're going to love this collection. As I explain in the Notes on the Tunes, this rendition of 'Planxty Irwin' (Colonel John Irwin) adds ornamentation throughout, leaning into principal melody notes using chord arpeggios, giving the tune a Baroque feel. I used similar embellishments for a lot of the tunes, including grace notes, mordents, and generally ornamenting tunes in Baroque fashion.The collection is both Baroque and Celtic in scope, and the tunes are working at sessions. (I picked the popular ones right off the bat.)

AllanJ Says:
Wednesday, November 25, 2015 @11:35:13 AM
Just got the 'e' book, looking forward to learning some tunes from it. I like the notes (pardon the pun) which accompany the tab (and std notation too - great!).
You must sign into your myHangout account before you can post comments.