20 O'Carolan Irish Classics for 5-String Banjo and All Instruments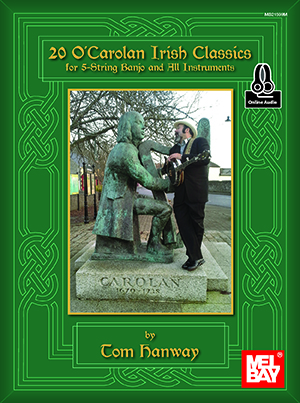 O'Carolan's best-loved harp tunes are notated in a contemporary style that makes them accessible to all instrumentalists. This ideal collection with accompanying audio lays bare 20 classic Irish compositions for melody and backing players using standard notation and chords. For all 5-string banjo players, fretting and picking-hand fingerings are included in the transcriptions which match the play-along tracks. This is Hanway's fourth collection demonstrating Celtic fingerstyle banjo in G tuning. It is part of a Celtic 5-string series that includes Mel Bay's Easy Irish and Celtic Tunes for 5-String Banjo: Best-Loved Jigs and Reels (2012) and Mel Bay's Easy Irish and Celtic Melodies for 5-String Banjo: Best-Loved Airs and Session Tunes (2013). Tom Hanway's pioneering work, Mel Bay's Complete Book of Irish & Celtic 5-String Banjo (1998), was acclaimed by Bluegrass Unlimited magazine (1999) "as 'the bible' for any 5-string player with an interest in this joyous music." The current collection breathes life into the Gaelic classical melodies of Ireland. Access to online audio download.

Note: I researched this collection for well over a decade while living here in Ireland, though I had been delving into Carolan tunes on guitar since the '80s. It's designed for everyone who can read standard, or tab, or who simply wants to back the tunes (on any instrument).
Each tune is played twice through on the recording, which is an optional download that matches the transcriptions note for note and chord for chord. I recommend getting the recording: Carolan harp tunes are not simple fiddle tunes, with hints of the Baroque.
For musicologists and serious students, I wrote Notes to the Tunes, discussing origins, anecdotes, and playing techniques in detail. I included all my bibliographic sources as well. I daresay, it's my crowning achievement in Celtic fingerstyle banjo.
Mel Bay link: 20 O'Carolan Irish Classics for 5-String Banjo and All Instruments
---
Be the first to comment on "20 O'Carolan Irish Classics (MB21599M)"
You must sign into your myHangout account before you can post comments.