I own many many many [TOO MANY!] custom instruments. I love custom instruments, even ones that weren't initially built for me.
The first quality banjo I ever bought was built for me by Wyatt Fawley and it's been a steady descent into BAS-madness ever since. Anyway, I could write long missives about all the builders I have worked with (Fawley, Romero, Delfield, Vance, Ball, Fielding, Carson, Anderson, Lewis) but I figured I'd at least start things off with the person whose work and style I am most familiar with: Douglas Unger. I've been aware of Doug at least as long as I've been obsessed with the banjo - running across his stunning creations at Bernunzio's in the early 2000s while internet browsing. I was a bluegrasser then but even so, I'd still stop for a long minute to marvel at how such things were made - heel carvings, engraved pearl and all around impeccable craftsmanship. Even then, I secretly liked that old time bling. Fast forward a decade to my being corrupted by Bill Anderson's pictures of his collection and an email discussion about Chubby Dragons. Bill suggested that if I didn't want to foot the bill for a vintage Bacon FF (10K or so) I should contact Doug. For some reason, I figured Doug only worked with fancy folks who were in the inner circle, but Bill encouraged me. So I called Doug and told him I had a Bacon FF pot and I wanted a Chubby Dragon neck. Doug was immediately a thrill to talk to - stories about my favorite players, festivals, and of course, banjo geekery. He also seemed enthused (or at least pleasantly willing) about all my specs. The results of that banjo are here:
http://www.banjohangout.org/myhangout/photos.asp?id=6055&albumid=7054
Here is the thing about luthiers, they get a bad (and somewhat deserved, if my experience serves) reputation, for not working on a tight schedule or on much of a well documented financial basis. I had a guitar builder visiting last week and he responded with the excuse of 'artistic temperament'. Well, whatever it is, it can be very frustrating. Doug must be the exception that proves the rule then. He works frighteningly quickly and has never ceased to exceed the timeframe he'll roughly estimate at the outset of a project. How does he do it? Well, Doug is more expensive than the others in his realm (that small group of folks who know how to engrave pearl and craft instruments as well as or exceeding the turn of the century Boston masters). But as the old saying goes, you get what you pay for and when you have Doug do work for you, you get the very best and you get it not just in a reasonable time but FAST. So far, he's converted the Bacon FF, an 11 13/16" Tubaphone, an 11 13/16 Whyte Laydie, a Fairbanks Piccolo, a Dobson, and 11" Tubaphone and he's got an SSS Pot right now! I must like something about this guy's work!
http://www.banjohangout.org/myhangout/photos.asp?id=6055&albumid=9712
These banjos don't just look pretty. Doug builds necks that are as alive as his inlays. They jump and shout and kick out those notes. Responsive and musical. Not every neck builder knows how to do it. Check out this album to see how long (40 + years) that Doug's been at it.
http://www.banjohangout.org/myhangout/photos.asp?id=6055&albumid=9716
I am also proud to call Doug a friend. He and his amazing wife Lois have welcomed my entire family into their home for a visit to Peninsula. I could have spent a year there! Picking Doug's brain, seeing all the incredible things (instruments, art, birthday 'cards') that Doug creates - it was a real highlight of my banjo life. One of the things that I love and respect Doug for most is his willingness to help other builders. A Japanese Uke builder had just spent a long weekend in Peninsula - one of so many mini-apprentice workshops that Doug does for people. Did I mention that of the hundreds of banjos and necks that Doug has built (not to mention mandolins, pocket mandolins, guitars, etc) Doug as a painting professor for 30 + years?!! Inexhaustible. Anyway, I'm exhausted after writing this. Even if you like plain banjos built in the spirit and with the quality of Fairbanks - Doug is without peer. He's a ridiculous pleasure to work with and a great guy to boot. He's not just a banjo builder, he truly is an artist of the highest caliber.
---
10 comments on "The Magnificent Doug Unger"

frailin Says:
Thursday, September 17, 2015 @3:53:16 PM
Amen!


Bill Anderson Says:
Thursday, September 17, 2015 @5:40:01 PM
Well stated Blake. Professor Douglas Unger has it all. He is a treasure to the banjo world.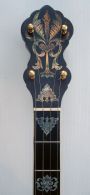 atleson Says:
Tuesday, September 29, 2015 @11:57:44 AM
Blake, I certainly agree with your views about Doug's work. Nice fellow, wonderful craftsman.


Viper Says:
Tuesday, September 29, 2015 @12:36:53 PM
Nice write-up! I'm jealous of your Unger collection. One day I'll save up enough to get one. Cheers!

Greg Galbreath Says:
Tuesday, September 29, 2015 @2:34:57 PM
A agree completely! Doug is definitely the best pearl engraver alive today and also one of the nicest people you'll ever meet.


BanjoBuddy-1 Says:
Tuesday, September 29, 2015 @5:18:25 PM
First and foremost, Doug is a great guy; knowledgeable about banjos, willing to share information, train others, and builds each instrument as a work of art.

allan41 Says:
Tuesday, September 29, 2015 @7:05:41 PM
Blake, I have found Doug to be everything that you said he is. My new Whyte Laydie neck is on his bench right now. Allan

Andy B Says:
Tuesday, September 29, 2015 @7:59:13 PM
Doug builds wonderful mandolins as well. His F4s from the 80s have a vintage vibe while at the same time being totally unique Doug Unger creations.

Gordy Ohliger Says:
Friday, October 2, 2015 @12:08:15 PM
. I am so jazzed to read this! I've heard nothing but good things about him and his work. A friend is having him do a custom neck and he is just whooping and glowing after talking with Doug. He phones me immediately afterwards...
. I'm one of those fellows that are hooked on Vintage...but if the need arises, Mr. Unger would be the guy to go to.

Bill Anderson Says:
Friday, October 2, 2015 @12:18:50 PM
You guys will want to join the Banjo Hangout group "Douglas Unger Banjos - fans and owners".
You must sign into your myHangout account before you can post comments.