While on holiday in NY (July 2015) I did the final proof for my fourth Irish and Celtic banjo book with Mel Bay Publications, Inc. The Master recording for 20 O'Carolan Irish Classics for 5-String Banjo and All Instruments was sent to the publisher earlier this year, mastered by Jon Gordon Music Productions in NYC. Every tune is played twice through and exactly matches everything in the transcriptions. The book and companion audio will be released later this year. I hope students have as much fun learning these tunes as I did in presenting them for serious creative endeavour.

I gave this 100% from start to finish, and come to think of it, I've been playing Carolan's tunes for over a quarter of a century. That's a long time to be experimenting with variations for Sí Bheag, SÍ Mhór (Sheebeg and Sheemore). I have made the transcriptions as easy to play as is practicable, considering that this is the classical music of Ireland. Taking something with Baroque influences (or inherently complex) and fashioning it into something easy, straight-ahead and teachable takes a lot of trial-and-error, dedication, and patience. The proof is in the pudding.

The recording is accurate almost to a fault – playing in metronomic time – true to the settings, down to each ornament and hieroglyph, and the actual transcriptions raise the bar for 5-string banjo, with standard notation, fingerings for both hands, medieval-sounding intervals chords, contrary motion, arpeggios, appoggiatura, Baroque ornaments, and classical Gaelic harp phrasing and overtones.

I listened to a lot of Irish and Celtic harpers, and re-invented my technique in order to do for "Celtic fingerstyle banjo" what, say, John Williams (or Segovia before him) have done for classical guitar. I didn't alter the tunes to sound like bum-pa-did-dy stuff. I believe that I am helping to develop a new approach, a new idiom for 5-string banjo. This ain't bluegrass, friends, but it's cool! I set my goals as high as I could, and I now stand at the summit, playing the tunes the way they're meant to be played. I can honestly say, folks, this quarter-century project kicked me arse, and I'm a much better player for it!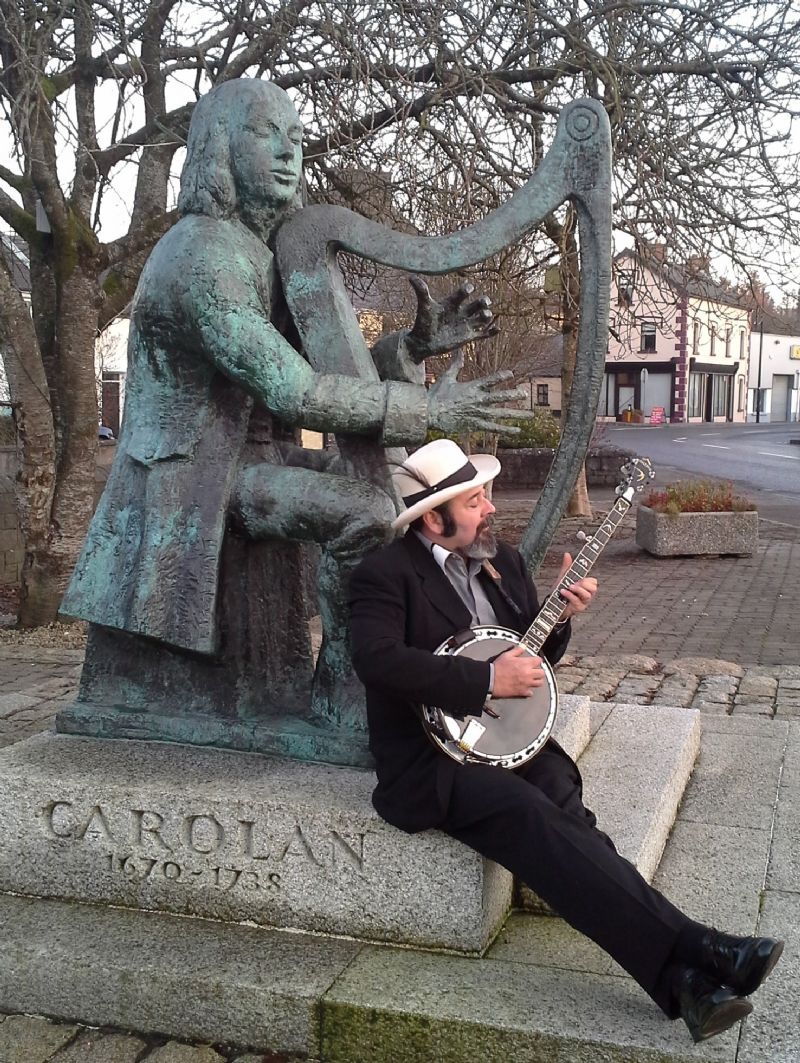 ---
1 comment on "20 O'Carolan Irish Classics for 5-String Banjo and All Instruments"

captbanjo Says:
Thursday, August 27, 2015 @8:21:20 AM
Interesting to me. As you know Tom, I play Irish tenor in a finger style, preferring the tuning and string gauges for locating melodies. Reels, jigs, hornpipes, etc sound good but I don't like airs or O'Carolan tunes on the instrument. Five string has more of a harp-like timbre IMO and I do believe I will purchase yer arse kicking tome!
You must sign into your myHangout account before you can post comments.