Hi folks,
Thanks for stopping by!
The summer is winding up and we've had just enough time to catch our breath to write a few lines. Besides October, this is our favorite time of year. The days are still warm and the last of the lightning bugs are on a wing, as are the bats, in the chillier evenings. Two nights ago we laid under the stars to watch the meteor shower. The sky and stars are so clear here in the country. We love living in southwest Virginia. It's also been beautiful in many of the places we have traveled lately.
We taught at a record ten camps this season! Well eight have taken place (Swannanoa, Gainsborough, Augusta, Mando Camp North, Kaufman Kamp, Bluff Country Gathering, Blue Ridge Old-Time Week and Cowan Creek Mountain Music School) and two camps are yet to come (American Banjo Camp and Alabama Folk School). Whoo – can't wait! All the festivals and camps have been so inspiring. We love sharing music with all the people we meet at them. It's our tribe!
Looking ahead Carl and I will be performing lots of concerts like usual. We will be in Pennsylvania, Washington, Alabama, British Columbia, Michigan in the next few months and are planning a UK tour in the spring. We'll keep posting up-to-date news and concert dates on our website www.Dittyville.com. We appreciate your interest in our music. Please come out and see us when we're in your neck of the woods.
Our new CD Sweet Memories Never Leave has received a half dozen reviews in the Old-Time Herald, Fiddler Magazine, County Sales, Carolina Mountain Life and other publications – so far all good! We are thankful for that and there are several posted on this site. Erynn played Piney Woods (recorded on Sweet Memories) and won 3rd place at the prestigious Clifftop this year. Plus our stringband Old Drake (with Peter Fleming, Brad Kolodner and Lloyd Wright) won 2nd place in the traditional stringband finals – not too shabby for a pickup band! Other contest fun: Carl won Best All Around Performer (1st Mando, 1st Fiddle duet) at the Surry County Fiddlers Convention and Erynn won Best All Around Performer (1st fiddle, 1st fiddle-banjo duet, 2nd stringband) at the Tazewell Fiddlers Convention. Also of note: Carl was one of 490+ mandolin players at the Galax Old Fiddlers Convention who have unofficially broken the world record for the most mandolin players to play at once. The massive bunch was filmed playing 4 tunes and once the committee at the Guiness Book of World Records check everything out the result should be confirmed. The shattered the previous record of 413. Mando power!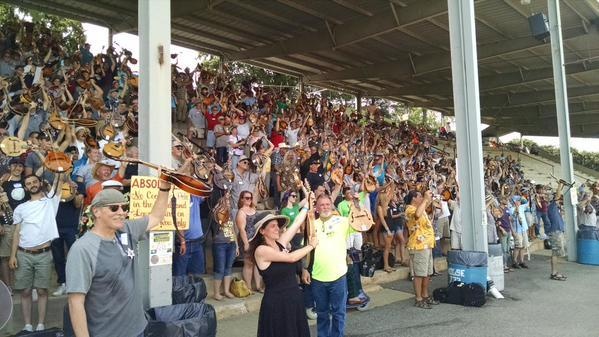 So in short we are having a blast this summer and we sincerely hope you are too. Please stop by often as this site is new and we're adding new stuff all the time. Transcriptions and song-writing tips are coming. Also, as of last week, Meet Me in the Music (Erynn's CD with Chris Coole) is back in print for the first time in five years (and includes a 20 page full color booklet of liner notes). If you like those lonesome, spooky Kentucky tunes you might like to grab a copy from the Dittyville.com store while they last (downloads are also available on itunes/CD Baby).
Hope to see you at a music event down the road!
Warmly, Erynn Marshall and Carl Jones
---
1 comment on "Late Summer Musings"

dbrooks Says:
Wednesday, August 19, 2015 @2:49:05 PM
Erynn, thanks for the update. I got a copy of "Meet Me in the Music" at your Berea concert with Chris and Arnie. It was a great concert and the CD is still in steady rotation. Hope you get near Louisville again some day soon. Love your music.
You must sign into your myHangout account before you can post comments.