Season 2: Solo Clawhammer Classics
Episode 7: "Simple Gifts"
by Josh Turknett, breakthroughbanjo.com
---
---

Are you a subscriber to the Clawhammer Core Repertoire Series?
If not, sign up by clicking here, and you'll get all 15 episodes of the first season (the "Jam Classics" edition) for immediate download, plus you'll get the next PDF book for this edition ("Solo Clawhammer Classics") as soon as it's off the press.
---
---
Though the majority of the classic clawhammer repertoire consists of tunes - i.e. melodies without words - there are certain songs that sound splendid when clawhammerated, and have slowly worked there way into the hands of frailers.
"Simple Gifts" is one of those songs. Originally a Shaker hymn that was subsequently popularized by composer Aaron Copeland, ultimately becoming one of those timeless melodies you know without knowing how you know it.
Step 1: Know thy Melody
One great thing about learning a song is that they have words! Words that tap into our innate linguistical capacities and thereby greatly enhance our memorizational abilities.
In the video above, I was fortunate enough to recruit my daughter Jules to sing those words for us. Once you've listened enough that you can sing along (which some of you may be able to do from the get-go), then you're ready to find them pretty notes on your instrument.
Step 2: Find the Melody Notes
This tune seems tailor made for double D tuning (or double C if you'd prefer), so go ahead and bring your banjo to aDADE. Once you're there, see if you can locate the melody notes on your fretboard.
Here's what I hear as the essential melody: simple Simple.mp3
And here's that melody represented in tab:
Step 3: Add Some Clawhammery Stuff
To clawhammerize that core melody, let's go ahead and play all the melody notes that occur on the downbeat (the "bum" stroke in the "bum-ditty") and follow with a ditty strum while fingering the appropriate chord tones (relevant chords listed above the tab).
And here's what it sound like: Simplified.mp3
Step 4: Embellish to Taste
Now it's time to take things a bit further should you so desire. Perhaps first priority is to see if you can add in a few more melody notes from our core melody we worked out earlier. There's a bit of melodic space in this song, which frees you up a bit to add any additional flourishes (triplets, Galax lick, etc.).
Don't get too carried away here - it is called Simple Gifts, after all...
You can hear my dressed up version during the banjo solos in the video above. Here's what it looks like in tab:

---
Want to view all of the prior Clawhammer Core Repertoire Series episodes?
Head over to the Core Repertoire Table of Contents
---
---
About the Author
Dr. Josh Turknett is the creator of the Brainjo Method, the first music teaching system to incorporate the science of learning and neuroplasticity and specifically target the adult learner (more at aboutbrainjo.com)
---
---
---
7 comments on "Solo Clawhammer Classics, Episode 7: "Simple Gifts""

NDJohn Says:
Monday, July 13, 2015 @6:17:59 PM
Excellent. Thanks.
John

Dulcilo Says:
Monday, July 13, 2015 @6:34:48 PM
One of my favorite songs. Thanks for the arrangements, can't wait to try it on banjo!

strumn1 Says:
Monday, July 13, 2015 @7:35:34 PM
Your daughter nailed it again. Thanks for all that you unselfishly do for this community. Enjoy these moments with your young daughter. She will be a grown woman faster than you can imagine.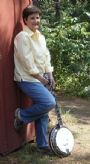 Banjosnob Says:
Tuesday, July 14, 2015 @2:09:12 PM
This is so sweet! Loved it!
Lynn


Chez Says:
Tuesday, July 14, 2015 @2:40:53 PM
Great sound! Absolutely beautiful ! Sounds very similar to" Lord of the dance"

bart_brush Says:
Wednesday, July 15, 2015 @10:48:03 AM
Wonderful! Thanks to you both. For 2-finger thumb lead players, this song fits perfectly in standard G tuning, starting on the low D of the open 4th string ("Tis a..."), and going to the G of the open 3rd string ("...gift..."), etc.

Josh Turknett Says:
Wednesday, July 15, 2015 @11:00:32 AM
Thanks all for your very kind words. And yes, I'm trying to enjoy her while I can! At least I can bottle time a little bit with these videos :)

Bart - I bet that would work well with thumb lead. Gonna give it a go!
You must sign into your myHangout account before you can post comments.