Aloha Everyone...This is my first entry to Banjo Hangout...I began learning how to play my 5 String Open Back Tyler Mtn.Banjo I have named = Sunshine since this past January 2015 @ age 63!...I turned 64 in March...I am a Newbie!...And I am Totally! in Passionate Love with my Banjo!...I practice every day!...I have an array of skill practice techniques I am working on... I am practicing fingering up and down the fret board...am learning the fret board in Open G, chords, chord changes, major scales, timing and have been jamming with friends during our music gatherings...I also practice once weekly with one of my girlfriends who is a beginner Ukulele musician..I also have many highly skilled musician friends from whom I can get advice from...altho not one of them plays Banjo...I may be the only female Banjo player on our Big Island here in Hawaii...I only know of one other Banjo player here & it is a man...I am dedicated to continuing to practice and get better and better as time goes on...I Love singing as well and love all kinds of music...Bluegrass, Fok, Country....What ever touches my soul...Aloha...Mary Fairy!
---
4 comments on "I'm New to the Banjo and Banjo Hangout..."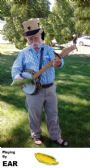 mike gregory Says:
Monday, June 29, 2015 @8:33:00 AM
Welcome to the HangOut.

Perhaps, with the Username of M. Fairy, and the earthly name of M. Brown, you might want to make "Brown Ferry Blues" an early addition to you list of songs to learn.
Best I can remember, it's the same 3 chords as all the other classic hits.

n1wr Says:
Monday, June 29, 2015 @9:20:09 AM
Mary - plenty of female pickers in HI. Do a search on HI in the Members Search area - you'll be amazed at how popular banjo is in HI.

Also there is a Ukelele group - search the groups for that.


Dulcilo Says:
Monday, June 29, 2015 @9:59:33 AM
Hi, glad to hear of another woman starting banjo after age 60, like me! It sure is fun, isn't it? I am lucky to live in the Nashville TN area with plenty of resources. But I can't help but WISH I lived in Hawaii!

Mary Fairy Says:
Tuesday, July 19, 2016 @7:00:47 PM
Hello there!...
Hello there Banjo friends...
I am wondering if anyone on Banjo Hangout can give me current information for John Goff who specializes in creating beautiful hand carved/inlay banjo necks. He was living in the state of Washington and I believe he has returned to Ohio to live. I would like his phone number/email address. Thank you...Mary
You must sign into your myHangout account before you can post comments.