Posted by Helix on Tuesday, August 7, 2007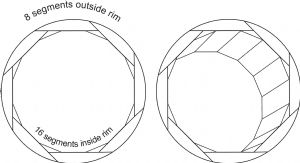 Visit www.helixbanjos.com
The Helix rim is just like a shower curtain hung from a curtain rod, Amber Waves of Grain, an 8 panel curtain cut at a 45.
My rim is called a 'build up'. It's like a barber pole, a wagon wheel, a stained glass window arc, thus Helix, an ancient Roman Arch. The music goes down away from the tone ring at a 45 degree angle. The Helix rim is a true 75% solid hardwood rim, the neck mounts through solid wood, we alone do that, and the virtual depth is 4.25". It's an 8-block octagon rim, and has a characteristic and unique optical illusion, an octagonal cylinder 3" high. Like a lighthouse.
Helix rims are 8 solid blocks from top to bottom with only 8 joints reinforced by 8 glueblocks cut from the ends of each block. Simple, strong, gorgeous rims that 'luminesce.' There is Chatoyance "Like a Cat's Eye" the light shows where the music will go .They vibrate cleanly, the rim now sings.
I love the traditions, I Iove to innovate
---
6 comments on "HeliX Banjo Rims (TM) Since 2007"

darryl k. Says:
Wednesday, September 24, 2008 @9:50:38 AM
sounds interesting, but I'm having a hard time visualizing what you're building. How a bout a photo or two? Also wonder how you use flat stock to make a tone ring?
darryl

Banjo75 Says:
Thursday, December 4, 2008 @8:24:35 AM
I saw these online somewhere (maybe it was yours). cool idea, great looking banjo!

fatgob Says:
Sunday, February 1, 2009 @9:05:20 AM
Hi Helix, 'extreme recycling' I've now reversed this parchment on the head of my banjo, this parchment is pretty thin,I put it on a few years ago not expecting it to last very long but its still going. I've just made a new bridge for it out of laminating 5 layers of hand cut mahogany veneer stuck together with super glue. Its greatly improved the sound and has, I think ,a nice tone and is now my favourite play, Got a picture of this on my blog photos if you'd like to see.

tanglefingers Says:
Wednesday, March 18, 2009 @7:18:11 PM
you ever going to make a sound file Helix?????
Helix Says:
Wednesday, March 18, 2009 @10:16:55 PM
It's word of mouth, The MP3 license I had expired on my software, now I have to pay up or die.

shijokingo Says:
Wednesday, November 13, 2013 @4:34:48 AM
Helix banjos certainly seem not only a value but the person that makes them wants to spread music and banjo. Making a ton of money cuttin' a fat hog appears to not be on his agenda at all. Refreshing for the music industry..... or any industry for that matter
You must sign into your myHangout account before you can post comments.