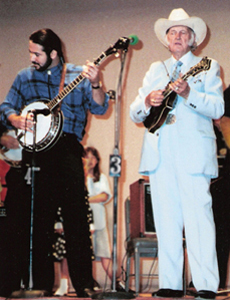 Taken at the Secrest Auditorium, Zanesville, Ohio, 1989. I was playing with the John Herald Band, and Bill called me over during the grand finale to play a solo through his microphone on 'Sally Goodin'. I was playing very well that weekend. We met at soundcheck; I was playing 'Green Mountain Hop' and getting a monitor level. I saw him and stopped playing out of respect, and he walked over and I said, "Bill Monroe, I'm Tom Hanway, it's a pleasure to meet you sir," extending my hand.

He turned around and walked off stage over to the piano, took off his hat, put his mandolin back in the case and closed it, then put on his hat, opened his case, took out his mandolin, walked back over, extended his hand, and said in friendly solemn tone, "Tom Hanway, it's a pleasure to meet you sir! You're a fine banjo player, you sound just like Don Reno." (I was dumbfounded.) We had a firm handshake and gave each other a good long look, and I felt his approval in that gaze.

He endorsed me (pony tail and all), and called me over later to play through his mandolin mic, right next to him, a huge honor! After the show we went out for steak dinner, and the bluegrass boys took off their hats at the dinner table: gentlemen. And beer never tasted so good! So, we got on great, and liked one another!
---
5 comments on "Meeting Bill Monroe in Zanesville, Ohio"

a g cole Says:
Thursday, June 18, 2015 @8:00:39 AM
WOW, what a great experience, Tom! That certainly shows you do some fine picking.

captbanjo Says:
Thursday, June 18, 2015 @1:49:06 PM
I've heard Tom in person...smooth and adventurous but respectful of the traditions of Irish and bluegrass. Playing with Big Mon? Wow!

JanetB Says:
Tuesday, June 23, 2015 @7:21:16 AM
What an awesome memory and photo! Somewhere I read that Mr. Monroe was rather proud of his own long hair and sideburns!
Tom Hanway Says:
Thursday, June 25, 2015 @6:41:38 PM
Haha! Janet, now, you said it!

From Greylock to Bean Blossom Says:
Saturday, August 15, 2015 @3:29:10 AM
Great story. Thanks for sharing. I got to see the Big Mon many times and talked to him a few. He was straight as an arrow and not a phony bone in his body. For both you and your playing to be accepted in that way by him is something very special.
You must sign into your myHangout account before you can post comments.