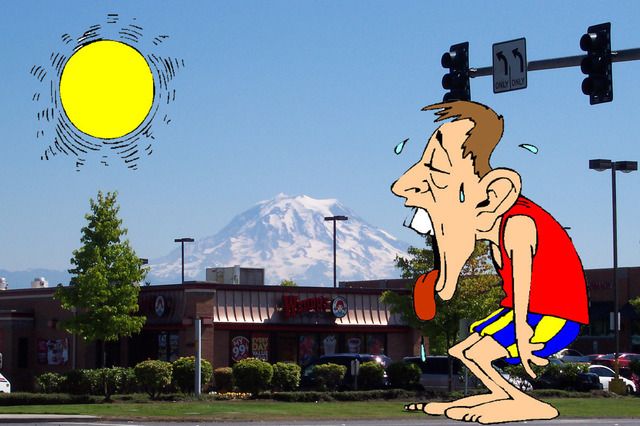 It's 88 degrees today in usually overcast Western Washington and we're having a "heat wave" right here in the land of "I'm good enough. I'm smart enough and doggone it, people like me!" As a Texas native, it is to laugh! Apparently we've been having a brutal unseasonable bout of scorching temperatures. It almost hit 80 degrees last week and this week the changing climate took a big 8 or 9 degree jump and old people are dropping dead in the streets. As heat waves go, this one gets one of those "participation" ribbons they give out to the kids that were forced to show up for the race and walked at least partway around the track.
It's especially sad up there in Seattle where those hot house flowers cut from one air-conditioned retail establishment to another all day just trying to stay alive in these brutal temperatures. Heck, I didn't drag out my short sleeve shirts again until last week. People here have been wilting since March. Me, I'm kind of enjoying it. My feet are warm for the first time since September 2014.
These guys don't understand heat. I can't grow tomatoes up here because it doesn't get warm enough for them until mid-June. People up here will pay $300,000 for a house that doesn't have air-conditioning. Not that I blame them. Most years they'd only use it for about a week during August, just before the end of the summer and the beginning of the Drizzle Season.
Every seven years or so the summer temps touch on the lower 90s and the local TV stations start doing specials on global warming and the end of the world. The sun's complexion gets a bit spotty and it gives us a little heat for it, like a petulant cheerleader whose acne medication isn't working for her anymore. Mother Nature will have her little jokes.
For instance, they're hearing rumbling deep in the Earth around Mt. St. Helens. That's just 35 miles south of Mt. Ranier and they've been expecting that puppy to blow for the last 50 years. And Mt. Ranier is about 25 miles southeast from me!
Now, if these guys want to complain about the heat, let that big dog blow up and send a 50 foot wall of hot mud and debris roaring down the Puyallup River Valley (which thankfully is 400 feet below my house). Now that will certainly heat things up.
Tom
---
Be the first to comment on "Surviving a Western Washington Heat Wave"
You must sign into your myHangout account before you can post comments.