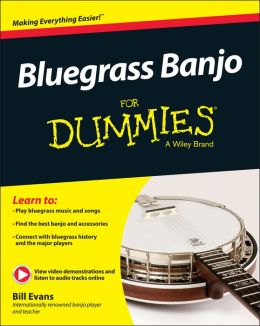 When daughter Casey returned from teaching at Banjo Camp North a few weeks ago she brought me a present from my friend Bill Evans: Bluegrass Banjo For Dummies, his newest book. Inside he had written a lovely inscription: "For Murphy. Now we're even--you're in my book! Thank you for your friendship, inspiration, and banjo courage! Bill Evans." (I had quoted him several times in my own book, Pretty Good For A Girl.)
Seeing the book, I had a faint memory of Bill saying he was going to put me in it. I also remembered him saying that the Dummies editors liked lists. So I flipped through the Table of Contents till I found Chapter 15: Ten (Or So) Groundbreaking Bluegrass Banjo Players. And there, nestled in amongst folks who are known by one name--Earl, J.D., Bela, Noam, Kristin--was me, Murphy Henry. Wow! And if this weren't enough, Bill had included three other women: Roni Stoneman, Alison Brown, and Kristin Scott Benson. "Oh, Bill," said Murphy. "How I do love you!"
Here's what I liked best in my paragraph:
"She is a tireless spokesperson for women in bluegrass and a rock-solid, hard-driving Scruggs banjo stylist who is now hosting women's banjo camps with daughter Casey in northern Virginia."
Thank you, Bill!
Reading this list of groundbreaking banjo players made me think back to the days when Bill was writing his first Dummies book, Banjo For Dummies. (Not just bluegrass banjo.) He was all excited about it, as he should have been, and when we were both teaching at the California Bluegrass Association Bluegrass Camp he told me about how much trouble he was having coming up with the obligatory list of The Ten Best Banjo Players In The World. As is often the case in moments of high drama or strong emotion, I remember the setting well. We were sitting at a picnic table in the campground having lunch with all the other teachers.
Bill is talking about this list. "Of course, I've got Earl, and Don Reno, and J.D., and Sonny Osborne, and Tony Trischka, and Bela, and Bill Keith, and...."
Murphy: "What? You don't have any women on the list?"
Bill: "Who would I put on there?"
Murphy: "What about Roni Stoneman?"
Bill: "Was she really that good?"
Murphy: "She was the first women to record Scruggs style banjo way back in 1957."
Bill: "But, really, not many people know about that. Or her, except from Hee Haw."
Murphy, anger rising: "Okay, what about Alison Brown? She played with Alison Krauss and co-founded Compass Records, in addition to being a top-notch melodic player who leads her own band.
Bill: "But, really, Bela is much better known and more influential. And if I put a woman on the list, I'll have to take off one of the men. I wouldn't know who to take off."
Murphy, really mad now: "Bill! This is the 21st Century. You cannot publish a list of top banjo players and not include a woman! I cannot imagine your editors would let you do that! What about Kristin Scott Benson? Janet Davis? Lynn Morris? What about one of the women clawhammer players? Molly O'Day? Lily Mae Ledford? Cathy Fink?"
Bill (who, by the way, never loses his cool): "Well, I don't know. But I'll think about it."
And this is one reason I like Bill so much. He did think about it. And, bless his heart, when Banjo For Dummies was published (2007) his list of Ten Banjo Players You Need To Hear included Alison Brown. Furthermore, he had added a section titled Other Banjo Players You Should Hear which featured six women: Kristin, Cia Cherryholmes, Emily Erwin (Dixie Chicks), Lynn Morris, Casey, and me!
But now, back to Bluegrass Banjo For Dummies. I can't think of anyone more qualified to write this book than Bill Evans. He is a long-time player (in bands and solo), he has studied his Earl, he can also play melodic, single-string, and some of today's crazy jazz-inflected stuff. He has that all-important sly and wicked sense of humor about all things bluegrass (and life in general). And he is a good writer. The book is easy to read, well-organized, and comprehensive. As a long-time banjo teacher Bill understands what information students want and need. He provides it here, all in one place.
Some of my favorite parts?
Page 13: It's All About Earl. "It's impossible to overestimate Earl Scruggs's contributions to the art of bluegrass banjo playing."
Page 281: Sweat the Details. "The secret to playing fast is to first sound great playing slowly."
Page 83: Playing It Straight Or Playing It With Bounce. "My advice is to first drill roll patterns by playing the notes as straight as you can...After the rolls have become second nature, you can try adding a bit of bounce..."
Page 125: Banjo In The Hollow: "A great first song! It's easy to play, sounds great, and won't cause your loved ones to head out of the house to catch a movie while you're practicing it."
Do I agree with everything Bill writes? No! Points of disagreement:
Right-hand position. Bill used to be an "anchor two fingers at all costs" teacher. Now, he's "green lighting" students who anchor just the pinky--if they have first tried hard to do it Bill's way! I'm a "whatever works for you" teacher, one finger or two. I think we've got more important things to focus on like picking the banjo ASAP.
Students' use of the metronome. Bill is for, I'm against. IMHO metronomes are for professionals who wish to hone their timing to the nanosecond. (Lynn Morris, Ron Block). Most students, especially at first, have little sense of a "down beat" so God only knows how they are "hearing" a metronome!
Tab. I am totally against any use of tab. Bill says, on page 284, "Better to keep tab in its place from the very beginning by using it sparingly." You're getting there, Bill!
And of course the book is full of essential stuff like "finding the perfect banjo" and "getting the gear you need," "keeping your banjo in top shape," and (ha, ha) "all strings considered." Bill is an expert about these things and won't steer you wrong.
Some books are just so good you have to have one. In short, buy the book! Buy two! Keep one for yourself and give one away to any friend who has been bitten by the banjo bug or who is leaning in that direction. It would make a great present! We've already passed Mother's Day but Father's Day is coming up! What a lovely surprise gift. Circle the following paragraph and put it on your fridge.
How to purchase Bluegrass Banjo For Dummies: You might think about buying it directly from Bill. When you are a musician in business for yourself, every little bit helps. He is offering a free CD for folks who buy direct. Here's a link to his store:
http://www.billevansbanjo.com/bill-evans-store-books-dvds.php
It's also available, of course, from Amazon.
I will leave you with one of my favorite Bill memories. We were both teaching at Bluegrass Week in Elkins, W.Va., so I had invited Bill to spend the night at my house so we could drive over together. He was sleeping downstairs in the room that also houses our record albums, videos, and books. The family was getting ready to eat breakfast, so I walked down the steps to see if Bill wanted to eat with us. I found him sitting up in the middle of the bed, in his pajamas (light blue long-sleeved button-up top with a collar, matching long pants), watching bootleg videos of old Flatt and Scruggs TV shows. The on-screen picture was pretty fuzzy (these were copies of copies which circulated long before the official DVD versions came out) but Bill was practically in a trance watching Earl pick--his face was positively glowing. (Bill's, not Earl's.) "Just look at that!" he said to me, not taking his eyes off the screen. "Listen to that tone!" So we sat there, we two, studying Earl while our eggs and grits got cold. It was wonderful! Was it good for you, Bill? :>)
---
5 comments on "Bluegrass Banjo For Dummies: Bill Evans's New Book By Murphy Henry"
phillavery Says:
Tuesday, June 2, 2015 @4:35:54 PM
BFD was the first book I started with, heaps on info on playing styles, banjo types, choosing a Banjo and what to look for, a regular treasure trove of useful stuff, second edition has all the lessons available on the internet both articles and videos .... Cheers

Rbuhrman Says:
Wednesday, June 3, 2015 @5:52:57 AM
I also started on Banjo for Dummies....is this "Bluegrass Banjo..." different? Also, if Bill Evans should be required to include women on his list of the best players....why don't Murphy/Casey offer camps to both sexes? I don't mean to offend, just curious.

caseyhenry Says:
Wednesday, June 3, 2015 @7:12:47 AM
We do! They are called "intermediate banjo camp" and "beginning banjo camp." All genders are welcome!!

And, yes, Bluegrass Banjo for Dummies is specific to Bluegrass. Doesn't include old time or folk or classical, etc.

USMC75 Says:
Wednesday, June 3, 2015 @2:38:47 PM
With a great amount of respect for Bill...just a note of support for what Murphy disagrees with.
I had a well meaning teacher push the rules of "anchoring two fingers"... but it seems my fingers have an unusual hitch in their git-along, so instead of enjoying learning to pick bluegrass banjo I spent time being frustrated with the rules until I just quit. Then along came Murphy Henry who encouraged learning instead of sweating over the two finger rule... and listening instead of getting cross eyed over tabs....to my surprise the revival of interest in picking the banjo increased exponentially with each song that I actually learned to play once the "rules" no longer had me hand cuffed. So hats off to Murphy and thank you Mam for opening up the world of Bluegrass Banjo to me. Kudos to Casey as well for the custom lessons and follow up support.

hicotton Says:
Friday, June 5, 2015 @7:40:14 AM
Casey - thanks for adding Murphy's review of BBFD, I really enjoyed her personal insights.
Glad to hear you're staying busy and still teaching - I'm still playing, albeit not pushing so hard on new songs as before. You'll always be the teacher that made the difference!
clay
You must sign into your myHangout account before you can post comments.