https://youtu.be/8oo9FI0Ebyo?list=UUpYZEoFpPZgSHFrtCoYoR0gI
Well, I wanted a armrest for my Fireside Practice Banjo and was never impressed with the standard Arm Rest Design, as i just don't think they are very Functional, so I finally came up with my own Simple Idea. Using a Deer Antler with Just the right shape & size to cradle my forearm. I Swear, his thing is really comfortable. It Cradles and supports my Forearm very nicely . I have to say, I think it looks kinda cool too. Certainly gets People's attention in a hurry and gets the conversation flowing too,
Finished Project With Deer Head Wood Burning and 2 Antlers,Total Cost, Just 1 Buck
Here's Part 2
https://youtu.be/l9ch0M1G_g0?list=UUpYZEoFpPZgSHFrtCoYoR0g
Part 3 Finished Projecthttps://youtu.be/bycKSAoiX90?list=UUpYZEoFpPZgSHFrtCoYoR0g
---
5 comments on "Deer Antler Arm Rest"

Roy D Durrence Says:
Saturday, March 21, 2015 @3:35:15 PM
I love it. Well worth a Buck .... didn't need any Doe.
Helix Says:
Sunday, March 22, 2015 @6:34:25 AM
I know, I'm just 'fawning' over it., very nice.

banjomart Says:
Monday, March 30, 2015 @7:59:48 PM
Looks cool Dan! I suppose your arm slides nicely along the polished antler surface. I like your comment about costing one buck. Quite literally that's true.

lapsteel Says:
Saturday, September 26, 2015 @5:39:29 PM
That must be a deering banjo...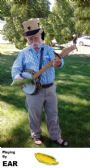 mike gregory Says:
Saturday, November 19, 2016 @5:22:41 AM
Looks good, and ANYTHING that gets a friendly conversation flowing is a nice accessory to have.
You must sign into your myHangout account before you can post comments.