Here she is!!!
We picked her up about 11 a.m. today from Robin Smith, who is playing bass with Ron Reno up at Wind Gap, PA. Robin couldn't be a nicer gentleman. And what a luthier! The banjo is even better looking than I'd imagined she might be!! She is truly a work of art! As for the sound, well it is to die for! I played her almost all the way back home (a 2.5 hr. trip) & am on my way out now to do some serious jamming with my friends!!!
The first few photos show my shock & excitement at seeing her for the first time. The other photos show me with Robin Smith. Yes, even grown women cry, as the one photo shows.
Ladies & Gentlemen, please meet Lillee: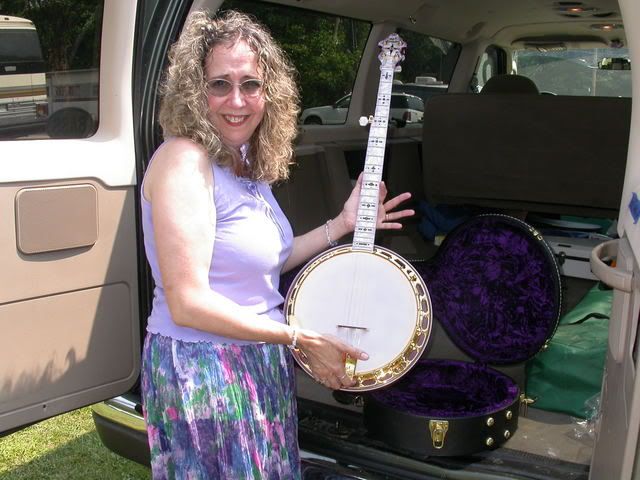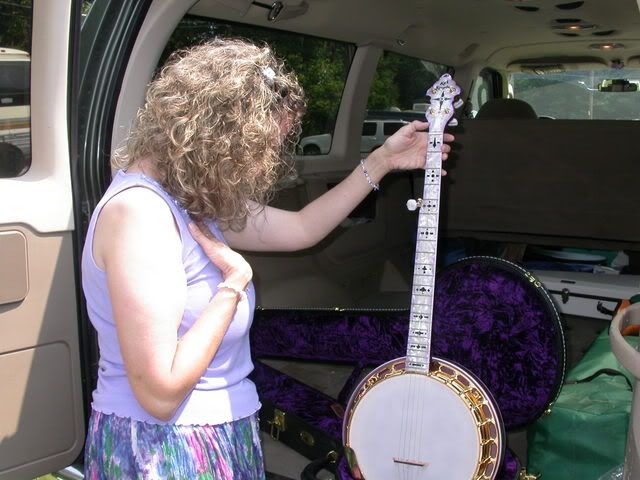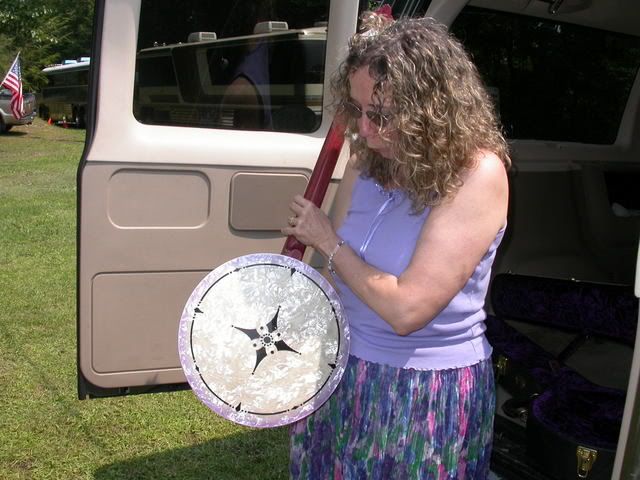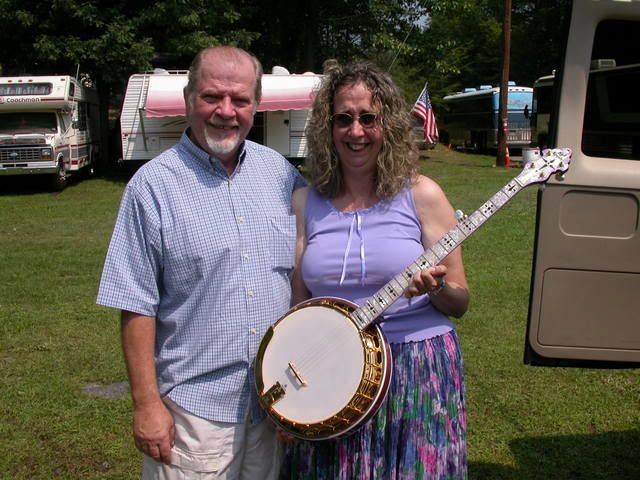 ---
7 comments on "Introducing: LILLEE!!!"

Nelson Says:
Sunday, August 5, 2007 @1:00:32 AM
Oh my!! She is a real beauty. The next step is to upload some tunes so that we all can hear what she has to say.
Very nice. I bet you are ecstatic. Be careful not to over do it these first couple of days.

Sid Langley Says:
Sunday, August 5, 2007 @2:01:51 AM
Looks superbly put together ... and the banjo's not bad either ...I can see where that ear-to-ear smile comes from...enjoy!

stellingbelle Says:
Sunday, August 5, 2007 @9:33:37 AM
She's very pretty Robbin...hope she brings you many hours of enjoyment and pleasure. Congrats!
T.

banjotef Says:
Sunday, August 5, 2007 @9:57:29 AM
Robbin:
How COOL is THAT!!? That thing looks GREAT! I bet it plays beautifully! Nothing like a new 'jo to bring fun and inspiration to your playing! I hope you stay up way too late and pick way too much! Too much of a good thing is WONDERFUL!

banjotef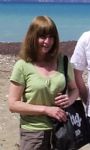 u k sandra Says:
Sunday, August 5, 2007 @4:23:01 PM
Oh you do look happy. Long may it last.

Jane C Says:
Sunday, August 5, 2007 @5:02:23 PM
Goodness, I didn't know banjos could be that pretty. You lucky lady

rtyrie Says:
Sunday, August 5, 2007 @7:23:20 PM
All I can say is WOW! That is one sweeeeet lookin banjo.
I'm suffering from severe banjo envy right now - I'll go in the closet and play scales until I feel better.
All kidding aside - you look like you were given a gift from heaven.
Ron
You must sign into your myHangout account before you can post comments.