Prelude: We will be having our fifth Intermediate Banjo Camp this month, and for the first time I have asked those who plan to be in the Advanced Intermediate Class to learn a specific song: Do Lord played in Open C. Then, while the Beginning Intermediates are exploring the joys of improvising in G using the Roly Polys, we will be moving "on beyond Geebra" (poor pun!) into the previously uncharted territory of improvising in the key of Open C.
Now, what in the world is "open C" and why would anybody want to play in it? Playing in "open C" means playing in the key of C without a capo using the first-position chords C, F, and G, which are now your I, IV, and V chords. Improvising in Open C, a new area of teaching for me (exciting!), is based on using two-finger versions of the C, F, and G chords and one roll to create simple, improvised breaks. Of course, these barely hint at the melody but, still, you can play them in a pinch in a jam. And we have upgrades!
If all you've ever done is play in the key of G, with or without a capo, then the whole idea of playing in Open C may seem strange. As one of my students said, "Why do you want me to learn to play in open C? We just spent the past year learning to play in C capoed at the fifth fret. Why do it another way?" Sigh.....
As you know, beginners play in the key of C by capoing up five frets and playing out of G position. My students learn to do this early on so that the women can do some of the lead singing in the jam. (Women typically sing standard bluegrass songs in the keys of C or D. And that's another whole blog!)
But the problems with capoing up to play in C are myriad (I love that word!):
You have to substantially tweak your tuning, which is a pain. (Especially when there are six other banjos also substantially tweaking! Problems with tuning are magnified when students have inexpensive banjos which are notoriously hard to tune when capoed.)
You lose a lot of fullness in the sound. Capoed up five, the sound of the banjo can be thin, tinny, constricted, choked off, piercing, and annoying. You get the picture!
When you start to grow as a banjo player, you legitimately get tired of all your breaks sounding the same.
So for all these reasons, playing in Open C becomes an important option.
Now, thanks to my student Dan, I have developed a different approach to teaching students how to improvise in Open C. (This new approach compliments our two DVDs about playing in Open C. More on these later.)
Dan has been coming to our jams regularly and because he has been playing longer than the other students (even if he did backslide for ten years or so), he is able to play considerably faster than most of them. But, since these jams are Slow Jams, he doesn't get much of a chance to spread his Dale Earnhardt wings. So, when he got that "I want to start learning Blackberry Blossom because I need a challenge" look in his eyes I suggested instead that we take some songs we already play in the jam and come up with some improv breaks in Open C. That way, the slowness of the playing would work to his advantage.
Now, before you can venture off into Open C, you need a firm foundation in the Key of G. (Or to paraphrase that great old Baptist hymn: "How firm a foundation, you students of Earl, is laid for your faith in his excellent word. What more can he say than to you he hath said, to you who for refuge to Earl Scruggs have fled." Apologies if this seems a bit too much!) The cornerstones of this foundation are four: a remption* of basic Scruggs numbers (in G) learned pretty much note for note; ability to vamp and hear chord changes; ability to improvise using Scruggs licks (not melody!), ability to jam. In other words, playing in Open C is an intermediate-level skill. (Notice I did not say anything about playing fast!) Dan was solid in all these areas.
So, off we went, into the wild blue yonder! My first idea was to simply take the Roly Polys we'd been using for our G improv (the ones taught on the Kickstart Your Jamming DVD) and use them in the key of C. But Dan, bless his heart, was having none of that! "Too boring," he said in his blunt Presbyterian way. Thus was I forced to think of "something else." (Grandson Dalton, 3, is big into demanding "Do something else!") Luckily I had ideas.
I am a big believer in starting with the "one roll" approach when it comes to improv. After all, the Roly Polys are based on the Forward-Backward Roll. But for Open C, I knew that the best roll was the fabulous Foggy Mountain Breakdown roll, 2121, 5215. That roll, coupled with a few two-finger chord positions, the ability to hear where the chords change, and a Tag Lick in C opens up the entire world of improvising in Open C. Eventually it will open up the entire fingerboard!
Improvising in Open C came easy to Dan. Guess it was that firm foundation and all that jamming! Plus that, he worked hard at it and practiced a lot. Here is a partial list of what he can play now in Open C.
Do Lord
I Saw The Light
Blue Ridge Cabin Home
East Virginia Blues
Truck Driving Girl (gender flip!)
Dooley (gender flip!)
I'll Fly Away
Prayer Bells Of Heaven
And here's something cool. Yesterday in our jam Pam, also a solid intermediate student, heard what Dan was doing and loved it. Since she could already play Do Lord in Open C, with a modicum of explanation (like where the second-position F was) she was able to try out some Open C breaks on the fly! She did great!
How much fun it is for me as a teacher to see these students coming up with these new improvisations!
If you are interested in learning more about playing in Open C, these DVDs will help. The first one, Wildwood Flower, lays the foundation. It teaches Do Lord, Worried Man, Wildwood Flower, Uncloudy Day, Arkansas Traveler, and Leaning On The Everlasting Arms. The second, Soldier's Joy, teaches tunes that are played out of C position: Soldier's Joy, Liberty, Home Sweet Home, Farewell Blues, and Old Spinning Wheel. These are fun tunes to play, but they are not as useful for improvising. (Also available as downloads.) Enjoy!

* "remption": Southern word meaning "lots and lots." Even Google is not too familiar with "remption"!
---
12 comments on "Playing In Open C: Tell Me Why, Baby, Why! By Murphy Henry"

pbeck15 Says:
Monday, March 2, 2015 @12:06:36 PM
Couldn't let the "On Beyond Geebra" pun pass without both a groan and a thanks. I was always a little more drawn toward Dr. Seuss's less-narrative and more twisted stuff, and "On Beyond Zebra" and "The Sleep Book" topped it for me. I'm a frailer, and I can play in C purty good, and I'm afraid you're going to catch heck from folks who think of "Open C" as a tuning, i.e., gCGCE, but it's clear what you mean, so meh.

thebanjobert Says:
Monday, March 2, 2015 @12:13:19 PM
Good stuff, Murph; I think the banjo sounds great in open C, as well as Drop C and Double C tuning. I'll bet your students are really going to enjoy exploring open C.

Roger Frost Says:
Monday, March 2, 2015 @4:48:13 PM
Good stuff Murphy. Although I'd be bold to call myself an intermediate player since I only have a repertoire of about 8 tunes, There area few "open" C's in there for the sake of variety and my commitment not to tangle with capos or retuning. So there's Sierra Hull's "Absence Makes the heart .." (Erin sings lead!) and the Blue Highway's (Through the window of a train), and a NZ trad song (Bright Fine Gold" (that ones down at 70bpm). Breaks mostly up above the 5th fret, and backup anywhere!. Only problem is when I get "lost" I revert to default G! Also got one number in "open" D but I gather that's not so rare? So thanks for the lists of songs you teach in G, that will give me some other avenues to explore.

Roger Frost Says:
Monday, March 2, 2015 @4:48:29 PM
I meant in C!

CliffHall Says:
Monday, March 2, 2015 @8:26:44 PM
Not clear to me. How is the banjo tuned for open C? gCGCE? Or are you talking about playing with the banjo tuned in to open G gDGBD, but chording the first position C chord as tonic, first position F chord as IV, etc?

Mark Ross Says:
Monday, March 2, 2015 @9:40:43 PM
Old timers would call that "Drop C" or "Low Bass" tuning. I've been playing the banJo for over 43 years and I think of "Open C" as gCGCE.

caseyhenry Says:
Tuesday, March 3, 2015 @5:40:45 AM
She is talking about playing in C position with the banjo tuned in standard G (gDGBD).

Tom Meisenheimer Says:
Tuesday, March 3, 2015 @8:01:19 AM
why? the C tunings are very flexible and C "position" in gDGBD isn't.
I must assume that urging students to do so is an aid to getting them to understand the banjo's flexibility.

I have banjos tuned to G (A the parens stand for using a capo) C (D), A (B not really used by me) E (F), F (G), D (E) and with the gDGBD ratio one can tune to just about any key likely in this music, moving up to open A as I do with my "pony" banjo and down to E and F as I do with the minstrel banjos. gDGBD is a good tuning and I like playing in F in the gDGCD tuning; good for John Hardy and Prohibition is a Failure among others and by "anchoring" the left index finger at the first fret, second string when tuned to gDGBD, you can easily switch from minor to major to minor as with White Oak Mountain, Cluck Old Hen, Pretty Polly , etc. I confess, I don't think I have ever played from the C position (as dominant) in gDGBD tuning!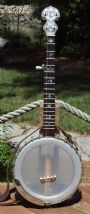 Cervecero Says:
Tuesday, March 3, 2015 @8:24:39 AM
I love C tunings!! Most of my banjos are in the 12" range and that low C really sounds goooood! I play in gCGCE (C major), gCGCEflat (C minor) and gCGCD (Double C). They are all great. Remember: C Major is just the G tuning "moved over one string". And Double C is just Mountain Minor with the low string lower. So tunes I play in C Major include two great Stephen Foster tunes, Camptown Races and Shortning Bread (Wow, Foster's tunes fit the banjo SO well!), and Oh Susanna, Waterbound, Little Birdie. I even play Country Blues in C MAJOR tuning, the banjo handles dissonance SO well! ;-) C Minor tunes includeThe Cuckoo, John Hardy, St. John's River and Swananoa Tunnel; and there are all kinds of tunes played in Double C, even new ones like Barbara's Tune by Reed Martin and a bunch of Adam Hurt tunes. Try it, you'll like it!
Now I do use Mt Minor a good bit, but I use G tuning least of all! Those big rims will get you into really liking C!!

Stringcritter Says:
Tuesday, March 3, 2015 @11:52:18 PM
I am doing a CLAWHAMMER thing these days, and I am so habituated to "double C", and it sounds so good to me (sometimes i wish i were IRISH/SCOTTISH) that I just cant get into using a "C" tuning (tuning the 5 strings to a C chord). When I need to do something in D, I use double C, 2 up. It may never win a Grammy, but it sounds cool to me.
My fav. tune in that tuning is BONAPARTE CROSSING THE RHINE....(Although I don't think he ever did!)

maverickdallas Says:
Wednesday, March 4, 2015 @3:40:54 PM
I always preferred to use the lower register for playing most of what I do in the key of C. I'll capo at the fifth fret for really fast, hard-driving stuff like Rawhide, Train 45 or other songs on that order. For anything else in C, especially slow to medium-paced, I love the sweetness and fullness of those bottom notes. From the very first time I heard Earl Scruggs play "Home Sweet Home" in the key of low C, I became huge fan of that particular sound and remain so to this day.

caseyhenry Says:
Sunday, March 8, 2015 @5:48:25 AM
Murphy has asked me to point out, in case it isn't obvious from the article, that she is teaching students who are still quite NEW to the banjo. Beginners for the most part who have just inched over the line into Intermediates and who want to play SINGING SONGS more than instrumentals.
You must sign into your myHangout account before you can post comments.