Posted by Bufo Bill on Wednesday, December 31, 2014
I touched on several key aspects of bridge design that are essential to polymer strings sounding their best in my previous blog entry. I will sum them up briefly here as they are all points that are useful on old Polymer strung banjos too.
A two footed bridge is essential to a full focused and loud sounding banjo.

A good way to class bridges is by weight. A bridge for polymer strings should weigh less than 1.0 grams.

A harder wood on the tip on a bridge is not essential.
A few other choices can help coax the best from an antique banjo
Wood Type
Maple bridges are a good choice of wood for modern banjos, however a softwood bridge will sound well on these early banjos, making them louder and giving a more "Bell-like" tone than maple. This is, I believe, why these banjos were built with very thin pot walls, they were designed to have the softwood bridge installed. I have had great results with Douglas Fir, although other softwoods may be used too.
To Cap it All
I said last time that a dense wood cap such as rosewood or Ebony was unnecessary with polymer strings. This is true with an old banjo too, but if you are buying a bespoke softwood bridge, and you do not wish to re-cut the string slots on an item that costs $20+, they will last longer if it has a very thin cap of Rosewood, as the softwood is so much softer than maple. If you make your own bridge (which is very rewarding) this is unnecessary as you will have the tools and materials already to hand.
Grain Density
Alas, nothing to do with whiskey. Many bespoke bridge makers use very densely grained maple to make bridges as it is supposed to create a better sounding tone.
With my homemade Douglas fir bridges, I feel I can detect a fuller tone in the mid-range of the notes when using timber with dense, fine grain lines. However banjos of the 1880's to 1910's were always described as being piercing and bell like in tone, and I believe that a very slightly more authentic tone can be found with very broad grained softwood, adding what I can only describe as "texture" or "Bite" to treble tones and to slides too.
This is purely my opinion on this latter point and would be very pleased to correspond with players or bridge makers on this matter, whether to agree or disagree, I would like to hear your opinions, on any points I have raised in these articles.
Also if any collectors of period banjo bridges from the banjos I discuss in this article wish to contact me with any points they feel I have missed or downright disagree with, I would be very grateful for any assistance they can give. I would love to learn from those who have seen the real thing.
---
2 comments on "How to get the Best From Your 1880's – 1910's Banjo and Polymer Strings through Bridge Design"

Strumelia Says:
Thursday, June 25, 2015 @3:10:48 PM
My 13" pot lightweight minstrel banjos with calf/goat heads do best with a simple rather thick and high two footed spruce or cedar bridge. No ebony or bone top/inserts on the bridge! Softwood bridges are very resonant with the low tunings and gut or nylon strings.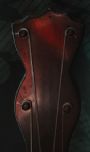 Bufo Bill Says:
Friday, June 26, 2015 @6:17:46 AM
My findings are very similar, thanks for your thoughts.
You must sign into your myHangout account before you can post comments.