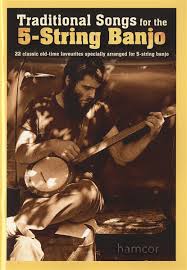 Traditional Songs for the 5-String Banjo: 22 classic old-time favorites specially arranged for a 5-string banjo (Wise Publications 2014)
This is a small format (9.75" x 6.5") saddle stapled 47 page book. It features 22 traditional tunes with lyrics.
This book just falls short in many ways. There is no author listed and no introduction or description of the intention of the book. It starts out with one page on how to tune your banjo in open G, and the next page is split between how to read "chord boxes" which are traditional chord diagrams, and a listing of 4 alternate tunings – A, Double C, Standard C (Drop C), and Gm. After that it goes directly into the tunes.
However, the ad copy from the back cover is misleading. It states, "…each song has been chosen and arranged to make the most of the instrument's unique capacity for rolling rhythms and flexible fingerpicking patterns." There is no "arrangement" set for these tunes. There is no tab or standard notation for "fingerpicking patterns" or even a basic melody line. This book consists entirely of chord charts for the tunes. The chords used are listed in chord diagrams at the top of the tune, and then you have the lyrics with the chord changes listed above the words.
If you're looking for chord progressions and lyrics for a score + 2 of traditional tunes, this book will deliver. There are even a few which don't necessarily appear in other books such as "Wild Mountain Thyme" and " What Shall We Do With a Drunken Sailor". But there are several better sources such as the Bluegrass Songbook by Oak Publications/Music Sales America which delivers similar content along with melody lines tabbed out.
You may just want to pass on this one and keep looking.
---
6 comments on "Book Review: Traditional Songs for the 5-String Banjo"
You must sign into your myHangout account before you can post comments.