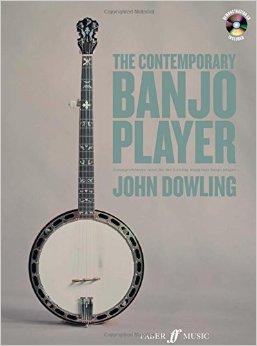 Want a short review? How about this: Not your standard banjo instruction book.
Why would I say that? Read on, fellow 5-string enthusiasts…
If you aren't familiar with the author, John Dowling is U.K. musician who has won multiple awards including the national championships in Winfield when he was 21. He has been a professional teacher and performer for over 15 years.
John has written a book for the "contemporary player" of the 5-string banjo. An overview of the book shows this means the player who wants to play the banjo in all sorts of music – not just bluegrass and folk. The focus of the book covers a wide swath of techniques to equip the student with the skills to play most anything.
The book begins with a cursory look at how to select a banjo, hold it once you've purchased it, how to position your left and right hands including ring/pinky/both anchoring and right away discusses tonal differences based on how far from the bridge you position your right hand, and banjo amplification (pickups). You also get a section on changing strings, reading tab, three basic rolls, how to use a metronome, straight vs. swing/bounce rhythm, slides, hammer-ons, pull-offs, extremely basic back up, and tunes to demonstrate these techniques. All of this is followed by some basic music theory and discussion of chord inversions.
That's a lot. And that's the first 35 pages.
This is followed by a chapter entitled "Intermediate Technique". It gives a bare, one sentence description of Scruggs style playing "…only a few notes of each bar make up the melody, the rest being essentially filler notes." It then launches into discussions of single string followed by melodic playing and has a couple of fiddle tunes done both ways so you can see and hear the difference in approaches. All of this is followed by up the neck playing in Scruggs style.
Other intermediate topics demonstrated are harmonics, diatonic and diatonic 7th chords, playing single string passages using 3 finger rolls, utilizing chord forms where the bass note of the lower inversion is used to give fuller sounding chords, playing in other keys without a capo, playing avoiding the 5th string so you can have moveable licks which work all over the neck, alternate tunings, working out your own arrangements and improvising, and varying roll timings and emphasis to fit into other forms of music. Whew.
Then Dowling gets to "Advanced Techniques" including Travis style picking, moving bass lines, artificial harmonics, tremolo, rapping the head for percussion, a "Bartok pluck" style of technique, and use of a bottleneck slide.
The techniques shown are eclectic, advanced, and packed into a short amount of space. Dowling makes liberal use of pictures and examples so ideas are clearly presented and definitely workable. There is also a CD provided which has all of the examples so you can hear what Dowling is describing. As such, I feel it is also NOT the book you want if you are just starting out. There is too much in here for a raw beginner and that person might become frustrated with the rapid pace the book takes. As a 2nd or 3rd book, though, it has a lot of merit.
It's not a "repertoire" book where you learn lots of tunes you will be using at jam sessions. Yes, there are standards such as Roll in my Sweet Baby's Arms, Man of Constant Sorrow, Blackberry Blossom and Eighth of January, but these are used to demonstrate technique rather than to be thought of as your preferred solo. Dowling uses several of his own compositions to help demonstrate these ideas, as well.
As you can see, this isn't your standard banjo book. Discussion of electronic amplification in the first few pages help indicate the audience this book is directed towards – that new generation of player who isn't as interested in learning the history and solos of the great players but want to get up and running to be able to utilize the instrument whose sound has captivated them while playing the music they hear every day.
This book does deliver a good overview of many alternate techniques to be used on the banjo which go outside of what is shown in 95% of the instruction material currently available. The techniques shown are used by the advanced players out there today so none of this is just a pipe dream. These are solid, usable techniques. If you're past the beginner stage and want to develop some tools to expand your playing beyond the basics, this book is definitely worth your study.
---
Be the first to comment on "The Contemporary Banjo Player by John Dowling (Faber Music 2014)"
You must sign into your myHangout account before you can post comments.