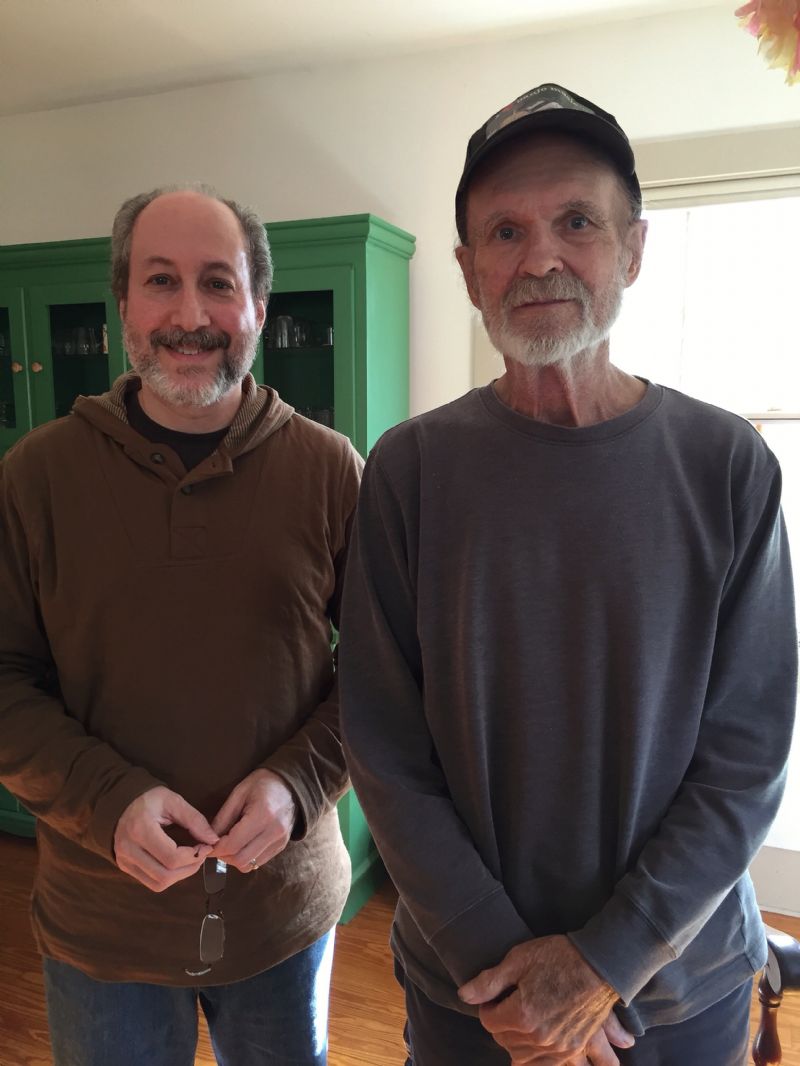 Every year I accompany my wife to the Sheep and Wool festival held in Rhinebeck NY. It turns out that Rhinebeck is 30 minutes away from Bill Keith's home in Woodstock NY. I spoke to Bill the other day to order a set of his D tuners and mentioned that we were coming his way the following day. I asked if it would be ok to stop by and pick them up on our way home. He said sure!
It was an honor to meet and chat with such a legendary and influential master of the banjo.
---
7 comments on "At Bill Keith's Home in Woodstock NY"

Just Bill Says:
Monday, October 20, 2014 @7:33:15 AM
Mr. Keith is a true gentleman! How nice you could meet him!

JAFO Says:
Monday, October 27, 2014 @5:38:31 PM
Great picture, you might be interested to know that the very next day (10/20), John Sebastian and David Grisman were standing in that same kitchen and Eric Weissberg was standing there later in the evening (as was I, but I don't count). (Bill shoudl charge admission to his kitchen.) Bill is a sweet guy, glad you got some time with him.
Frailblazer Says:
Monday, October 27, 2014 @6:58:08 PM
WOW!

japfelthaler Says:
Monday, November 10, 2014 @4:42:33 PM
That's great Ric! Would have been even better if you were there on 10/20!!
Frailblazer Says:
Tuesday, November 11, 2014 @6:41:25 AM
For sure!!!

ramjo Says:
Saturday, December 13, 2014 @2:49:11 PM
Hey Ric--
Rinebeck is about 45 minutes from the Old Chatham Sheep Herding Co., and I'm about 5 minutes from there!
You must sign into your myHangout account before you can post comments.