I was Skyping with a student recently and as we were getting started, being the good Southern boy that he is, he asked, "How was that thing in Raleigh?" And that tickled me because "that thing in Raleigh" is the annual IBMA World of Bluegrass, a week-long event that includes a business conference and trade show, an Awards Show, and a weekend chocked full of more bluegrass than you can shake a stick at (to use Georgia vernacular). Most folks just call it "IBMA," as in, "Are you going to IBMA this year?" I went to IBMA this year and, I'd like to share a few of my favorite things, to borrow from Julie Andrews. In deference to the focus of this blog, I will talk less about raindrops on roses and whiskers on kittens and more about banjos!
Number one favorite thing: The Earl Brothers! I fell in love with this San Francisco-based band who seemed to be channeling Roscoe Holcomb, the Stanley Brothers, Larry Cordle, and Hazel Dickens into one minimalist, gothic, bluegrass amalgam. Almost all of their songs were original vocals and several only used ONE CHORD! The banjo playing of leader Robert Earl Davis sounded like Ralph's did before Earl showed him "the roll." Not clawhammer, not two-finger but a driving, droning, less-is-more three-finger style. To paraphrase Jody Stecher, this music touched something inside me that was primal and deep. "Rattlesnake poison, it's good medicine..." If you like your bluegrass on the raw side, check out the Earl Brothers.
Number two favorite thing: Listening to Tommy Goldsmith's talk about Foggy Mountain Breakdown. Tommy is writing a book about FMB with the premise that the tune "was an important doorway to the second half of the 20th century for bluegrass and roots music." Naturally in the course of his research he interviewed Earl, and for whatever reason, The Man opened up a bit and revealed to Tommy some thoughts about Bill Monroe and Lester Flatt that I had never heard before! Score! New Earl stuff! Making the experience even more enjoyable for me was getting to sit beside Alan Munde who was looking dapper and well rested even at 9 a.m.! When Tommy quoted Earl as saying that Lester couldn't play the guitar very well on slow tunes, Alan was quick to come to Lester's defense. Alan pointed out that, in the world of rhythm guitar playing, less is often more (there's that phrase again) and perhaps Lester's uncluttered approach on the guitar gave Earl and the entire band more musical freedom. I loved Alan for that! (But who doesn't love Alan?)
Number three favorite thing: Bela Fleck's Keynote Address. Bela, bless his heart, jumped right in right in with a heartfelt apology for not being more gracious when he received the Banjo Player of the Year award in 1990 at the first IBMA Awards Show. His acceptance speech that year was something like, "Thank you but I haven't played any bluegrass banjo this year." I was there and, he was right, he didn't come off well. I'm sure words like "ungrateful" and "too big for his britches" were bandied about in the audience. This year, however, he made reparations by saying "I was such a dork" and referring to his "mullet" hairdo. You've got to love a guy who had obviously been worrying about this minor faux pax for the last TWENTY-FOUR years.
Bela went on to explain that he had been trying so hard to follow his own heart that he was caught off guard by this award. He said he wished now that he had had the wisdom and maturity to acknowledge the honor properly. He then went on to say that he eventually realized that no matter how far he seemed to stray from the bluegrass path he was actually always securely anchored in the bosom of Earl. He told us that he always plays some of Earl's tunes at his concerts and that these invariably get the loudest applause. So Bela displayed all the characteristics bluegrassers love: he was modest, self-effacing, humble, apologetic, humorous, and totally respectful of Earl. And he urged all of us to follow our own musical dreams, no matter what they were or where they took us. Good stuff.
Number four favorite thing: I was knocking back Coronas with some friends after the Awards Show when I got this text (which I totally saved!): "Hey, Murphy would you be up for doing an interview for my website tomorrow morning say at 10:30." I was stunned. "Guess who I just got a text from?" I said. "Tony Trischka!" How cool was that? (Everyone was extremely impressed!) Tony and I are friends, having taught at numerous camps together, but I was still startled to get a text from him. Of course I said "Yes! Where shall we meet?"
So I met Tony the next day to do a video shoot for his website. And it was so much fun! Tony is one of the nicest guys on the planet and he seemed genuinely interested in listening to me expostulate about my teaching philosophy, my book, and my feminist ideas. He also asked me to plays some tunes so right there, with Tony Trischka sitting at my elbow, I had to play the banjo BY MYSELF. Luckily, I learned long ago in cases like this to choose tunes I can play in my sleep. After all, how can anybody musically "wow" Tony Trischka? So I chose Banjo In The Hollow, the easiest tune I teach, and two tunes that we play in our Tip Jar Jam every week, Lonesome Road Blues and John Hardy. Tony was so respectful and so complimentary that I was much more comfortable than I thought I might be. He also wanted me to play something original, so I played Hazel Creek, which, as I told him, was the same tune I played for Earl Scruggs when Casey and I got to visit him and Louise in their home! I think Earl liked it!
Number five favorite thing: Seeing Bill Keith receive the Distinguished Achievement Award. Personally, I think Bill should be in the IBMA Hall of Fame, but I was so glad to see him get some of the recognition he so richly deserves. After all, this is the guy who was pretty much responsible for introducing the melodic style of banjo playing to the huddled masses via his tenure and recordings with Bill Monroe. (Salt Creek, Devil's Dream, Sailor's Hornpipe, Santa Claus. Even a good scrugg knows that litany! Pike County Breakdown and Shenandoah Breakdown were issued much later.) He also did the original tabs for the Earl Scruggs book and I personally think that his showing these tabs to Earl was what got that book off the ground. I wore my Scruggs book out trying to learn those tunes before finally realizing that I need to actually HEAR THE TUNES to make sense of the tabs. That was when I started slowing down the records....which is another story. And of course there are the Keith tuners. I have tremendous admiration for Bill Keith and his huge contributions to banjo playing.
Number six favorite thing--more Alan Munde! Friday morning I walked downstairs to the hotel restaurant to find Geoff Stelling and Alan Munde finishing up breakfast. I sat at the table next to theirs and told the server I'd have the buffet. Then Alan said, "I'm not going to eat the rest of these pancakes. You're welcome to them." I looked over and saw that precisely half of his stack of four enormous pancakes was still sitting neatly on his plate. (My way of eating pancakes is to eat the middle out of all of them because that's where the butter is!) So not wanting to have to make any more decisions about anything, including what to choose on the buffet line, I said, "Thank you!" And he cut off all the edges where his fork had touched the pancakes, handed the plate to me, and I finished them off! Unfortunately this pancake sharing did not convey to me Alan's remarkable ability to play melodic banjo in the key of F!
And lastly, my number seven favorite thing: Thursday at 9 a.m. I walked into a mostly empty exhibit hall to hear the mellifluous sounds of a solo banjo wafting through the quiet morning air. As I moved toward my booth, I realized I was hearing my version of John Hardy, the one that I teach. "I need to find this banjo player," I thought. So I followed the sound and there in the Tranjo booth, sitting by himself banjo in hand, was none other than Eric Schlange, our friendly neighborhood webmaster here at Banjo Hangout! "Eric," I said, "you're playing my version of John Hardy." "Yeah," he said, "I've used your lessons a lot. That's how I know they work!" Wow! Thank you, Eric!
And that's a good note to end on!
Except of course I can't resist trying to bluegrass-up "My Favorite Things." (Actually I think I already did that once for Bluegrass Unlimited.) Nevertheless, this one can be Totally Banjo!
Five strings on banjos
And picks on three fingers
Fast tunes and slow tunes
And songs for all singers
Four or five friends in a musical ring
These are a few of my favorite things
When the jam bites, when the time drags
When I'm feeling sad
I simply suggest an old Ralph Stanley song
And then I don't feel so bad!
---
6 comments on "That Thing In Raleigh: IBMA By Murphy Henry"

schlange Says:
Monday, October 20, 2014 @10:34:39 AM
"Mellifluous" might be overstating it... :-)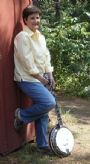 Banjosnob Says:
Monday, October 27, 2014 @4:30:29 PM
next time, when I can finish my pancakes, I will text you to come and help. Ha! Love you!!!

garman Says:
Monday, October 27, 2014 @5:22:31 PM
Wonderful review. So sorry I missed. Thanks for all u do banjo Casey.

caseyhenry Says:
Tuesday, October 28, 2014 @6:13:58 AM
I should point out that Murphy wrote this, not me!

RobertEarlDavis Says:
Wednesday, October 29, 2014 @3:23:37 AM
Thank you for printing your mothers review....It was a pleasure to finally meet Murphy Henry...We had a good talk while at IBMA 2014...Ms Henry diffidently gets what the Earl Brothers are about...Very sharp lady!!!........I look forward to meeting up again in 2015.....Peace and Good Health.........R E Davis


dpdevendra Says:
Saturday, November 1, 2014 @4:54:14 AM
Great entry. I listened to the IBMA awards and heard Murphy giving out one of the awards. The blog post from Murphy put me right back to that thing in Raleigh. Cannot wait for the banjo camp in March.
You must sign into your myHangout account before you can post comments.