Posted by twayneking on Monday, September 15, 2014
Okay, I admit it. I enjoy being a bit of an odd duck. Comes from my difficult childhood as a nerdy, skinny little kid in the local public school where they sent all the thugs and toughs deemed unworthy to attend the local church schools and the heathen children whose parents didn't go to church. The rest of us who were simply too poor went there because we had to. It was a lesson in survival skills for the meek.

While we meek types may, indeed, inherit the Earth someday, it sometimes feels like we may have to pay for it in blood. I was offered the chance to play in the school band at one point, but I turned down the opportunity. In order to play a band instrument other than drums (where the thugs were well-represented), you had to stick something in your mouth and when you do that, you can't really sing along.
I took up instrumental music in 1971 when I bought a damaged Mexican guitar for $6 and fixed the bridge. It worked beautifully and made even my pitiful efforts sound good when I could actually get the thing in tune. It took me two years to develop a good enough ear to actually hear what "in tune" sounded like. Till then, I tuned my guitar visually by depressing the top string on the fifth fret, plucking it and adjusting the next string down till it vibrated when I picked the string above it. I learned this technique in physics class - I was that big a nerd.
They called me two-chord Tom and used to pay me to play elsewhere. When my guitar playing finally became tolerable enough to play with the guys at campfire at my summer camp job, I was offered an old used cheap banjo. No longer obnoxious enough, I jumped at the chance to revisit my halcyon days as an out-of-tune ballad singer.
After 40 years of banging away at it, I can play well enough that folk don't run screaming from the room, although my wife (Miss Perfect Pitch) tends to keep putting it way in the back of the closet if she finds it left unattended for more than a few minutes.
Ah, well, I can always go to the woods or sit out on the porch, a spot to which generations of itinerant banjo players have been traditionally banished. That's okay. I like the porch and the woods.

More scope for the imagination.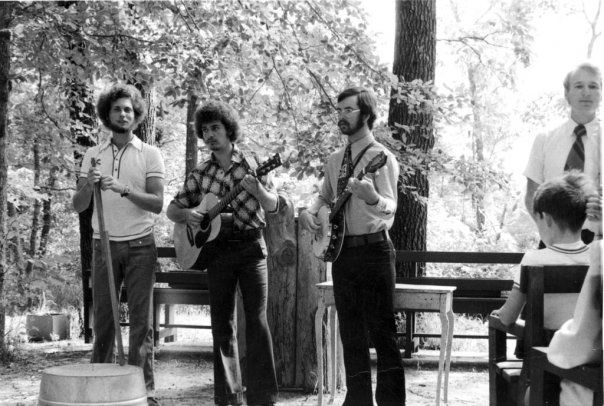 ---
3 comments on "Why I Took Up the Banjo"

frailin Says:
Monday, September 15, 2014 @12:41:49 PM
"Two-chord Tom." Your words are always symphonies, my friend. Thanks for sharing. :)

Ks_5-picker Says:
Sunday, September 28, 2014 @5:45:37 AM
Thanks for sharing..........is that Simon and Garfunkle you're playing with there? ;)

twayneking Says:
Sunday, September 28, 2014 @10:34:22 AM
More like Garfunkel and Garfunkel with that hair!

Jack, Bill and Bow (pronounced Boe) and I are playing here at the outdoor chapel at Lone Star Camp - circa 1975. We were a praise team band before they had such things - sort of an outgrowth of the setting, I suppose. Bow played flute and I played banjo, Bill was on the guitar and Jack manned the washtub base. Jack was actually a powerful piano player and musician in his own right, but this was before the electronic keyboard. It was an interesting group. Jack became a physician, Bill earned a Ph.D. in education and Dr. Bow Walker became director of a planetarium, author of a college text on astronomy and an astronomy professor. I was the only one who didn't become a doctor of some sort. It was probably the banjo. I wound up in the nonprofit sector, helped start 5 nonprofit/educational organizations and eventually continued on down the path to poverty and became a freelance writer. I guess the moral of the story is "Choose your instrument well." It's the old saw, "What do you say to a banjo player wearing a tie?"

"Will the defendant please rise?"

You must sign into your myHangout account before you can post comments.