Posted by Ladelnutts on Thursday, September 4, 2014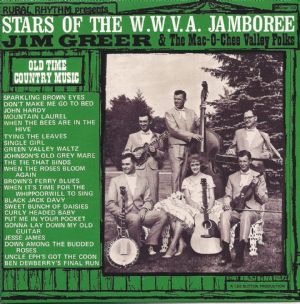 Jim Greer – Banjo
Valeda Wentz – Vocals, Guitar
Bob McPherson – Vocals, Mandolin
John Wentz – Dobro
Dalton Burroughs – Bass
Aaron Hicks – Fiddle
As a native West Virginian, I was excited to review an album connected with the WWVA Jamboree. The WWVA Jamboree (now known as the Wheeling Jamboree) has been broadcast from Wheeling, WV since the mid 1920s and has been influential in exposing many to bluegrass music across the state.
The album contains twenty-two tracks which is an impressive compilation of the group's work. Bob McPherson and Valeda Wentz provide the vocals on the album. The voices complement one another well and both are solid on their instruments. A few tracks on the album really stand out with some exciting musicianship. Jim Greer shows off some of his banjo prowess on the bluegrass standard "John Hardy" while "Johnson's Old Grey Mule" highlights some of Aaron Hick's fine fiddle playing. Bob McPherson stretches out his fingers playing the mandolin on "When It's Time for the Whipporwill to Sing." While listening to the album, you hear the group's tight timing and well performed back up playing that really accentuates the songs' melody.
I also want to praise the production team on this album. While listening to the album, I was impressed with the sound quality of the remaster. I am not sure if the magic lies solely with one person or if it is a culmination of the team but I find it fitting to recognize those involved:
Album Produced by Lee Sutton
Album Arranged by Uncle Jim O'Neal
Reissue Producer: Sam Passamano, II
Mastered for this CD by Sammy Passamano, III
Studio Engineer: Mark Thornton
(Original tape transfer at Sidekick Sound Studios – Nashville, TN)
This is probably not an album that you will keep in your CD player and play repeatedly. However, the album is very good and I find myself listening to it once or twice a month. The album is available from Rural Rhythm Records for $8.98 and is well worth the price.
Rating: 3.5/5
---
Be the first to comment on "Album Review - Stars of the WWVA Jamboree: Jim Greer and the Mac-O-Chee Valley Folks"
You must sign into your myHangout account before you can post comments.