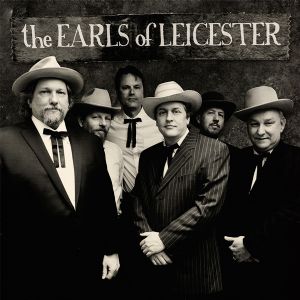 Jerry Douglas – dobro
Shawn Camp – lead vocals, guitar
Charlie Cushman – banjo, guitar
Tim O'Brien – vocals, mandolin
Johnny Warren – fiddle
Barry Bales – vocals, bass
Earls of Leicester (yes, pronounced "Lester") is Jerry Douglas' tribute to the band headed Earl Scruggs and Lester Flatt, and that unique sound they produced in 50s and 60s which influenced almost all of bluegrass. Douglas' idea was to gather a group of musicians who could do justice to that sound, use material from the prime Flatt & Scruggs days, and produce the experience as if you were hearing it live back then.
And boy do they deliver.
The banjo and fiddle play together and off each other as Lester & Earl's band uniquely did. The dobro has all of the voice of Josh Graves. And the vocals have the right cadence, timbre, and layering to make the picture complete. You're hearing Flatt & Scruggs as if you were sitting at a concert. These aren't just ghosts of the past coming back. It is a time machine made possible by some fantastic musicians.
But to do all of this there is a tradeoff. You're not going to hear the pyrotechnics these musicians are capable of. This isn't a "picker's album". These musicians stay true to the roots and navigate perfectly along the path they've chosen. They channel the concept so perfectly the really do become the 1950s Flatt & Scruggs band. And you're right there in the room with them.
They ARE the Earls of Leicester.
This album releases tomorrow, September 16, 2014.
---
2 comments on "Album Review: The Earls of Leicester"

retiredpostaldude Says:
Thursday, September 4, 2014 @1:24:47 PM
Chris .... I have heard quite a few of the songs on XM-61 ,bluegrass junction, and have enjoyed them...... this tribute album was a good idea .... I'm hoping Kyle Cantrell will have the band in studio and play all the tracks .... Thank for pointing this out.
Donny

Merc70 Says:
Monday, September 15, 2014 @1:33:11 PM
Heard them the other day on Sirius. Sounds just like Lester, it was really good.
You must sign into your myHangout account before you can post comments.