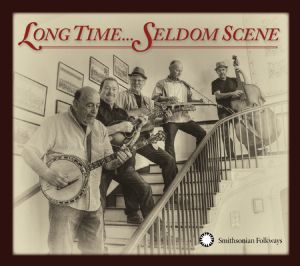 Long Time… Seldom Scene is the 2014 Smithsonian Folkways release of sixteen newly recorded tracks of beloved classics and covers spanning Seldom Scene's forty year career. To bluegrass aficionados their history is well known. In the early 1970's a group of hot pickers with serious day jobs met once a week in Bethesda, Maryland for jam sessions at founding member and current banjo player, Ben Eldridge's house. With blazing skill on their instruments, led by the soaring vocals of founding member, John Starling, and former Country Gentlemen mandolin player, John Duffey, the band soon found themselves at the forefront of a bluegrass revolution emerging out of the nation's capital that emphasized proficiency and wasn't constrained by traditional band set-ups or song selection.
Long Time… Seldom Scene begins with "California Cottonfields" a song recorded by Merle Haggard, an Okie's lament as he sees his father chase dreams of a better life out West. Along with "Lorena" these cuts feature the exquisite playing of Fred Travers on dobro and Lou Reid on mandolin.
Each song is carefully crafted by seasoned masters. John Starling's vocal on "Wait a Minute" is strong, crisp and complimented beautifully by Rickie Simpkins, a guest artist on fiddle. Several songs maintain a slowburning tempo that favors tension and drama rather than speed. This is especially evident on standout tracks such as the Bill Monroe composition "With Body and Soul". Starling's taut and spare lead vocals are accompanied by country music legend, Emmylou Harris.
The enclosed booklet offers a comprehensive history of the band, its numerous permutations and line-up changes, and even recent interviews with the musicians. Music collectors know the quality of production that Smithsonian Folkways maintains, and the production values on Long Time Seldom Scene are excellent. You know an album is well recorded when you can hear Ronnie Simpkins' bass strings reverberate against the neck during a quick stop, as it does several times throughout the album.
Of the original, founding members, only Ben Eldridge remains, which is why this release is of particular interest to banjo players. Like the sound that characterizes Seldom Scene's long career, Eldridge's banjo is steady without being intrusive, melodic and inventive. His playing is highlighted on tracks such as John Prine's masterpiece, "Paradise" where Eldridge punctuates the iconic lyrics with rich triplets. He returns to straight ahead Scruggs driven banjo on the gospel number, "I'll Be No Stranger There", which finishes by allowing the entire band to flex its vocal muscle with a powerful and virtuosic a capella finale. Eldridge's obvious influence from Scruggs is again evident on another Monroe track, "Little Georgia Rose" and "What Am I Doing Hangin' Round?"
This is a band that has made no secret of their unconventional tendencies and willingness not to take themselves too seriously (other than their playing, of course). We hear some of that on tunes such as "Mean Mother Blues". The song is sung and picked with a wry smile, and an up-tempo pulse that evokes a big band dance number. Drawing from a catalog of covers that strayed far from traditional bluegrass standards, Long Time…Seldom Scene includes "Big Train (from Memphis)" by John Fogerty and "It's All Over Now Baby Blue" from Bob Dylan. Whereas a great deal of Dylan's catalog can be translated into bluegrass, and many have become something of standards themselves, such as "Nashville Skyline Rag", "Girl from the North Country" and regrettably, "Wagon Wheel", "[…]Baby Blue" would not seem an obvious choice. Its dreamy poetic lyrics, "reindeer armies", moving carpets, vagabonds and the suggestion of a broken relationship in the refrain, contrast explicit, accessible bluegrass imagery. But it works because behind the smiles and seemingly slow moving tempo, tension bubbles and Dudley Connell's high keening is like a guitar string tuned so tight it sounds as if it's on the verge of snapping.
The standard for Seldom Scene was set very high many years ago, but with Long Time…Seldom Scene that standard is maintained if not exceeded. The sound is immediate and total, the instruments are mixed faithfully to create intimacy and space with musicians who are masters of their craft, relaxed with material they have been playing for decades, updated with an innovative style that established their reputation.
---
Be the first to comment on "Album Review: Seldom Scene - Long Time"
You must sign into your myHangout account before you can post comments.