Posted by corcoran on Monday, August 25, 2014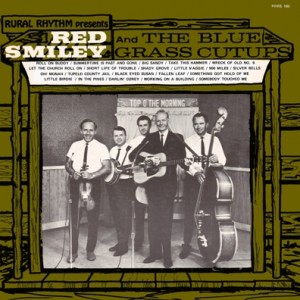 Don Reno and Red Smiley and the Tennessee Cut-Ups were one of the most influential early bluegrass bands, powered by Reno's wildly inventive and flowery banjo playing, his clear tenor vocals, Smiley's smooth lead vocals, and his booming rhythm guitar playing. They also featured many original songs and instrumentals written by Reno. In early 1965, however, the partners split up because Reno wanted to tour more than their tv schedule allowed. Their touring was also restricted by Smiley's health: He suffered from diabetes, and, as I recall it, had lost a lung due to injuries in the Second World War. Reno reconfigured his band and partnered with several different people at various times in the ensuing years, whereas Smiley stuck with his spin-off band, the Blue Grass Cut-Ups. In addition to Smiley, members of the band were Billy Edwards on banjo, Gene Burris on mandolin and vocals, Tater Tate on fiddle and vocals, and John Palmer on bass. Rural Rhythm Records has released two of Smiley's albums on CD, and what gems they are.
The first thing to note about Red Smiley and the Blue Grass Cut-Ups is that their repertoire is considerably more traditional than Reno and Smiley's. Most of the songs on these albums are familiar parts of the bluegrass canon. Pay particular attention, for example, to Short Life of Trouble, a wonderful old waltz number that I associate with the playing of Earl Taylor; their driving version of Little Maggie; Banks of the Ohio, at a nice bouncy and bluesy tempo; or 900 Miles, which presumably crept in from the Great Folk Scare of the 1960s. In contrast, Reno and Smiley featured many songs written by Don Reno, resulting in their distinctive sound. However, the Blue Grass Cut-Ups played some unfamiliar songs that work well in bluegrass. Oh! Monah!, Tupelo County Jail, Something Got Hold of Me, Pale Horse and His Pale Rider, and Fallen Leaves come to mind.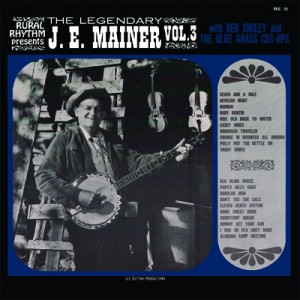 The second thing is that this was a really fine band. Red Smiley's lead vocals were exceptional. His voice was velvety and expressive, and I have long thought he had perhaps the warmest voice in bluegrass. And Smiley was a great guitar player whose bass runs on that D-45 are immediately recognizable and, to me at least, serve to knit together the sound of the band in a consistent fashion from song to song, fast or slow, 4/4 or waltz time. Red Smiley was one of the great treasures of bluegrass music, and these CDs should help to ensure that he is not forgotten. The rest of the band was smoking as well: Although his mandolin was used only sparingly, Gene Burris's tenor vocals and occasional lead were a nice counter-point to Smiley's voice. Tater Tate's fiddling was dynamic, accurate, and much better than it was in his later years with Bill Monroe, in my opinion; and John Palmer's bass was distinctive and bang-on in timing (including his solos on Little Darling Pal of Mine).
What about the banjo, you ask. Well, I have saved Billy Edwards for last – this is, after all, a review for banjohangout.org. Edwards was a superb Scruggs stylist of the traditional persuasion. He could play blistering breaks on fast tunes (e.g., Little Maggie), effective breaks on slower waltz tunes (e.g., Summertime is Past and Gone, Short Life of Trouble); or arrangements incorporating elements of Scruggs style and single-string (e.g., Silver Bells). His picking was clean and authoritative, he pulled great tone from his banjo, a flathead Gibson, and his backup was fearless, subtle, and always appropriate. Furthermore, although he is not credited with vocals on these albums, Billy Edwards did sing with the group and with its successor, the Shenandoah Cut-Ups (formed after Smiley retired), and he had the most amazing ability to sing and play banjo at the same time. Yep, he could step up to the vocal mic and sing, all the while keeping rolls and even backup phrases going on his banjo, without missing a beat. Remarkable.
So if you are in the mood for a dose of good traditional bluegrass, featuring excellent banjo and played by a very polished band with one of the great vocalists and rhythm guitarists of all time, these albums are for you. I recommend them highly.
Album 1: Red Smiley & the Blue Grass Cut-Ups (RUR 160)
Album 2: JE Mainer with Red Smiley & the Blue Grass Cut-Ups (RUR 198)
---
6 comments on "Review of 2 albums by Red Smiley and the Blue Grass Cut-Ups"

stingo2 Says:
Tuesday, August 26, 2014 @10:56:26 AM
The reason all of the songs are "traditional" is that Rural Rhythm mostly used public domain songs to avoid paying royalties.

rustewey Says:
Tuesday, August 26, 2014 @3:20:18 PM
In 1973 I had the opportunity to meet Billy Edwards in Escoheag RI.

I had gone by a campsite where there was a no tone ring Fender banjo with rusty strings, and when I tried playing it, it sounded like a no tone ring banjo with rusty strings.

Later I walked by this campsite and Billy Edwards was playing the same banjo. I listened for a while and began to realize he was getting the sound of a good Mastertone out of a no tone ring banjo with rusty strings. Out doors with no acoustics !

This was a valuable lesson for me to learn !

Blue Highways has a Mac Wiseman DVD with the Shenandoah Cutups backing him. This is a great chance to watch Billy play 3 finger and sing at the same time.

Some of these cuts are on YouTube.

I am blessed to have had the chance to meet and hear this wonderful under appreciated banjo player in person.

stingo2 Says:
Tuesday, August 26, 2014 @3:42:54 PM
I have a poster of a show I saw in Columbus, Ohio in '67 or '68. It had Flatt and Scruggs, Don Reno and Bill Harrell with George Shuffler, Red Smiley and The Blue Grass Cut-Ups with I believe Billy Edwards, The Country Gentlemen with Duffey, Adcock and Waller, and the Dixie Gentlemen. Now that was quite a show.

Dan Sparkman Says:
Saturday, August 30, 2014 @4:59:00 AM
I really resent seeing the term "Great Folk Scare of the 1960's" showing up on this site. That is a negatively loaded political statement that has nothing to do with the quality of the banjo-playing from any of the groups involved, which were quite good. Even Pete Seegar spoke at Dave Guard's funeral, and he never would have been so disrespectful, no matter what he thought of the politics of the groups involved. Those groups did a lot more to popularize the banjo and save it, than even Seeger did, and Pete Seeger did a lot.

stingo2 Says:
Saturday, August 30, 2014 @10:16:02 PM
Dan, I too object to the phrase, which I believe came from comic Martin Mull's act. We all know some outstanding banjo players from this era such as Erik Darling, Billy Faier, Hedy West, Mike Seeger, John Cohen, John Hartford, Tom Paley, and John Stewart to mention just a few. Many people became aware of the banjo's potential when it was still mostly an "outsider" instrument through this time period.

corcoran Says:
Monday, September 1, 2014 @6:58:33 AM
This blog is about the two albums by Red Smiley and the Blue Grass Cut-Ups. Rather than hijacking it, why don't those of you who are so offended by the phrase "Great Folk Scare" -- which is a joke, in case you had not noticed -- start your own blog to discuss this and related phrases, words, or concepts that you find so terribly objectionable. I guess humor is not permitted when discussing folk music, eh? I cannot imagine how you would react to banjo jokes.
You must sign into your myHangout account before you can post comments.