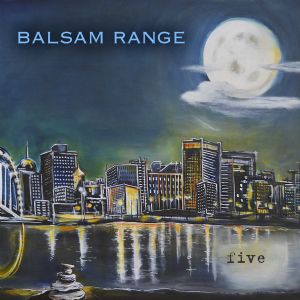 Buddy Melton – Vocals, Fiddle
Tim Surrett – Vocals, Bass, Reso Guitar
Caleb Smith – Vocals, Guitar
Darren Nicholson – Vocals, Mandolin
Marc Pruett - Banjo
Balsam Range's fifth album cleverly named "Five" is the group's follow up to their 2013 IBMA award-winning album of the year "Papertown." Releasing a new album only months after winning one of the industry's biggest awards has to be challenging, but "Five" does not disappoint.
"Five" continues in the tradition of what has made Balsam Range one of the dynamic groups of today: hard-driving bluegrass with well-written lyrics, rock solid instrumentals, and amazing vocals. The album continues with the rich storytelling lyrics that fans have come to expect with Buddy Melton, Tim Surrett, Caleb Smith, and Darren Nicholson each taking on lead vocal duties. Marc Pruett may not sing on the album but his astounding banjo playing certainly gives him a voice.
The album has a diverse variety of songs. The lead track, "Moon Over Memphis" is a nice up tempo number which begins with some of Marc Pruett's fine banjo work. "From A Georgia Battlefield" is a slow ballad about a young man serving during the American Civil War. Also included is the acapella track "Stacking Up The Rocks" where Melton, Surrett, Smith and Nicholson showcase their singing talents. Another great storytelling song is "I Spend My Days Below the Ground" which is about a man's desire to keep his son from spending his life in the mines. Caleb Smith provides the lead vocals on the cover of John Denver's "Matthew" superbly. Once again Buddy Melton shows his amazing vocal range and depth. On the song "Everything That Glitters (Is Not Gold)" Melton gives an amazingly diverse range of vocals which can only be described as haunting.
Balsam Range delivers another fine album with "Five." Those familiar with the group's music will not be disappointed and those who are not familiar with Balsam Range will quickly realize the talent, depth, and diversity these men possess.
Rating: 4.5 out of 5
---
Be the first to comment on "Album Review - Balsam Range - Five"
You must sign into your myHangout account before you can post comments.