Provisional Certification Has Arrived!
Well today has turned out to be a wonderful day! I went to my mailbox and pulled out a packet from...The Great Pete Wernick himself.
I had a great phone conversation and interview with Pete on the 17th of this month and found him to be a very easy to talk to and a personable guy.
During the interview we also discussed Bluegrass and picking a bit of our history and how we arrived where we are today along with the goals of The Wernick Bluegrass Music Method.
I look forward to working with Pete to advance his principles on The Wernick Bluegrass Music Method and advancing Bluegrass and the Bluegrass Picking way of life.
Well that's all for now will post more in the future.
T.T.F.N.
( I )===='----<: :}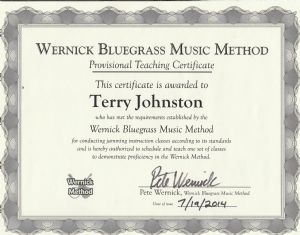 ---
3 comments on "Provisional Certification Has Arrived!"

Hankon5 Says:
Tuesday, July 22, 2014 @5:53:40 PM
Congrats Terry! Pete is one of my favorite instructional pickers! Years before I got into banjo, I went to Branson and purchased one of his 1st albums with the "Country Cookin'" band. It whetted my whistle to someday get into banjo picking. The album is MUsic Minus One. Still have it after all these years.!!!

Bill Rogers Says:
Tuesday, July 22, 2014 @7:52:29 PM
So now do you have to hie yourself over to Ol' Miss and take 15 hours of education courses to get your permanent certification?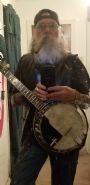 5stringpicker2 Says:
Wednesday, July 23, 2014 @2:28:39 PM
Roger on that Hankon5! and Bill, I just have to put on classes that the people love and have a great time at and I get a good poll results after several successful classes and according to Pete...I'm in! but I think I know what you're sayin'

( I )====='----<: :}
You must sign into your myHangout account before you can post comments.