On June 6, 2013, one year ago this month, the Banjo Hangout lost one of its own. Don Buedel, of Murphysboro, Illinios, known to most of us as "modon," passed away at the age of 59. I only knew Don from swapping tunes and stories online with him in the Banjo Hangout Chatroom, but I knew him to be a talented artst and a true gentleman, and considered him a dear friend. He is missed by all of us who haunt the chatroom instead of taking care of business, and it is not the same in there without him.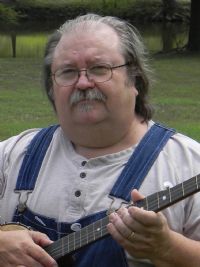 One night back in October, 2012, I heard Don fiddling a tune in the chatroom called Simon Stole a Turkey Egg. I'd never heard it before, and thought it was a cool tune, so I recorded the last few minutes of it, with the intention of learning it later. I have never heard anyone else play it, and I'm still not sure where he got it. Don had a fine ear for a good tune, and I had figured on learning it, but the world is paved with good intentions, and so I didn't get around to it until now. I have attached a video below; I am three finger picking my 1902 Fairbanks Whyte Laydie, in open D tuning.

Don must have been especially fond of the tune, because it is the first cut on the CD he recorded with Frank LeBlanc, called How the Cow Ate the Cabbage. I have the CD, and really enjoy it. I understand that Don's son Clay, also a BHO member, has some left. You can contact him through his BHO Homepage, to obtain a copy.

Don was a founding member of the Ozarks Heritage Festival in West Plains, Missouri. The festival folks have posted a tribute to Don on their website, which you can find here. Scroll about half-way down the page and you will find it.
Don died of a heart attack, quietly in his sleep. He passed far too young, but when my time comes, that's how I want to leave this earth.
---
12 comments on "Remembering Don Buedel"

Couchie Says:
Monday, June 16, 2014 @11:14:21 AM
Like Don Borchelt, I also considered Don Buedel a good friend. His charming musicianship and engaging personality made him a great person to be around. Don had and uncanny ability to find rare and unsual tunes and perform them like they were brand new. He was so much fun to spend time with, his sense of humor often had me in laughing out loud.

Don was making plans to meet with Don Borchelt and myself and Clifftop last year. Tragiclly, he passed away before that could happen. He will be fondly rembered and sadly missed.

Don Couchie

banjoike Says:
Monday, July 28, 2014 @11:16:11 AM
Very nice playing...

Reuben Dunn Says:
Saturday, August 30, 2014 @10:15:58 PM
A very fine tribute, made even more touching in that the two of you had a long distance friendship.

I envy you two.

Gareth Banjoland Says:
Thursday, September 25, 2014 @7:46:51 PM
yeah that's a great tune!

g3zdm Says:
Sunday, April 12, 2015 @8:12:50 AM
A well-penned tribute to a great guy.

Don Borchelt Says:
Sunday, April 12, 2015 @11:10:25 AM
Hey Chris, haven't heard from you in an age. Boston misses your occasional visits!

Lew H Says:
Thursday, May 14, 2015 @1:11:46 PM
Don, I likely live less than 20 miles from where Don Buedel lived, yet I never met him. I think some people he played music with tried to recruit my wife and me a while after his death, but it somehow didn't work out. I remember they talked about a good friend and fine musician who had died some months or a year before. I pretty sure that was this picker. It's odd how you think you know all the musicians of your genre in an area, yet you bump into pickers who've been around their whole lives and you never met them.

Don Borchelt Says:
Friday, May 15, 2015 @6:47:21 AM
Lew, I think Don was more involved with the scene across the river in Missouri. That might explain it.

darryl k. Says:
Monday, November 30, 2015 @7:19:18 PM
Dang that's nice Don.


cbuedel Says:
Wednesday, December 30, 2015 @1:41:23 PM
Dad, was involved with the Missouri fiddlers apprentice ship for a while. He was an apprentice with a master fiddler Cliff Bryant from West Plains, Mo. I think he learned Simon Stole a Turkey Egg from a fiddler from Willow Springs, Mo Charlie Hiler.

BanjoFlyboy Says:
Wednesday, December 30, 2015 @2:40:45 PM
Ole "Longbow" was a goodun and I miss him!

Don Borchelt Says:
Thursday, December 31, 2015 @5:57:25 PM
Thank you, Clay, for the information. Yes, Danny, old Longbow was a treasure. We all miss him, and the great fun we used to have in the BHO Chatroom. He was a natural.
You must sign into your myHangout account before you can post comments.