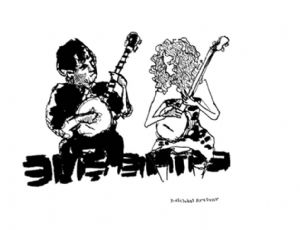 I recently attended one of the really unique banjo "shows" I've ever seen.
No guitars. No fiddles. Banjo ONLY—
It's one I almost DIDN'T get to see. And I would gladly pay to see it again. For many reasons I suppose, but mainly because it was fun watching Bela Fleck and Abigail Washburn have fun on stage.
I originally bought the tickets to this event for me and my daughter to attend. She lives in New York, and we were both excited about the prospects of seeing Bela (again), this time in a whole new setting with his wife and fellow banjoist Abigail Washburn. But a couple weeks out my daughter learned she would be out of the country for the night of the concert, so I was left to a decision to sell my tickets, or even up to the very last minute to go alone, or not to go at all. Fortunately I made the right decision and made it just before show time.
As they each walked calmly onto the intimate stage at the historic McGlohon theater in Charlotte, NC they settled in with their instruments and greeted everyone with a "hello" from Abigail and "hi" from Bela. It looked like the talking would be kept to a minimum, I was thinking. I remember seeing Bela one night a few years ago really just sit for 2 hours and play his banjo, without missing a note…and almost without saying a word. But this night would prove different. After just a couple of tunes, Bela warmed up—
"By now the cold reality may be setting in for some of you…the reality that the only instrument you're going to hear tonight is BANJO! Banjos and then more banjos…"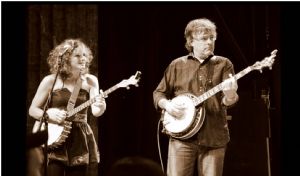 Six banjos in fact, huddled around a couple of mic stands and chairs. Bela's prized pre-war Gibson (which he almost never leaves onstage, he walks on with it and carries it off when he leaves), a couple of GoldTones—Abby's Cello banjo and Bela's "baritone" (I like it cause it goes LOW…he says) along with a cool 4 string "bass" banjo which brought out several references to Victor Wooten, long-time Flecktone member and master bassist.
There was a buzz in the crowd when Bela referred to Vic, but then Bela laughed and said
"No—that would be a really cool walk-on, to have Victor come out now, but--not gonna happen."
Then Abigail with her two other open back banjos which she moved through during the evening, often standing to sing while Bela accompanied her solo…
"You think this sounds sexy?" He asked her at one point, "take it banjo" she retorted back at him.
Later she shared a story about Bela getting pulled over some time ago while driving a bit too fast in Nashville by what turned out to be Earl Scrugg's nephew (a police officer), who looked at Bela, looked long and hard at his license, and then asked Bela in a deep southern drawl, "Who is the greatest banjo player in the world?"
To which Bela replied "Earl Scruggs?" Again the crowd enjoyed the banter back and forth between the banjoing hubby and wife. "I think he is ONE of the best in the world on the banjo" she would say about Bela. "He makes the banjo sound so beautiful" and you felt she meant that sincerely as she watched while Bela played a tune from his IMPOSTER album. "He wrote every single note for a symphony orchestra," Abby continued, "but tonight it will just be him playing it, so it spotlights the banjo a little more…"
I've seen Bela several times over the years from IBMA and bluegrass settings to his Throw Down Your Heart tour in a very intimate theater, to his shows with the Flecktones; but this was different than any of the others.
He certainly talked more with the audience. More than with all the previous shows I mentioned combined.
It was obvious he was having a great time with his lovely and talented wife onstage.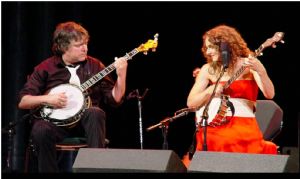 At one point Abigail, dressed in a flowing black dress—(like her banjos, open-backed) talked about the "deal" they made when they were putting together the idea for this tour; That she would have to learn at least ONE of Bela's tunes and even take a break on it. She went on to mention how complex his music was with the time signatures and key changes versus her "old time" mountain style which was really more about "several people sitting around in a circle playing the same melody over and over for a half hour just changing the words."
Her "deal" was playing with her significant virtuoso other on a Flecktones tune from LIVE ART, New South Africa and it was like watching (almost even participating in) a fun jam at a festival somewhere or in the hotel hallway at IBMA.
Their eyes watched each other for the changes and Abigail took her appointed break in her own inimitable style. The crowd erupted as they finished with a quick stop and smiled at each other touching "finger picks" as their "high five" celebration.
She talked about how she reluctantly agreed to "take a break" on one of his tunes, "you know me, ol' HOT LICKS ABIGAIL!" As the audience cheered and laughed she caught herself and almost whispered "I cannot believe I said that!"
She kept the crowd laughing throughout the night, even referring to opening for Steve Martin and the Steep Canyon Rangers and how backstage Steve would critique her "attempts" at humor, telling her,
"That's not funny Abigail—and here's why…"
Abby's version of Banjo Pickin' Girl also makes my highlight reel for the night. She and Bela move through the old-time tune with grins and glances and a bit of Bela's flash with Abby's "velvet" claw-hammer style. Bela even sings—which I've almost never heard him do adding a bit of humor to the tune as HE sings "I'm a banjo-picking girl…"
Abigail is fearless. She makes all banjos a little more beautiful.
Her interaction with Bela and the audience was equally easy.
Her voice is powerful and piercing and she controls her vocal 'instrument' with every bit the amazing skill as her counterpart plays his banjo. She sings in fluent Chinese and tells the audience what the story of the song is all about.
She was visibly comfortable throughout the evening and put the audience at ease in the process, talking about their new son and how they had this idea of writing songs together all summer after he was born…having all this "free time." The audience (many of whom were obviously parents) roared with laughter as Abigail announced, "yep, so we had just enough time for this one tune…which doesn't even have any words."
It was easy to see Bela was enjoying himself as well. It was a kind of relaxed presence onstage I can't remember seeing from him—ever, as he interacted with the crowd and even joked as people shouted his name after an intermission when he walked onstage alone… "It's BELLA vs. BELA, which one will win out?" He called into the microphone. Then he set some of the new-bees straight "It's BELA—like a BALE-A-COTTON."
As he pulled up a stool and mic stand off to the side of the stage he asked the audience what were some of their favorite tunes of his—and the shouting match was on. "BIG COUNTRY…SUNSET ROAD…WHITEWATER…BIG COUNTRY…and even Foggy Mountain Breakdown could be heard over many others called out throughout the venue. Without missing a beat, Bela chuckled, sat down on the stool and said "OK, let's see what happens." And then on what appeared to be his baritone banjo he launched into Foggy Mountain Breakdown, moving easily through Whitewater, Sunset Road and a couple others before ending in the crowd-pleasing Big Country; it was certainly one of the highlights of the night, at least for me. The crowd roared their approval.
In my opinion, this was a great banjo show, in an intimate setting, flying a bit under the radar (at least for now). I saw even some of my hard-core "Scruggs-only/Bluegrass-Rules" friends there.
And they were there till the very end of the almost 2½ hour show.
Over several decades Bela Fleck has done the unimaginable with his instrument.
At least unimaginable compared to what many of us thought about banjo once upon a time.
With more Grammy nominations in more categories than ANY OTHER PERFORMER in music history, he has quietly made banjo "noise" all over the world, and re-invented himself and his instrument over and over again.
Now new generations of young, would-be-Belas play a fearless and once-thought-almost-impossible style of banjo. The equity he has created in the world of banjo, bluegrass and so many other genres of music is almost indescribable for a single performer. Today some of this performer's best comes because he isn't a SINGLE performer anymore—he's married. And now as a father and husband and composer and all the rest that he is, he seems to be having the time of his life with it all. Congratulations to Bela and Abigail on the birth of their son, and on giving us a "banjo only" show that is full of fun and even a few surprises…
One that I can't wait to see again!
---
10 comments on "Bela and Abigail—Nothing But Banjos - A (Husband and Wife) Show You've Gotta See!"

GSCarson Says:
Friday, May 23, 2014 @12:07:32 PM
Thanks, well written and made me want to see the two of them together.

Paul Roberts Says:
Monday, May 26, 2014 @7:59:39 AM
Béla's low-tuned banjo - "The Missing Link" - was designed by Béla and Wayne Rogers of Gold Tone who will be releasing the instrument in a few months. I'm eagerly awaiting its arrival and I will be promoting it.
Paul

Lew H Says:
Monday, May 26, 2014 @10:46:03 AM
I wish I had been there to see two of my banjo heros (hero and heroine)?

tfaux Says:
Monday, May 26, 2014 @3:07:23 PM
Nicely done, thanks. What a house for that young Fleck to grow up in!

Mary Temple Says:
Monday, May 26, 2014 @7:03:54 PM
Thanks for sharing; very insightful as to the two complimenting each others music and bringing the audience to be such an intricate part. (I guess I don't read enough articles...to busy playing banno; I didn't know the two were married.) Thanks again!

Ed Emrich Says:
Tuesday, May 27, 2014 @6:15:30 AM
I enjoyed the well crafted article. You put me I the theatre and now I'm gonna search Bela's site to see what's next. It's true, if you want to make it better put a girl in it, even for Bela.
Ed Emrich Says:
Tuesday, May 27, 2014 @6:17:23 AM
I enjoyed the well crafted article. You put me In the theatre and now I'm gonna search Bela's site to see what's next. It's true, if you want to make it better put a girl in it, even for Bela.

Dancing Horse Says:
Tuesday, May 27, 2014 @7:24:04 PM
Sounds like an awesome concert Michael, I really enjoyed your article.

Wish we could get Abi & Bela down to Australia for some concerts together.

nelcebee Says:
Wednesday, May 28, 2014 @2:38:31 PM
Great article Michael, my wife and I saw Abigail in Adelaide a few years ago, she was great, a lovely person. I would love to see them down under for some concerts some day..

myork1 Says:
Monday, June 2, 2014 @5:31:47 AM
Thanks all! Appreciate all the kind words...
You must sign into your myHangout account before you can post comments.