The previous post showed the vellum fitting and reassembly, this post describes the work needed to fit some working tuners.
The buttons of the original tuners were old and perishing: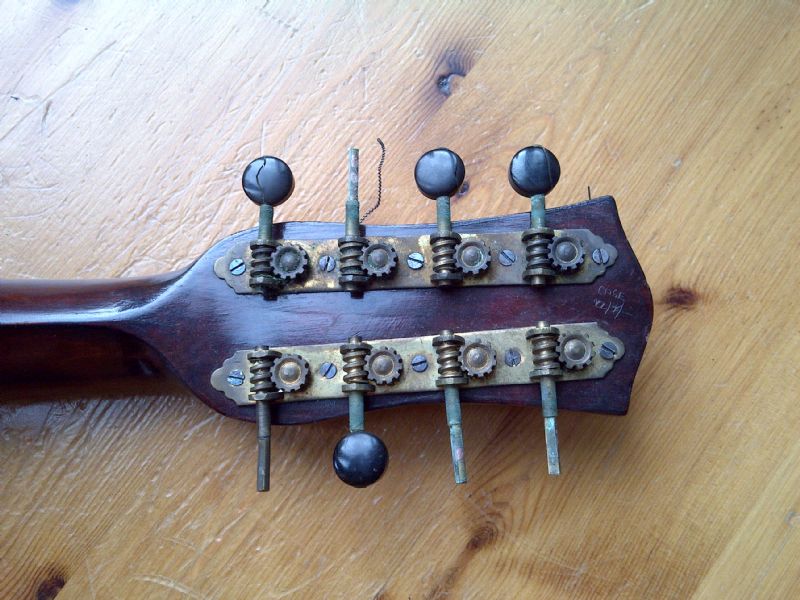 Note the cogs are riveted onto the plate rather than held in place by a screw. The advice from Paul Hostetter was that this indicates a cheaper design - you can't dismantle it to clean and oil the parts.
This photo from the side shows the rectangular end of each shaft, I did wonder about getting new buttons (e.g. flat beads from a craft shop) but I don't have the tools to drill tiny rectangular holes with the requisite accuracy to provide a tight fit onto the shaft.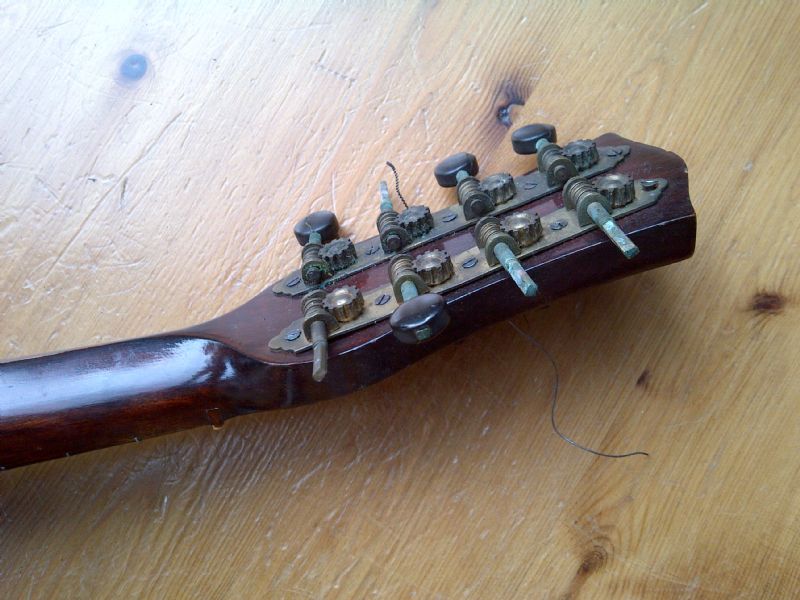 So I set about removing the tuners, first one side: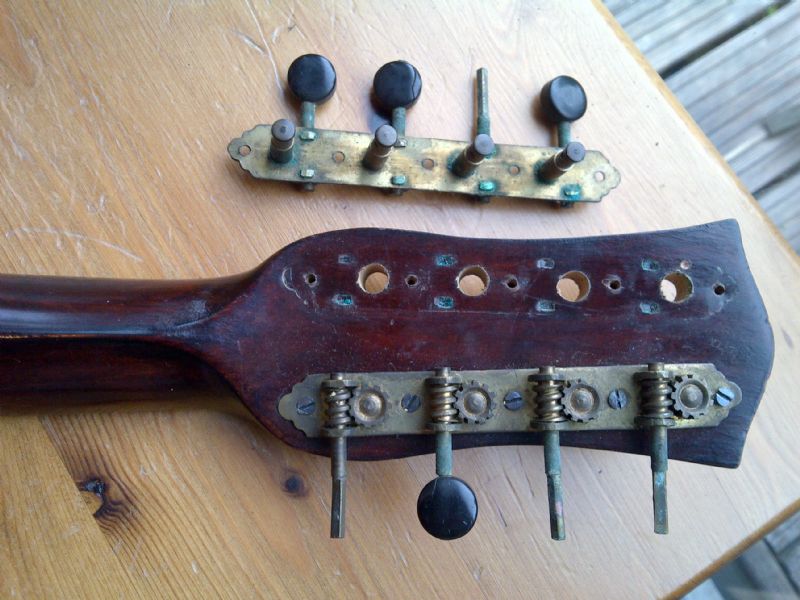 Then the other: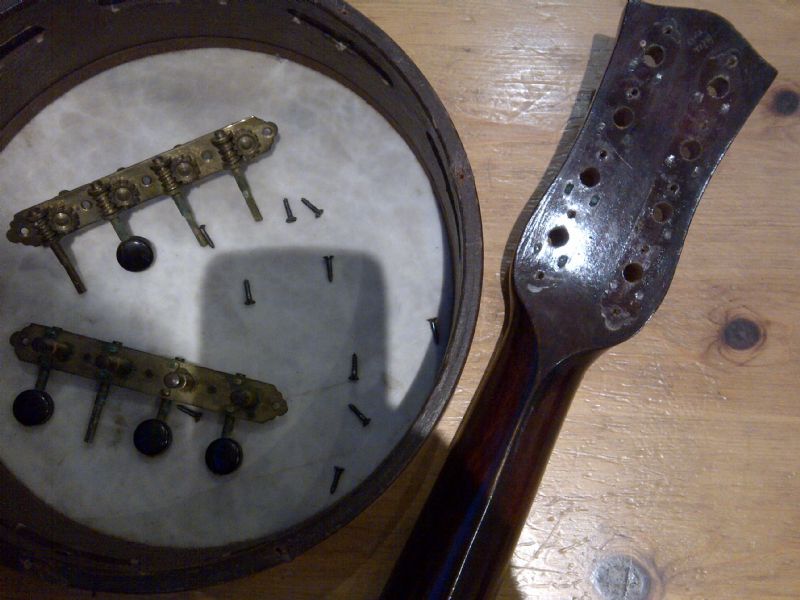 It was difficult to find replacement tuners of the right size. The post spacing was 23mm (which I think is standard), but the height is about 16mm to the string hole (most of the ones I saw were 20mm). The diameter of the original posts was about 5mm although the holes drilled in the headstock are wider that that, about 7mm (this might suggest the original tuners were not actually original after all, although there are no odd screw holes so my theory is the manufacturer just had one jig to drill holes and didn't change it when they started installing this particular tuner).
Rather than source proper mandolin tuners and try to reduce the post height, I took the advice of andybanjo.com and bought two sets of inexpensive individual ukelele tuners. This is one of the uke tuners dismantled: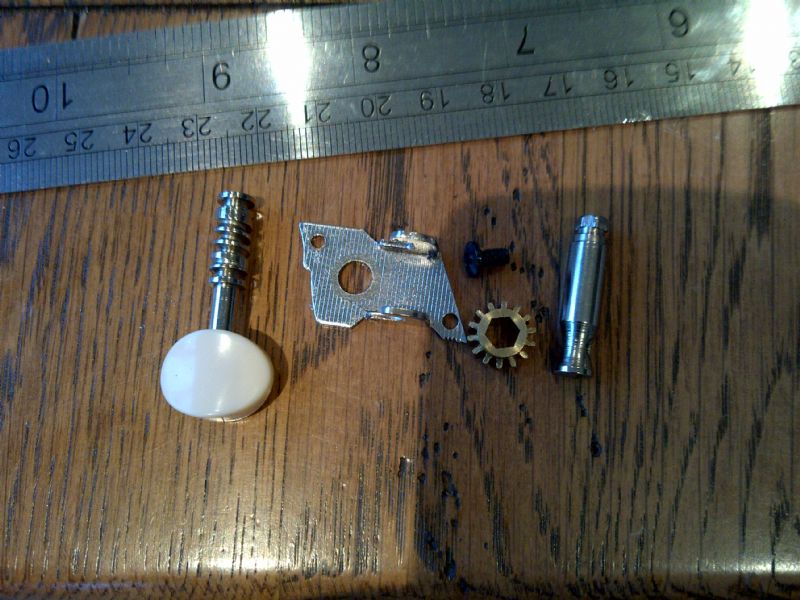 These required shortening of the plates in order to get them to fit side by side. Each plate was put in a vice and filed down to size: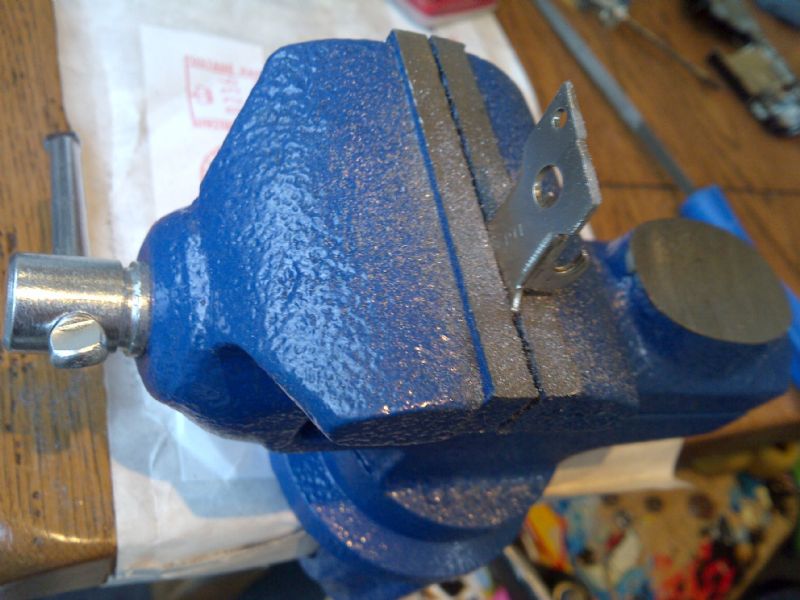 This photo was taken part way through the filing process - the plate on the left is untouched, the one on the right has had both sides filed down, the two in the middle are only filed down on one side: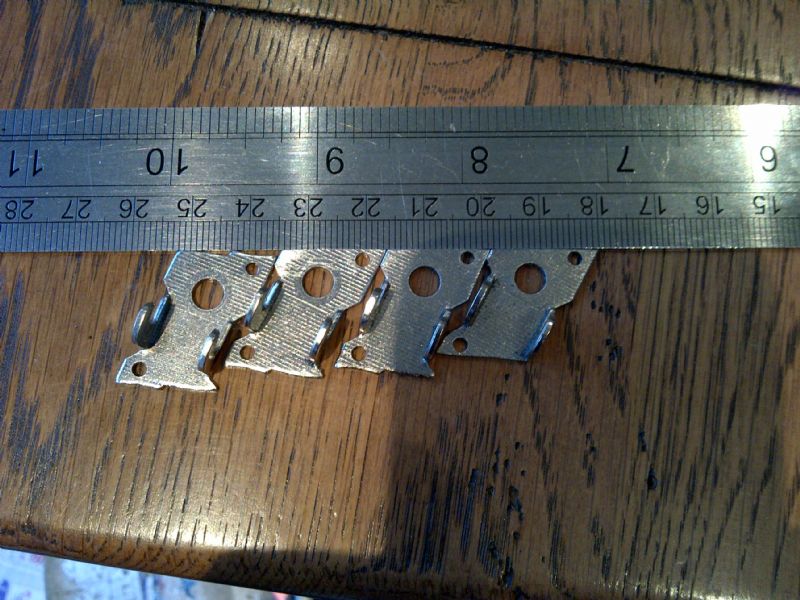 This was quite tedious work but eventually each tuner was the right size for them to be fitted to the head - not perfect, but "close enough for jazz":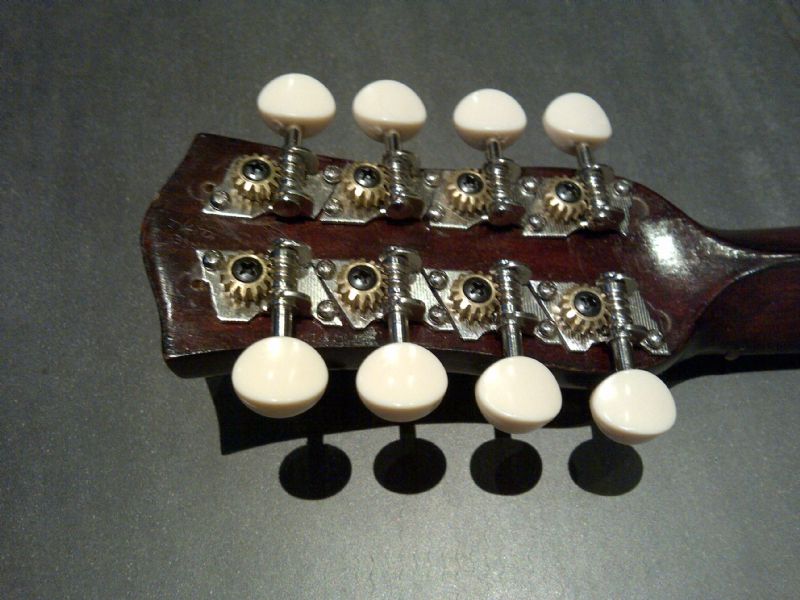 The buttons are a bit large, I preferred the original black button colour and brass plates. rather than these chrome plated ones But at least it's usable! Now just need to string it up and play some tunes ...
---
1 comment on "Zither Banjo Mandolin Restoration #3"

jswkingsfield Says:
Thursday, May 15, 2014 @12:24:38 PM
Nice work!
You must sign into your myHangout account before you can post comments.