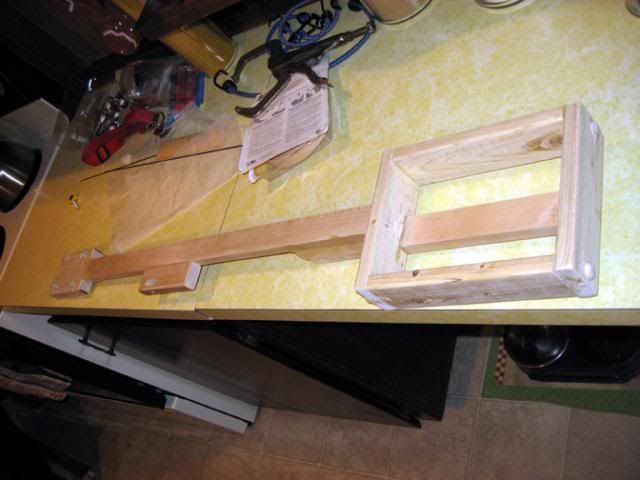 I opened my Squared Eel care package from Mike Gregory and carefully laid out the pieces. I am so excited. I've been without a banjo since I hocked two of them and an ovation guitar to pay the electric bill in 2010 when we got into a serious financial crisis.

I have decided to record my assembly process with my camera and put together a comprehensive set of instructions for putting together this noble instrument. I'm doing a couple of, shall we say, "Deluxe" features on this baby. Turns out the neck is long enough to make a longneck banjo out of her - my instrument of choice.
Mike included what appears to be the metal strips out of old windshield wiper blades to use as frets if it suits me. It probably will. I need frets to keep me in tune.
What I've done differently with this one:
Set it up as a longneck banjo
Screwed the pot together, countersunk the screws and covered them with wooden buttons.
Routed some of the edges except on top of the fretboard.
I used hide glue instead of Elmer's
I downloaded WFret and printed out the fret template to my Squared Eel's unique dimensions
I am using red oak veneer to cover the fretboard
I am using a 3 liter pop bottle for the head instead of a 2 liter. I'll trim the extra after I stretch it and fasten it down with decorative brass tacks.
I will be staining it a light oak or cherry (whichever can of stain I can find - I still haven't unpacked my shop stuff since we moved). I'll varnish it with a high gloss polyurethane (since I'm fresh out of spar varnish (which I prefer)
I've ordered a nut and a bridge rather than make my own. Still thinking about how to do the tailpiece - I've found some very creative ideas on the Internet.
I plan to inlay a design into the headstock - probably an Ichthys which I had on my first banjo.
Anyway, I've got the wooden parts altogether and am ready to add the nut when it gets here and the fretboard, then stain and varnish. With any luck I'll attach the head, the bridge and tailpiece and string her up next weekend.

Wish me luck!

Tom

*Note: I only thought I was halfway. Looks like 3 weekends instead of 2.
---
1 comment on "My Squared Eel Project reaches the halfway point."
rinemb Says:
Tuesday, May 6, 2014 @4:22:32 AM
I will enjoy following the pics. Glad you are going to be with banjo again. brad
You must sign into your myHangout account before you can post comments.