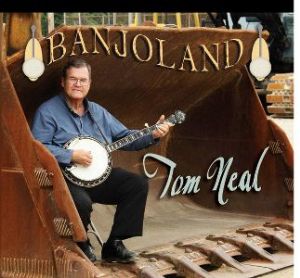 Mike Munford begins the liner notes to this album with "I've been waiting for this album for a very long time". I would imagine he is not alone, and in my opinion, it has been well worth the wait for all concerned. Tom Neal has been a legend around the Baltimore area since the 1970's, and, along with the late Walter Hensley, he has done the most to promote the banjo in that region of the country.
Here he is joined by a solid group of pickers which include Michael Cleveland, Mark Cosgrove, Marshall Wilborn, and longtime Baltimore stalwart Russ Hooper on dobro. Unlike many other performers, who view their own albums as a chance to hog all of the lead breaks, Tom went with an overall "band" sound, and it works out tremendously. These guys sound like they have been playing together for decades. Fiddle, mandolin, and dobro fans who wouldn't otherwise purchase a banjo album will be picking this up in droves as "word-of-mouth" begins to spread.
The album opens with the title-cut "Banjoland", written by Tom. It is a nice minor –key tune where Tom gets to show off some fancy single-string work. Most banjo players shy away from single-string style while in minor keys, but not Tom. He WROTE the thing!
The next cut is "Coal Miner's Gold", a song which strikes a chord in me because I work in the coal industry. But even if I did not, I would like this song. The song opens with twin fiddles (only Michael Cleveland is listed, so I assumed he overdubbed himself), harking back to the classic Bill Monroe recordings of the 50's and 60's. Jeff Presley sings lead on this song, and he displays a nice, low voice.
Next is "Walt's Breakdown", Tom's version of Walter Hensley's signature song. This is a joy to the ears, as one can imagine Tom and Walter jamming on this one in a smokey Baltimore barroom. "Charmaine" finds Tom displaying a chordal/jazzy approach to the banjo, which offsets the drive of "Walt's Breakdown". Having these two songs back to back was a good touch.
"Cincinatti Rag" finds Tom playing the song slightly slower than the speed Don Reno recorded it, but this is Tom Neal's album, and he doesn't have to copy anyone. "Got Enough Love To Hold You On" is another Jeff Presley-vocal turn, and the slow bluesy beat sounds like a 2014 Jimmy Martin with Sonny Osborne on banjo. Well played.
"New Camptown Races" is Tom's version of Frank Wakefield's mandolin classic. Not merely content with copying Bill Keith's break, Tom makes it his own, and for the unitiated, it would come as a surprise that this is a mandolin piece, not a banjo piece, since Tom plays it so well. "Reuben" is the old standby for every banjo picker who ever tuned in D, but on this particular, Michael Cleveland's fiddle breaks shine.
The album concludes with the Tom Neal-penned "Calvary", "Miller's Reel", a nice fiddle/banjo duet on "Miss McLeod's Reel" (here joined by Jon Glik on fiddle instead of Michael Cleveland), another Tom Neal-penned song "Tyler's Tune", and the old gospel classic "In His Arms, I'm Not Afraid".
Most folks who read my reviews know that I do not gush over many albums, but this is an album worthy of the highest praise. It seems almost ironic to say this, given this is his first album after so many years playing the banjo, but albums like these give me hope for the future of bluegrass…..5/5 stars.
---
1 comment on "Album Review: Tom Neal - Banjoland"

maddogonbanjo Says:
Tuesday, May 5, 2015 @5:17:12 AM
Jim, what a great write up to my album. It lifted my spirits to read your comments, I like when you said, "it seems like these guys have playing for decades".
Actually, that day in the studio was when I first sat down with them. Even though it was on the spot recording, they made it so easy, such a nice bunch of stellar guys to work with. Thanks again.
Tom Neal my band web site, hope you enjoy, bluestonebluegrass.com
You must sign into your myHangout account before you can post comments.