Posted by briln on Monday, April 7, 2014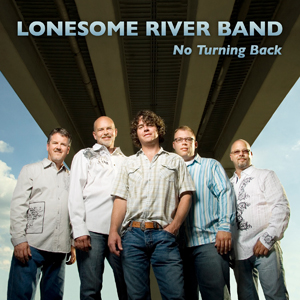 No Turning Back is the twelfth album from Lonesome River Band (LRB). Released in September of 2008 on the Rural Rhythm label, this album is available directly from Rural Rhythm Records, Amazon, CD Universe, Elderly Instruments and others. No Turning Back offers a wide variety Bluegrass music ranging from the traditional repertoire to some contemporary offerings.
The Lonesome River Band was founded in 1990 and is well-known for its excellent musicianship. This recording features Brandon Rickman (vocals and guitar), Sammy Shelor (vocals and banjo), Andy Ball (vocals, mandolin, piano); Mike Anglin (vocals, bass guitar) and Mike Hartgrove (fiddle).
Sammy Shelor, the band leader, received the Steve Martin Award winner in 2011 along with being 5 times IBMA winner of Banjo Player of Year. From the Scruggs/Crowe tradition, his playing is always clean and appropriate to the music, playing the melody rather than loaded with "hot licks." Together with the other members of the band, LRB music is tight with great instrumentals, harmony singing and always in good taste.
This album represents a good mix of straight-ahead Bluegrass, lyrical songs and an instrumental track. The album gets things going with the bluesy tune, "Them Blues" and builds up a head of steam with the song, "Like a Train Needs a Track." Later tracks feature some good story telling Bluegrass songs with well crafted lyrics. Musicians can appreciate the song "Wire and Wood" which is a reminiscent of an old departed instrument (most likely a guitar and not a banjo) acknowledging how it was not fancy but the sound was great and how important it was to help the owner get through some tough times.
The track "Struttin' To Ferrum" was nominated in 2009 for Instrumental Performance of the Year by the IBMA. This Gene Parker tune refers to Ferrum Virginia and is the only pure instrumental offering on the album. Sammy's interpretation of this song is a nice blending of the traditional with some bluesy licks and will surely please.
Any lover of great picking, traditional melodies and excellent harmonies should consider adding this CD to their library. Highly recommended.
---
Be the first to comment on "Review: Lonesome River Band - No Turning Back"
You must sign into your myHangout account before you can post comments.