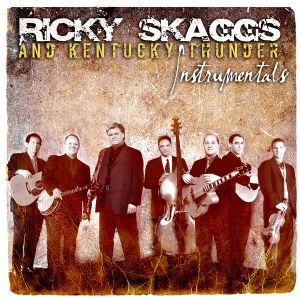 I'm not sure there is an album by Ricky Skaggs I don't love. The Album Instrumentals with Kentucky Thunder is certainly no exception. The album features 11 original tunes written by Ricky and performed by some of the longest running members of Kentucky Thunder, and a few new ones. The compilation pays tribute to many musical influences including bluegrass, jazz, blues, dawg, and even classical music. Like the last write up I did, I found this album a great way to discover some new artists, new songs, and new styles.
What really works for me on this album is... everything. I love hearing Jim Mills playing with Kentucky Thunder and you can tell he's having a blast. I can picture that big ole grin when he kicks off Montana Slim. Jim's backup is clean and creative and it inspires me to go pick. Cody Kilby is a new favorite guitarist of mine and this recording really shows what he's capable of too. The rest of the band is great as well, there's even a track featuring the Nashville String Machine!
Missing Vassar is probably my favorite song on the album, but second place could be a tie among any of the other 10 songs. I really enjoy the Celtic style in Goin' To The Ceili, applaud the nod to Grisman in Dawg's Breath, and the strings backup on Crossing The Briney.
I encourage anyone who likes bluegrass to pick up this album. Instrumentals is a great showcase of Ricky's talent as a player, composer, and band leader. And did I mention this album won a Grammy for Best Bluegrass Album?!
---
Be the first to comment on "Review: Ricky Skaggs & Kentucky Thunder - Instrumentals"
You must sign into your myHangout account before you can post comments.