NARDIS
This modal tune was composed by Miles Davis in 1958 for alto saxophonist Cannonball Adderley, who had recently joined the first great Miles Davis Quintet. Adderley recorded it that year in a session that included pianist Bill Evans who was also playing with Miles at the time, and the tune later became closely associated with Evans. Miles Davis never recorded it himself, unfortunately. The title of the tune remains a musico-historical mystery* and since Miles and Bill are now silent--at least this side of the celestial jam session--we may never know the story. Some fans have noted that Nardis spelled backwards is, coincidentally, the name of one of the 20th century's great jazz musician/promoter/historians, but Ben Sidran was only 15 years old in 1958 and yet to be acquainted with Miles. Prophetic perhaps.
The tune is a bit of a rarity: a product of Miles' 1950s modal explorations but also covered, jazz-grass style, by Tony Rice on his 1980 instrumental album "Mar-West," and since then by other bluegrassers. Nardis was originally conceived in E-minor, which also suits the guitar nicely and is where Tony Rice plays it. I have taken the liberty of transposing it to A-minor because I like the way it feels and sounds in A-modal tuning, that is to say, like a banjo tune. Indeed, the inimitable Miles Davis and Tony Rice notwithstanding, this weird tune really comes into its own on clawhammer banjo.
Like last month's Uncommonly Strong Clawhammer tune, this one makes use of a double harmonic minor scale, in this case based around [A]: A, Bb, C# D, E, F, G#, with the 3rd degree wavering between C and C#. There are several spots that are a bit unusual for the clawhammer right hand (for example, the thumb-lead melody note at the beginning, and the Fmaj7 arpeggio in the B section, but the tune is not technically all that difficult, and once you find the pocket it flows along pretty well.
I don't know of any clawhammer players who play this tune—or much of anything by Miles—but it definitely suits the instrument. Good luck finding an old-time fiddler who knows it.
Tab is HERE>
My banjo recording is HERE> (many thanks to Robin Kearton, fiddle; Sam Payne, guitar.)
*Invented anecdote #435:
Someone once asked Bill Evans why Miles was always so damned temperamental.
Bill's answer was,"cause he's a nardis, man."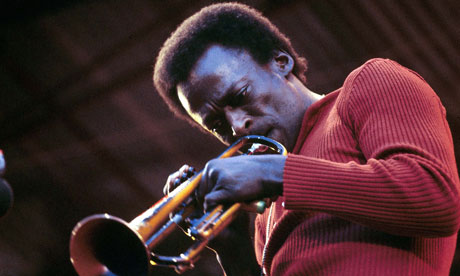 David Redfern photo
---
5 comments on "Uncommonly Strong Clawhammer Tunes #8: Nardis"

Nick_Barnett Says:
Tuesday, April 15, 2014 @2:35:31 AM
Good effort. I welcome this, even though I think it doesn't quite work. More of similar, please (though not to the exclusion of the traditional stuff).

zevio Says:
Tuesday, April 15, 2014 @4:09:13 AM
thanks so much Tom,,, keep em coming

tfaux Says:
Tuesday, April 15, 2014 @7:25:35 AM
Thanks Zev.
Nick, not sure what your critique is, but I actually kind of agree (about my recording, not the tune.) Normally we do a lot of improvising around the melody, but with this recording I stuck to the melody since it's basically a demo of the tune. It really cries out for some soloing. Maybe another version is in order...

CAtkinson Says:
Thursday, April 17, 2014 @7:21:17 AM
Great idea- thanks, Tom. This is the second time my two favorite musical worlds have collided recently.

Last week I listened to Brad Kolodner do a clawhammer arrangement of a jazz standard- I'm forgetting which one right now. I think it was an Ellington but I'm not sure. Either way, it lent itself very well to the clawhammer sound.

Looking forward to more of this.

Zischkale Says:
Thursday, May 8, 2014 @12:11:24 PM
Love this! Been playing Mr Isaac's Maggot regularly, I need to add your other arrangements to my repertoire. Love the idea of unexpected melodies and grooves breaking out of the ol' unassuming hillbilly banjo. Saw a shoutout to your blog in the Banjo Newsletter, courtesy of Tim Jumper. I enjoy his column as well, in this issue he presented two arrangements from Zorba the Greek, of all things!

Please keep up the good work--give us a heads up if you compile an instruction book!
You must sign into your myHangout account before you can post comments.