Posted by myork1 on Friday, March 14, 2014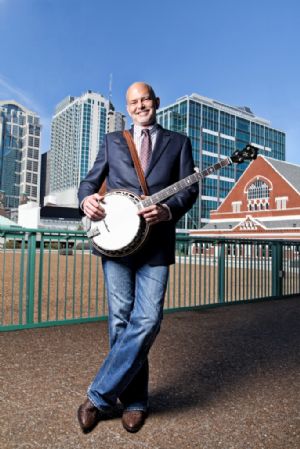 If he was a movie star he might just have 5 best actor awards on his mantle.
As it is, he's just a banjo player from southwest Virginia with 5 IBMA awards for being voted the best at what he does year in and year out.
You might think any banjo player with 5 IBMA awards (who continues to be nominated most every year), The reigning SPBGMA banjo player of the year, over 20 years with the same band, a Steve Martin Excellence in Banjo Award, who plays with Alan Jackson on his new bluegrass album, would be more than enough reasons for that guy to be a household name in his business.
Not exactly—at least not just yet.
It got me to thinking about a lot of things a few weeks ago when I heard him introduced by a longtime friend going down that long list of accolades only to finish with "he's the best banjo player in the world who's still not famous YET!"
I first met Sammy Shelor in Nashville at IBMA in 2009 at a banjo workshop where I marveled at his playing style as he convinced me (and I'm sure many others at the workshop) that "it's really EASY to play in different tunings, and it's a lot of fun." That was a breakthrough moment for me in my playing, and Sammy was right, it IS a lot more fun to have some banjo adventures and to try new things.
A self-described "hillbilly who grew up on American popular music," Sammy sat down with me recently to talk about all things banjo and it was fascinating to hear some of the stories, from growing up in the mountains of Virginia, to first learning the Nashville number system in the hall outside a recording session (from a drummer no less), to the process leading up to his winning the Steve Martin award and playing on Letterman, to getting the call that put him on the Alan Jackson project…and so much more.
How did your love for music and banjo get started?
Back around 1972 I had this guy who had about 5000 records and he recorded a bunch of them on 8 track tapes. (You know, even before cassettes). So I had all these great songs by Seldom Scene, JD, Country Gentlemen and Bill Emerson, I'd hear a lick or a break I wanted to learn, but I had no way to rewind! So you'd just have to skip around and listen again till it came back around.
Then I discovered Boone Creek and Terry Baucom—so many great players that I listened to and learned from early on.
That's a lot of albums. What's your Best banjo album?
For me Tony Rice and Manzanita—that's the best banjo album for me cause there WAS NO BANJO on that record! Just great songs and great musicians that I could play along with on my banjo and that's really how I learned to play with other musicians; Tony was a huge influence on me.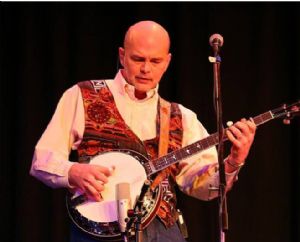 I know you've been with Lonesome River Band for over 2 decades now. Do you still do a lot of dates?
I was on the road for 241 days in 2013. That's a lot of miles, a lot of shows. That's what we do.
I love your story about learning to play with studio musicians in Nashville, can you share a little of that story?
I first learned the Nashville number system outside a recording studio in the hallway; just as we're about to go into a session. I kept hearing all these musicians talking about 1, 6, 4, 5, we'll just diamond right here and I'm thinking what's going on?
So on break I pulled the drummer off to the side and said "hey man, what's all this talk about numbers?"
And pretty soon he had explained this math equation about music to me. That's all it is.
That helped me see the connection between music and math. I was good in math in school—not algaebra, that was different. But math I understood. When I realized what we were talking about here is just a math equation; that was big for me.
I mean this was back before the internet (1991), and once I learned this little "secret" I was reading charts within 3 minutes. When you've got numbers, you think positions--not keys anymore. It made life so much simpler, it just makes sense.
You can train your mind to play in whatever key, just by knowing the positions.
And experimenting with other tunings which can lead to some really cool sounds, whenever I'm listening to most any music, I'm thinking about "how I would play that?"
You had a big influence on me personally beginning to try playing in different tunings based on a banjo workshop you did for IBMA. Now years later I love playing in different tunings. What's your advice in that area for other players?
You should try and play in different tunings. I love Double C and Model. I love open F. I love to experiment with other tunings and see what sounds you can come up with.
Don't be afraid to try something new. That's how you get better…
I remember hearing Victor Wooten say "you're only 1 fret away from a good note"
(Funny, I told Sammy, I heard the same thing from Bela. That's encouraging for me I told him, cause that's usually where I live---ONE FRET AWAY from a good note! Sammy laughed, "That's OK, we all do," He told me.)
That really opened my eyes to a lot. I've got to the point where I just go for it. If I hit a bad note, I know I'm gonna' get myself out of it. I just don't worry about it.
There are some amazing banjo players out there, young and old alike, just in the Steve Martin award category from Noam to Jens, what do you see happening with these guys and their playing styles?
The thing about Noam…first time I ever met him was at a workshop at IBMA. I introduced myself and he says "I know who you are." I've learned a lot from you…" And then when I heard him take off and play something like he does, I said "you didn't learn that from me!" And we just laughed. He's just one of those prodigies, knows his instrument from one end to the other, his dexterity, hey I can't even play a triplet! I'm just a "roll guy." If I can work it into a roll I can play it.
I watch a lot of these guys like Jens (Kruger) and it is amazing where they can go with their music. It's an exciting time for banjo. Look at what Steve Martin's done over the last few years. Look at all these young kids out there playing all kinds of different styles.
Do you think someone learning/wanting to learn banjo still thinks about trying to play like Earl?
You can't help but learn something from Earl, or be inspired by what he did.
I figured out when I was 12 years old I couldn't play "like Earl" but that inspired me to play more like me. To find my own style, something you're seeing more and more with players today.
What made Earl so special was his heart, and his hands.
Not just his RIGHT hand, but his left hand was pretty amazing too.
I have all the respect in the world for the guys who can learn it and play it like he did, but everybody's got their own thing. That's the beauty of the banjo.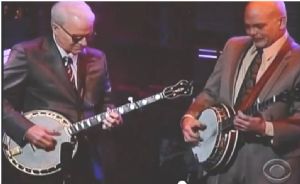 How did you find out about winning the Steve Martin award?
The Tuesday after Labor Day in 2011 I'd been working on the farm, went out to the mailbox and had a registered letter from Steve Martin…I opened it up and there's the $50,000 check! That's how you find out. Steve had been calling around all morning, he mailed it 6 days earlier and I'd been on the road, so I didn't get it till a week later.
I called Steve immediately after I opened the envelope. Pretty exciting day…
That's turning into a pretty impressive list. Think maybe one day there'll be a "reunion" of sorts with all the award winners? You, Noam, Mark, Jens, all get together in one place?
I think there should be a tour…several of the award winners will be at Merlefest this year I think.
I know I'll be playing with Alan Jackson there on Thursday.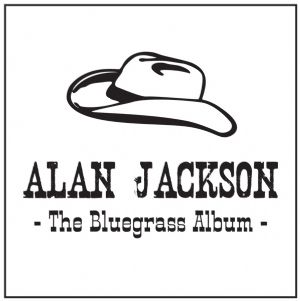 I'm glad you brought that up, let's talk about the Alan Jackson album. How did you come to be a part of that project?
Just luck… (he smiled)
Scott Coney was Alan's guitar player. He played lead guitar for George Jones for years, an astute Tony Rice student. Knows guitar inside and out... Through the 90s and early 2000s I did a lot of shows with Tony and the Tony Rice Unit. That was Ricky and Ronnie Simpkins and Dan Tyminski and Tony and me. Scott had a bunch of those live Tony Rice shows recorded over the years, hundreds of em, and I was on a bunch of those live shows and through that Scott became a fan of Lonesome River Band.
So when Alan started putting the project together, something he'd wanted to do for a long time, he said he didn't want Nashville session players he wanted real bluegrass musicians; guys who do this out on the road. He wanted the real deal.
So when they called and said "Are you available for this session?"
Uh, YEAH! I'll cancel whatever I got, I'll be there! I couldn't say anything to anybody for 4 months, till the record was done, till it was announced. The really cool thing about that record is--It's a live record, no overdubs. (I predict that Alan Jackson album is gonna win a PILE of awards, in my opinion just an amazing collection of music and musicians top to bottom) We're all sittin' in a circle, the whole band, everything was leaking into everything else. You can hear it on the album, but it sounds cool…Just one of those blessings that comes your way. Like the Carnegie Hall thing. LeAnn Womack showed up. She does a radio show in NYC, she's one of Alan's favorite female singers, mine too, and did "Lord I hope this day is good."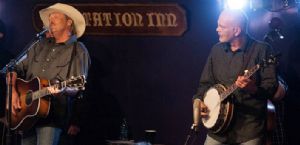 My screen saver on my computer is a picture of me onstage at Carnegie Hall with that band, standing beside Leann. That was a pretty good day! That will always be my screen saver.
What would you say to anyone wanting to learn to play the banjo, or play it better?
If it's fun, do it. Go for it.
Don't compare yourself to other players, if it's fun for you it makes no difference what level you play at.
Try to play with other people at your level, or better—you always wanna play with people better than you. And you hope they're patient people. They inspire you to get better and they wait for you to get there. That's special when you have someone like that around you.
He's played his banjo from his back porch in Virginia onto national TV in New York City and even at the legendary Carnegie Hall.
In the studio with legends like Alan Jackson, and at countless festivals and small towns from coast to coast—all with the same brand of down-home humility, easy-going nature, and fingers-on-fire banjo pickin' that makes Sammy Shelor a fan favorite, on—and offstage.
He has influenced generations with his playing, but if you ask him about that he just shrugs it off with a smile. When you start to look over Sammy's resume and list of accomplishments it really is amazing that more people don't know about him or his work or recognize him (yet) as one of the masters of bluegrass banjo. But then he seems to be just fine with being "almost famous" and having fun doing what he does best—Making music with his banjo. Thanks Sammy!
---
7 comments on "My Interview with Sammy Shelor"

Bill Stokes Says:
Monday, March 17, 2014 @11:58:40 AM
Interesting interview, especially how Sammy found out about his Steve Martin award and money. Back in the 80's Greg Davis and I brought for the first time a new Virginia group to a festival in Texas that we were promoting. It was standing O's at each performance. That group was The Virginia Squires which consisted of Mark newton, Ronnie and Rickie Simkins....and on banjo Sammy Shelor (when he had hair).
Bill Stokes

Mirek Tim Patek Says:
Monday, March 17, 2014 @12:26:26 PM
Perfect timing of the interview - I've just seen Sammy Shelor in Prague. And got his signature on my banjo head :-)

RockyLane Says:
Monday, March 17, 2014 @1:32:33 PM
He also wears the Coolest Boots in Town ! Way to Go Sammy ! ! !


Dustyman Says:
Monday, March 17, 2014 @5:54:40 PM
i would of liked to hear about his banjo and setup. Thanks

sslay2 Says:
Monday, March 17, 2014 @6:04:40 PM
Sammy is a real class act!


CRISS Says:
Wednesday, March 19, 2014 @12:02:08 PM
Sammy and the Lonesome River Band played at a little town in Pa. (Allensville), Firemans Carnival. I was hooked on his playing ever since, can't get enough, I only hope i can play half as good as Sammy some day. Great Story. Thank You !
You must sign into your myHangout account before you can post comments.