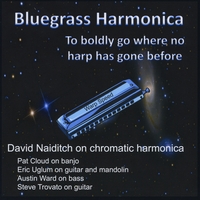 What do you get the bluegrass player that has everything? A copy of Bluegrass Harmonica of course!
For those not familiar, David Naiditch is a veteran harmonica player who has been playing and teaching in the LA music scene for over 50 years, yup, 50 years! Over the past few decades he has pushed the limits on the harmonica, finding his weapon of choice the chromatic harmonica in the key of C.
The harmonica isn't the first instrument that comes to mind when I think of bluegrass but it is amazing how well it works in this setting. David's playing is crisp and clear and blends in with the band very similar to the way a fiddle would. Pat Cloud continues to ignore the rules of traditional bluegrass on this album, playing beautiful melodic breaks and backup throughout. Eric Uglum and Austin Ward provide the guitar and bass, with Steve Trovato showing his blue chops on Blue Violet Waltz. Every song on the album is great; I especially enjoyed Jerusalem Ridge and Cuckoo's Nest. There are great standards like Blackberry Blossom and Cherokee Shuffle to keep everyone honest too.
If you have found yourself wearing out your Flatt and Scruggs albums or are just looking for some fresh inspiration, pick up a copy of this great album and enjoy. Take some time to read up on everyone on the album too. These great musicians are crossing genres and adding a lot of flavor to every setting. Thanks to David and his team for being willing to try something new!
---
1 comment on "Review: David Naiditch, Pat Cloud, et al. - Bluegrass Harmonica"

Ken Mooney Says:
Monday, March 10, 2014 @4:55:41 PM
Think I may be ordering this real soon !!! I've been playing for over 20 tears and find that very refreshing !!!
You must sign into your myHangout account before you can post comments.