If only we could have all grown up in a family of musicians, sitting at the feet of our uncle, who just happens to be an incredible fiddler and can teach us a million songs, perhaps we would have mastered our instrument by the time we reached adulthood. But for the rest of us, especially living in our very advanced and increasingly busy world, the process of learning an instrument, especially the banjo, requires any resource available, and here technology has provided us with very powerful tools that translate into better and more productive banjo training.
Slowdown software has become a popular tool for musicians because at the least, they allow you to control the tempo of a song without changing the pitch. Or you can change the pitch so that you can practice a song in different keys. This review takes into consideration how Amazing Slowdowner, Transcribe! and Song Surgeon Pro handle the banjo and banjo music in particular and how they can be used by bluegrass and old-time musicians, teachers and students. I formed my comparison by taking the same tracks based on various applications that I suspect anyone from the intermediate student to professional musician would use.
All three programs allow you to change the tempo of any .mp3 or .wav file, and many other formats as well, without changing the pitch of the music. All three allow you to change to any key and mark sections for looping. These are invaluable abilities because practicing along to songs conventionally, without any ability to manipulate the track, means that to play along with an early Flatt and Scruggs recording, for example, would require tuning the banjo from G to G#. I uploaded "Foggy Mountain Breakdown" from The Essential Earl Scruggs, originally recorded in G#. All three programs allowed me to back down the pitch one semitone. The Amazing Slowdowner's simplified interface makes this easiest to adjust. Song Surgeon gives you greater pitch control, but it took awhile to figure out exactly how to get the pitch I wanted.
Song Surgeon is easily the most comprehensive of the slowdowner software reviewed for many reasons. Even after working with Song Surgeon for a few months, I'm sure I have not exhausted all of its features, but what I have used and continue to discover makes Song Surgeon the runaway winner. If players prefer a straightforward interface with clearly marked controls to control pitch and tempo, both Amazing Slowdowner and Transcribe! handle these basic functions well. As the Transcribe! website explains, its focus is to give musicians greater control over the track, primarily for the purpose of assisting the transcription process, not necessarily to create customized lessons.
Getting to know Song Surgeon, with the aid of its excellent collection of tutorial videos listed on their website, I became a quick fan of features, such as URL and youtube "sniffers', waveform editing, Speed Trainer, and a 31 band EQ that gives you optimal control over frequencies to cut out or decrease the presence of selected instruments. This allows you to take out the banjo or vocals of a song when practicing. Both the Song Surgeon and Transcribe! have EQ presets, but again Song Surgeon is much more comprehensive. I found Country/Guitar/Fiddle/Banjo on the Song Surgeon EQ preset list and it did a reasonable job of taking out the banjo parts. As with its Vocal Reducer feature, the vocal track or instrument selected from the EQ presets will not disappear completely, but it did reduce these frequencies enough to make almost any file a useful backing track.
Neither Song Surgeon nor Transcribe! claim to be transcription software that will approximate the notes of a sound file and convert them to musical notation or tablature, such as Sibelius or Magic Score. But Song Surgeon does provide notation and tablature creation and editing features with Music Pad. These features are well covered on their support videos, which walk you through the rather straightforward process of creating sheet music or tablature.
Both Transcribe! and Song Surgeon display the full waveform of the file, which is indispensible when identifying and looping sections. Only Song Surgeon allows you to edit the file so that you can create, customize and save loops. With all three players, sound quality of the files is noticeably diminished the more the pitch and/or tempo is manipulated.
Only Song Surgeon provided a looping feature that will directly benefit banjo and bluegrass players since the genre requires great dexterity at very fast tempos. Speed Trainer is a feature on Song Surgeon that increases the tempo each time a loop is played. You can even set at exactly what percentage you want the tempo to increase. I tried it on a recording my banjo teacher gave me for a tricky D lick for "Foggy Mountain Special". I isolated the lick and cut out all the rest of the recording. Then I set the speed trainer and played the lick at 50-100%, increasing the tempo 20% each time through. Needless to say, the possibilities are endless in creating customized training sessions.
All three players import a variety of file types, but I didn't find anything that compares to Song Surgeon's two "sniffer" features. The sniffer module detects audio from any website by browsing the URL, and the youtube sniffer detects audio from a youtube clip. This can be extremely helpful if you want to practice a song that is not in your collection but can be found on youtube or anywhere else on the internet.
With so many features and so many ways to manipulate a sound file, the learning curve is steepest with Song Surgeon. After subscribing to review their product, I continued to receive e-mail updates with links to videos teaching advanced features that can maximize Song Surgeon and create totally customized lessons for banjo or any other instrument.
My only complaint about Song Surgeon is that upon loading up the software, it takes an awfully long time to update its sniffers, which would be better updated when that function is selected. Still, Song Surgeon has become an indispensible tool in my practice sessions. Where I used to simply load up my backing tracks and practice files on iTunes, I have been creating playlists and keeping them on Song Surgeon because looping any part of the tune is easier, I can edit the waveform and have total control over the track.
Features Comparison
Amazing Slowdowner

Transcribe!

Song Surgeon Pro

Price

$49.95

$39

$79.20

Pitch and Tempo

Control

Yes

Yes

Yes

Loop Marking

Yes

Yes

Yes

Waveform

Display

No

Yes

Yes

(Editable)

EQ (band)

7

31

31

EQ Presets

No

Limited

Extensive

Notation/Transcription

Creation

No

No

Yes

Recording

No

Yes

Yes

Loop Trainer- (auto tempo increase)

No

No

Yes

Tech Support

Limited

Very Limited

6 months with subscription + excellent website resources

Training Videos

No

No

Yes
---
7 comments on "A Review of Three Slowdowner Programs"

JasonM Says:
Monday, March 3, 2014 @1:24:00 PM
Thanks for the reviews. My teacher provides videos as well as audios so I was looking for something that could slow down video as well. Transcribe! was the only one I came across that did so and it has worked well for me. Sound Surgeon looks really good as well though.

Visland Says:
Monday, March 3, 2014 @4:08:44 PM
Thank you for a comprehensive and well though out review. I have ASD and appreciated the comparison, and would be happy to pay for extra features that you have highlighted.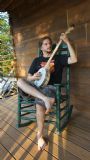 jrubins101 Says:
Monday, March 3, 2014 @4:16:58 PM
My pleasure. I learned a lot comparing these three.

Hector Says:
Tuesday, March 4, 2014 @6:42:02 AM
Great review Jeff.

dwsanborn Says:
Wednesday, March 12, 2014 @10:53:00 AM
Amazing Slow Downer does have auto temp increase.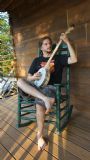 jrubins101 Says:
Thursday, March 13, 2014 @6:32:16 PM
dw,

True. I don't doubt that there are features I didn't get a chance to include. All three are powerful programs.

wickerman Says:
Friday, June 17, 2016 @5:24:20 AM
I'd love to see an example of how it works.. I went to the website but only saw the advertisement to purchase it?
You must sign into your myHangout account before you can post comments.