Posted by sdfarris on Monday, March 3, 2014
Overview
Some of us old timers remember the days when our analog turntables had a 16 RPM feature that we used to slow down a 33 RPM LP (that's like a big black CD) to a low pitched growl, so that we could try to figure out how the heck Earl got all those notes played with just 3 fingers. In our modern digital age, musicians have a wide variety of software tools to slow down sound clips without altering the pitch, and isolate individual breaks, licks or even note to aid in learning. The three programs reviewed here -Song Surgeon, Amazing Slow Downer, and Transcribe! all feature tools and controls to slow down and analyze musical passages to allow the user to easily convert those high speed breakdowns into easy-to- learn dirges. Some of them have many other features as well, but the emphasis of this review will be on the slow down features.
Installation
Each program installed easily from the publisher web site with no snags. There were the usual steps for unlocking the trial version to full, which involved cutting and pasting codes but nothing too complicated. Each program offers a limited trial version to allow you to install and try the program for a limited time at no charge.

Screen Navigation
Song Surgeon – There are shortcut buttons for all the regular features, a wave file display with time markers and a position slider, and a bottom sections with a combination of sliders and presets for Tempo, Zoom, Pitch and Loop controls. You select a portion of the wave file to set your loopback points, or you can click the Start and End buttons on the Loop Control section to set those points on the fly during playback. You can also set and enter looping sections from a menu, and set number of repetitions, and use a feature called Speed Trainer to gradually increase the tempo with every loop repetition.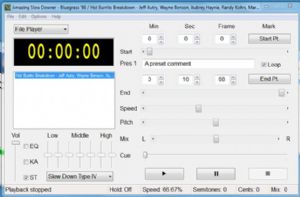 Amazing Slow Downer – I liked the simple layout of the playback screen. All the controls are clearly marked and it was easy to get started without reading any help files. To select a passage for processing, you can set the start and end time manually with a few dropdown selections or a slider control, or you can just hit the Start Pt. and End Pt. buttons to set the markers on the fly while the file is playing. Speed, pitch, and left-right balance are also set with slider controls. The Cue slider allows you to easily navigate within your selected portion.
The Preferences tab on the Options menu allows you to set program defaults, input device options, and playback controls. There are loop control options to increase the speed with every loop repetition. Everything is easy to configure and self-explanatory. There is a 7 band EQ built in as well.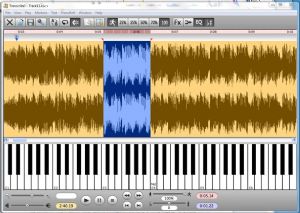 Transcribe! - The main display shows the wave file and a piano keyboard. You can select a point in the file and Transcribe can show the notes and chords (best guesses) on the keyboard display, or in a text window. The playback and file controls are standard button types, and the pitch and speed controls are sliders. Features, toolbars and other options are set from dropdown menus, with the most common ones also available from shortcut buttons. There are a LOT of features and options to consider, and you can customize the display to your personal preferences. The help files are very detailed, although a few pictures instead of verbal descriptions would be nice. The Loop controls allow you to select a passage for looping and gradually increase the speed every time the loop runs – very effective for practice.
Process from CD
Song Surgeon - you can open a file directly from a CD to process. CD Track information was not displayed in the interface window.
Amazing Slow Downer –You can open and process sound clips directly from a CD in your computer drive. CD track info is displayed, and you just select a track or build a playlist. The dropdown selection between CD and File processing was the easiest to use of the three software packages.
Transcribe! – The recommendation is to copy CD tracks to sound files before processing, and there are simple menu selections for copying and importing sound files. This is a minor inconvenience if you are used to using physical CDs instead of MP3 files.
Process from file
Song Surgeon - Files are loaded from a standard Windows file browser. The file name is displayed but not any additional track information.
Amazing Slow Downer – Files are loaded from a standard Windows file browser. Track information is displayed in the interface window.
Transcribe! – Files are loaded from a standard Windows file browser. You can open multiple files and each one will have its own interface window for control.
Output comparison
Song Surgeon - The reduced speed sound was noticeably reduced in quality – a little choppy and artificial sounding at all reduction levels. This is not a big impediment for learning but you might find it a little distracting. The Professional version I reviewed has a 31 band EQ built in.
Amazing Slow Downer- Excellent sound quality for all speeds when processing a sound file directly, when using the Slowdown Type IV setting. Other settings sounded more artificial at slower speeds – acceptable, but not nearly as good as the Type IV setting. Some playback " stuttering" when slowing below 30% directly from CD - Smooth playback at all speeds down to the 20% lower limit when playing from a file.
Transcribe! – The reduced speed sound was noticeably reduced in quality – a little choppy and artificial sounding at all reduction levels. Again, this is a minor distraction not a huge impediment. There are extensive controls for Audio Effects – Karaoke mode, EQ, Tuning, Speed, etc. which appear in a separate pop-up window.
Other Features
Song Surgeon - this is a full featured music transcript program with options to rip CDs, convert audio file formats, record sound files, and edit musical notation and tab files. There is a feature called Music Pad which looks to be a complete editor for musical notation, tab files, and even chord charts. Unfortunately none of the control buttons for Music Pad had any pop-up descriptions so you have to dig into the (extensive) help files to figure them out. There are a wide range of training videos and help files available on line, and you will need them if you plan to use this program to its fullest.
Amazing Slow Downer - You can import playlists from Windows Media Player or iTunes, and export playlists in M3U format. You can save sound clips in unencoded WAV format, or to MP3, WMA or other encoded file formats. You can save a processed clip with as many repetitions as you like, to a file to transfer to your phone or iPod for playback with any media player. Not a lot of other features, but everything you need to get the job done.
Transcribe! This program is geared towards more serious music transcription, not just slowing down sound clips, but is not as full-featured as Song Surgeon. Since the program is geared toward music transcription and not just playback slowdown, there are many other functions available. The most interesting one to me was the Chord and Note Finder options. You can select a point in the music file, and Transcribe! will show you its best guess for the note or chord being play at that point, either on the piano keyboard display or in a text window. It was fairly successful in the examples I tried – correctly picking the key and root chords for my sample track, and offering possible suggestions when there were no clear matches.

There is a Text Zone feature that allows you to add text notes and comments to various points in the file, and you can export the text to other programs and files. There is no built in function for musical notation or tab.
Conclusion
All three programs will do a fantastic job of allowing you to slow down files for learning, loop specific passages, and help train you for better and faster playing. Song Surgeon is the most complete transcription and editing tool, but the user interface was just a little unfriendly, and required more references to the Help files and training videos to get into the advanced features. Amazing Slow Downer was the simplest and easiest to use, had a very friendly interface, but didn't have all the advanced bells and whistles of the other two – which you may not need or want if you are just looking for a learning tool. Amazing Slow Downer without a doubt also has the best sound quality for the slowed down files. Transcribe! was somewhere in between the others – good transcription tools but not as full-featured as Song Surgeon, and good slowdown and looping tools but not quite as easy to use as Amazing Slowdowner.
I was impressed with all three programs and any one of them would be an excellent choice for advanced music learning. If you don't need transcription or advanced editing tools, I'd give Amazing Slow Downer the nod for ease of use and sound quality. If you want the most advanced tools and are willing to invest some time in training videos and help files, go with Song Surgeon. If you want a neat program that do your loop training and can also "listen" to a passage and help you determine the correct notes or chords, Transcribe! is the way to go.
---
6 comments on "Review of Slow-Downer Software (Amazing Slow Downer, Song Surgeon, Transcribe!)"

JasonM Says:
Monday, March 3, 2014 @1:19:16 PM
Thanks for the reviews. I ended up going with Transcribe! because it was the only one I could find that handled video as well audio. This may be important for some.

MrManners Says:
Monday, March 3, 2014 @1:43:33 PM
i have a tascam phrase trainer in my music room that usually gets the call ,it works with cds,i also have transcribe on my laptop and it brings out the notes much more clearly,but i never go thru the trouble of using it since for me it is in an out of the way place,but transcribe is nice ,either one loops good--Tom

MolineOde Says:
Monday, March 3, 2014 @3:49:13 PM
I have been using Anytune Pro + primarily for slow down, filter, pitch, and loop to practice. I really like it. One limitation is you can only import files from iTunes, and is available in Mac, iPhone, and iPad apps only. Anybody else tried it?

smitchinson Says:
Monday, March 3, 2014 @11:47:18 PM
As JasonM says above, TRANSCRIBE! will also process VIDEO files. I find this indispensable when working on more complex pieces. You can slow down the track and both hear and SEE the piece played. Any piece on Youtube or other video can be ripped then drag'n'drop into the Transcribe! window. Excellent software!

waterrat Says:
Tuesday, March 4, 2014 @5:23:34 AM
slow-downer also offers an equivalent program for slowing videos. Check their web site.

toddason Says:
Tuesday, March 4, 2014 @5:40:28 AM
I am the developer of Song Surgeon. I would like to thanks Eric for putting this comparison together on the banjo hangout website. I know that readers will find it to be value. I would also like to say that Transcribe, ASD, and Song Surgeon are all good products. As to which one is the best for you will need to decide for yourself by trying the products. I do what to state a couple of things regarding this review.

Output Quality - We have many past users of ASD that are Song Surgeon customers. Some of these have stated they like the sound quality from SS better than ASD. We also have others who use high end recording software like Cubase and SoundForge and they have also told us SS's sound quality is better than these high end programs.

Additional Features: Song Surgeon has several additional features that, as a banjo player you will find of value. It can create an unlimited number of looping areas. Moreover, within each of these looping areas you can customize the loop settings (tempo, delay, and number of loops). In additional Song Surgeon has Speed Trainer- which allows you to set a beginning and ending tempo - and a % change - and Speed Trainer will gradually increase the speed of playback. SS also can download files from the internet (YouTube) and it can open and strip the audio from video files.

Song Surgeon has many other features too, but I think those mentioned above are most relevant to Banjo players. I would suggest you try a demo version at any of the sites to further explore the capabilities of these products.


You must sign into your myHangout account before you can post comments.