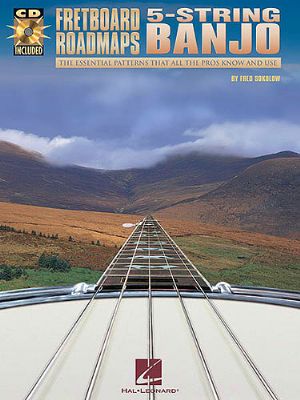 Fretboard Roadmaps 5-String Banjo by multi-instrumentalist, Fred Sokolow, is a release from a very popular and successful instructional series published by Hal Leonard. Musicians who have come to the banjo after playing other fretted instruments should be familiar with the series and its straightforward presentation. The "fretboard roadmap" system is applied to acoustic blues, country and bluegrass for guitar, as well as mandolin and even ukulele. Essentially, the system explains a particular approach to fretted, stringed instruments that may be too advanced for beginners and perhaps already familiar to experienced players. But with a retail price of 14.95 for the book and CD, this is a concise and affordable explanation of a very important concept behind advanced playing.
Banjo in particular is a challenging instrument that takes years of dedicated practice to emerge from intermediate status, that is, progressing beyond the familiar tunes and simply playing them with some reasonable facility. To move beyond this intermediate stage, the banjo player must become familiar with more than just basic theory, the familiar I-IV-V progressions, and a few solos. The banjo student becomes a musician when he/she can improvise solos in any key anywhere on the neck and pick out melody by ear. The theory behind this is universal among the more common fretted instruments.
Once the banjo player learns the moveable "F-D-Barre" "roadmap", the scales that go with them, and the notes that change the quality of the chords, infinite possibilities open up even within the most familiar keys, such as G and C. In a scant 55 pages, Sokolow goes beyond this and explains how any key is reachable once the roadmaps are followed.
As the title would suggest the focus here is on the fretboard, and the emphasis is on theory, which explains why there are only perfunctory explanations for clawhammer and Scruggs right-hand style. As illustrated by the single page given to address the technique of each, this is not a book that a beginner is likely to start with. Whereas there is a substantial amount of tab to satisfy a lot of enthusiasts, it does not include right-hand finger numbers, which would be helpful for intermediate players.
Subtitled, "The Essential Patterns That All the Pros Know and Use", Sokolow delivers on this promise, walking the reader through numerous scale exercises, licks and solos that are not for the hobbyist but for the player who wants to master very advanced territory.
On the enclosed CD, Sokolow offers a great mix of banjo standards to study, such as "Bury Me beneath the Willow" and "Worried Man Blues", but also includes some that may not be as familiar in the instructional setting, such as "Jesu, Joy of Man's Desiring" or "I Used to Lover Her (But It's All Over Now)". Even the more familiar standards are presented as opportunities to apply the "roadmap" concept, whether in multiple keys, for licks, or backup and scales.
Fretboard Roadmaps 5-String Banjo is for the player who wants to overcome the mysterious and challenging theory behind the entire fretboard, even after years of studying the instrument. If the worst you can say of an instructional book is that it might include too much and addresses scales and chords that may never be used, or that its presentation will prove challenging for intermediate players, it must be a pretty good book. Given the concision with which Sokolow presents the theory behind the roadmaps and the sizable amount of material offered at an affordable price, it's a small investment to make for the years it will take to absorb it all.
---
3 comments on "Review: Fretboard Roadmaps 5-String Banjo by Fred Sokolow"

Oblake Says:
Monday, February 24, 2014 @3:40:02 PM
Got this book about a month ago. A fair amount is beyond me at this point, but there is plenty of basic theory presented here that is already helpful for me. Feeling convicted by Eric Schlange's list for the beginner posted earlier. I know to get the most out of any resource, a person should slowly work through the whole thing. Good advise.

Hector Says:
Tuesday, March 4, 2014 @6:49:45 AM
another great review by Mr. Rubinstein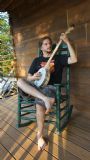 jrubins101 Says:
Wednesday, March 5, 2014 @5:11:49 AM
Much appreciated, Hector.
You must sign into your myHangout account before you can post comments.