Posted by smorrow61 on Sunday, February 16, 2014
Last night at a small theater in Salina Kansas I was able to see my life long musical idol in concert for the first time. Béla Fleck. The added bonus was his beautiful wife Abigail Washburn. Her voice is absolutely amazing.
After the show they came out to sign autographs and were both very approachable and down to earth. These are two people who you can tell absolutely love their fans.
I was able to briefly talk to them both and have them sign the inside of my banjo resonator. I know it may sound strange, but even though I have been a major fan for over thirty years I have never been able to see him in concert. My choice to serve most of my life in the armed forces has kept me pretty busy and unable to attend any concerts of his.
I was such a fumbling ball of nerves that I probably made a fool of myself but for me it was an amazing moment.
Live met several major movie stars, rock star legends, and country super stars and have never been star struck. This was different however, this was the man that brought me to the banjo and started a decades long dedication to playing. Someone who I have always dreamed about meeting.
Had I been able to just sit and pick the banjo with him it would have been perfect, but I don't think I could remember how to play at that moment anyway. It was already more than I could handle just meeting him.
My Desert Rose banjo is already an amazing instrument that I could never dream of parting with, but now it is priceless to me. I know the signatures will not make me play any better and will not change the sound of it, but now it holds more than just the music it can produce, it now holds to a dream. One that finally came true.
---
2 comments on "Meeting my idol"

thebanjobert Says:
Sunday, February 16, 2014 @10:06:45 AM
Hey, Stephen.
Glad you got to hear and meet your idol. I was born in Salina, and went to school at Kansas State. We still have season football tickets, and friends in Manhattan we get together with occasionally. Maybe we can get tobether and pick one sometime!
Terry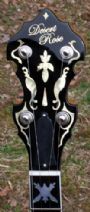 smorrow61 Says:
Sunday, February 16, 2014 @10:29:12 AM
Sounds good to me. Send me a message or email and we'll see what we can do.
You must sign into your myHangout account before you can post comments.