For the past couple of years I have listed the songs I have wanted to learn to play. When it has come to time to practice, I work my way through that list. I have decided to go a different direction this year. I have decided to focus on the following goals.
By the end of 2014 I want to...
Identify, memorize and proficiently play 10-12 of the most popular chords (Beginning with G, C, D, F, A, Em and ?)
Smoothly transition from one chord to another without pausing or searching where to put my fingers.
Learn how to sight read the basics of a new song (chords, timing, etc.).
Learn to play the 8 different roll patterns my friend Ross Nickerson shows in his material (Alternating thumb, forward, forward-reverse, backward, FMB, Forward-Backward Combination, Doug Dillard and Single string rolls)
Competently jam with others (whether at church, with a local group that meets on Thursday nights or with my friend Derek).
Learn how to proficiently change the strings (I know, I know...basic stuff...but).
Attend two bluegrass festivals where I can hear and see people play.
Play special music for the church (maybe at the Thanksgiving Service or Christmas eve).
MEMORIZE five songs and become tab free!
I realize that some of these goals overlap with other goals, but I want to be a bit more proactive in way I learn to play the banjo! If I fail to achieve these goals, then I will be back here again in the beginning of 2015 with an update on what I have accomplished!
I am grateful to several people who have helped me so far. Stan Toney has been an encouragement to me even though we are miles away from each other. I know that he is practicing...and I should be too (cross country accountability). My friend Derek Smith who is a very talented and patient man. I look forward to the day when he grabs his guitar and I my banjo and we actually PLAY a song together. Thanks for your help Derek and don't give up on me...yet. And last, but not least, Ross Nickerson. The other day I responded to a post highlighting the humility I see in banjo players. Ross is a humble man who is approachable, knowledgeable and patient. On many occasions he has answered my calls/emails, given me insight and encouraged me beyond belief. I bought my BG-150F from him nearly 3 years ago....and have not regretted it at all! Thanks Ross! You da man!
Okay...well I got a lot to do this year! I don't want to waste any time so I am done...with this blog entry.
Colossians 3:23-24 (NCV) - "In all the work you are doing, work the best you can. Work as if you were doing it for the Lord, not for people. Remember that you will receive your reward from the Lord, which he promised to his people. You are serving the Lord Christ."
OKay...you kind of KNEW that was coming from a pastor, right?
Thanks my friends!
Keep picking!
---
5 comments on "My Plan for 2014"

Wyozark Says:
Monday, February 17, 2014 @10:19:27 AM
An excellent list. And the verse is a good reminder of how we should approach anything - whether work or hobbies or relationships.

I have a lot of things going on right now, but learning the banjo is something that I try to fit in each day - even if it's just for a few minutes. As a goal, I hope to try to learn songs in threes: two OT traditional tunes and then one hymn. I've learned "Old Molly Hare," "Spotted Pony" (though both are still kinda rough) and now I'm working on "There's a Land That is Fairer Than Day", AKA "In the Sweet By and By."

Thanks for the reminder of the importance of setting some goals. ~ Wyozark

edpottenger Says:
Monday, June 9, 2014 @7:22:04 AM
Derek's a good man and a very good banjo picker:)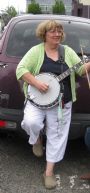 barbbanjo Says:
Monday, June 30, 2014 @2:23:22 AM
Jim, I loved your organized approach to learning. I taught school for many years and I remember hearing several presenters say, "The difference between a dream and a goal is a timeline." You never know if you got there if you didn't know where you were going. How's the list coming along so far?

edpottenger Says:
Tuesday, January 6, 2015 @6:32:46 PM
Jim now that 2014 is over I was wondering how you did on your list? I was inspired by not only your approach but by your sharing one of my favorite scriptures. Our Gospel trio has been playing together out in Churches and Cowboy Churches since 2001 and the last few years using banjo in a few tunes! We serve an awesome God! Blessings my friend, keep picking!

yopasjim Says:
Wednesday, January 7, 2015 @3:01:42 PM
Hey Ed, I posted a new blog that lets you know how I did.
You must sign into your myHangout account before you can post comments.