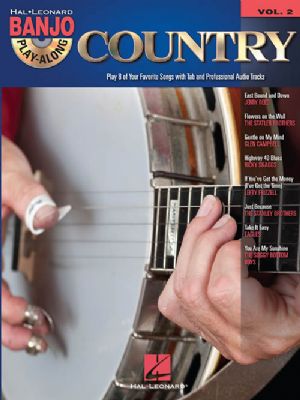 By: Sheri Willis
It's unusual to find a book of country songs for the 5-string banjo. Since I have been playing banjo with a country band for the past year, I was interested in this book as soon as I heard about it. The book includes a collection of 8 tunes with tab and professional audio tracks on CD:
East Bound and Down - Jerry Reed

Flowers on the Wall - The Statler Brothers

Gentle On My Mind - Glen Campbell

Highway 40 Blues - Ricky Skaggs

If You've Got the Money (I've Got the Time) – Lefty Frizell

Just Because – The Stanley Brothers

Take It Easy – Eagles

You Are My Sunshine – The Soggy Bottom Boys
The book states that this "an upper-intermediate to advanced level book" and I agree. Also, since the keys used for these tunes are mostly those of the original recordings, most songs require a capo. Two of the songs ("Flowers on the Wall" and "Take It Easy") use the banjo as a background instrument and the tablature shows what the banjo is playing in this backup role. Even though there are no lead breaks in these tunes, there is still an active banjo backup throughout both of these tunes. I also play with a Bluegrass band and I've learned not to underestimate songs just because there is no banjo solo – a few of my favorites that we play together onstage have no banjo solos – but I am providing a constant backup to support the songs.
The tabs are clear, easy to read and understand and the arrangements are top-notch. It's easy to tell what parts you are playing as backup (behind the vocalist or another instrument solo) and which parts you are playing as your lead banjo break. Some songs have multiple (different) banjo solos provided. At the beginning of the book, there are diagrams of a few unusual chords that show up in a couple of the songs.
The absolute best part of this book is the audio tracks! Unbelievable! These are professional recordings that are just great to play along with! These tracks are by far THE best I have encountered in any of the banjo books I have accumulated. These are not simple recordings of just the banjo – these tracks include banjo, bass, guitars, keyboards and percussion. All of the songs have multiple recordings on the CD – a complete recording ("Demo Track") and then a recording ("Play-Along Track") with the banjo part absent so you can play along to complete the ensemble.
If any of these songs interest you, I highly recommend this book and CD.
Suggested Retail (U.S.): $14.99 Purchase it at HalLeonard.com >
---
5 comments on "Review: Hal Leonard's "Banjo Play-Along Vol. 2 (Country)""

thebanjobert Says:
Wednesday, February 12, 2014 @3:56:58 PM
Hey, some of those are my all-time favorite Country tunes, Sheri! Sounds like I might need to get this book. Nice review. Thanks!

TNBanjoGirl Says:
Wednesday, February 12, 2014 @4:04:56 PM
Hey thanks Terry. These arrangements are very good. The first one I worked on was "You Are My Sunshine" because I already knew it but this arrangement just totally blew my old version away! :)
P.S. I sent you an email about the Kaufman Camp.

banjolefty5 Says:
Tuesday, April 8, 2014 @10:09:40 PM
A great play-along book. All songs sound very professional. Gentle on my Mind played in key of D (play in C capo 2) closely follows Glen Campbell's original recording...Love it...Also, Just Because will provide you a perfect alternate break for "Washington County"...Well worth purchasing as was the Bluegrass Play-along in volume 1....

roddevries Says:
Wednesday, April 9, 2014 @5:51:25 AM
The man who did all the work on these books is my old banjo teacher from the late 70s and early 80s. I still have all of his tabs from my beginner to advanced lessons. I have purchased many tab books over the years but I always return to my original tabs as reference. Throughout the process of this project I was fortunate to review and proofread some of his work before it went to print all the time thinking that people are going to appreciate how he made it so easy to learn from. I am extremely happy for Mike and proud to know him.


Melvoid Says:
Saturday, April 19, 2014 @7:37:03 AM
The same author also has a bluegrass book in this same Play-Along format, as well as a Christmas book (and the arrangements are pretty nice, you know, for banjo). There's a collection of more recent hits that's almost done, and then a beginner level bluegrass book is on the horizon. Just so's you know.
You must sign into your myHangout account before you can post comments.