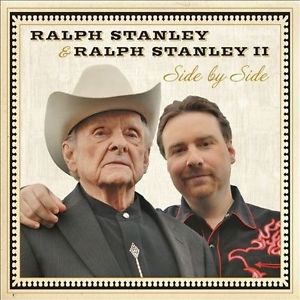 What can you say about Ralph Stanley that hasn't already been said many times. I could write several pages about him and his music. His voice is definitely unique and his banjo picking is one of the sounds that got me started picking banjo.
Trying to condense over 50 years of picking, singing and entertaining is difficult. He was born in '27 and his mother taught him to play banjo. He and his brother, Carter, started the Stanley Brothers in '46. They continued on until Carter died in '66. Ralph continued on and to date has recorded over 150 albums, received 6 Grammy nominations, been awarded an Honorary Doctorate of Music, and received other awards and honors too numerous to mention.
Ralph II continued in his father's footsteps somewhat, and with great trepidation. After all, it isn't easy being the son of someone famous. More is expected of you than others. His first album, Listen to My Hammer Ring, was well received as was his next album, Pretty Girls, City Lights. He is now well on his way in the recording world.
I remember seeing Ralph II beside his father when he was just a teenager, picking the guitar and singing. His singing and picking have matured since then and he has come into his own.
This album is the first one by father and son and the songs are the traditional bluegrass songs that I love. I was glad to note that the banjo picker was Steve Sparkman. I'm so glad that he's still picking banjo. His banjo picking is so much like that of Ralph and I enjoy it immensely. Listen to his breaks on the various songs. Wonderful.
The songs are:
1. "Wild Bill Jones", a good traditional bluegrass song with Ralph singing lead.
2. "Caroline Mountain Home", another traditional bluegrass song with Ralph II singing lead.
3. "Dirty Black Coal", written by Ralph Stanley, and the title tells everything, a miners song. Ralph II sings lead.
4. "Walking With You In My Dreams", sad love song. Ralph sings lead.
5. "Don't Step Over an Old Love", another love song. Ralph II sings lead.
6. "Battle Ax", an instrumental with Ralph playing clawhammer banjo.
7. "Are You Waiting Just For Me", a love song. Ralph II sings lead. Nice harmony between father and son on this one.
8. "White and Pink Flowers," sad song about losing mama. Ralph II sings lead.
9. "A Little At A Time", written by Ralph, and Ralph II sings this one about a love gone wrong.
10. "Darling Little Joe", written by A. P. Carter, a song about a little sick boy. Ralph II sings.
11. "Don't Weep For Me", a capella by Ralph, another sad song about love gone wrong.
12. "Six Months Ain't Long", Ralph II sings this one about being away from his loved one.
13. "Nobody Answered Me", song about missing and gone loved ones. Great harmony here with Ralph II doing lead and Ralph singing tenor.
14. "I've Still Got 99", Ralph sings about killing a loved one and getting 99 years.
---
2 comments on "Album Review: Ralph Stanley and Ralph Stanley II - Side By Side"

gdt Says:
Monday, February 10, 2014 @5:37:34 AM
thanks for that concise review..im buying acopy !thanks again god less ..gt

gdt Says:
Monday, February 10, 2014 @5:38:39 AM
its early i mistyped.. god bless..gt
You must sign into your myHangout account before you can post comments.