Posted by tjolson81 on Thursday, January 23, 2014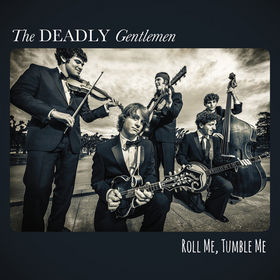 The latest album from The Deadly Gentlemen is an intelligent, intentional shift into the new territory. For those who are unfamiliar this is a band made up of five protégées who have decided to suspend their other projects and focus solely on TDG. Despite being the same collection of instruments as most traditional bluegrass bands the group describes their sound as "timelessly resonant music that's rooted in tradition, yet effortlessly contemporary and boundlessly entertaining."
While I respect the band's decision to venture a new direction, I'm still struggling to embrace the sound. This has happened to me before with other bands where it takes me a while to warm up. Sometimes the issue is that I need make a point to really listen to what is happening in the music or hear it on a good stereo so I can identify the individual member's contribution. When I finally sat down and listened to this end to end I was impressed, although I still have reservations.
Band leader and banjo player Greg Liszt is a man with very high expectations. I have loved everything he's done with Crooked Still and his unique technique has been noted by a lot of great musicians. In Roll Me, Tumble Me Greg has taken a big step to both develop and polish the sound of the band. The audio is superbly mixed and the musicians play perfectly. Sometimes it just doesn't work for me though. What I don't care for is the excessive harmony being used in the vocals. It's indicative of the band's complexity but leaves me desiring simple, clear sound. Speaking of vocals, some of the lyrics are a little poppy, rocky, and even hip-hoppy. This is bound to happen with a progressive band but I had a hard time adjusting to it. I also miss the passing of melody that typically occurs in bluegrass. Despite the incredible background of every musician on this album, there aren't a lot of solos and the ones that happen are often brief. I felt like everyone was holding back.
Despite my reluctance to recommend the album to everybody, I put The Deadly Gentlemen at the top of my list for bands to see live (because I suspect this album is even better in person). I encourage anyone looking to expand their music collection to have a listen to The Deadly Gentlemen and see if they strike your fancy. If not don't write them off, like all great music they are evolving.
Listen to the whole album free here >
---
Be the first to comment on "Review - The Deadly Gentlemen - Roll Me, Tumble Me"
You must sign into your myHangout account before you can post comments.