Posted by jbalch on Sunday, January 19, 2014
Below is one of the most naturally beautiful hides I've seen in a long time. I bartered it for some fantastic pottery from from this website:
http://www.allamakeewoodfiredpottery.com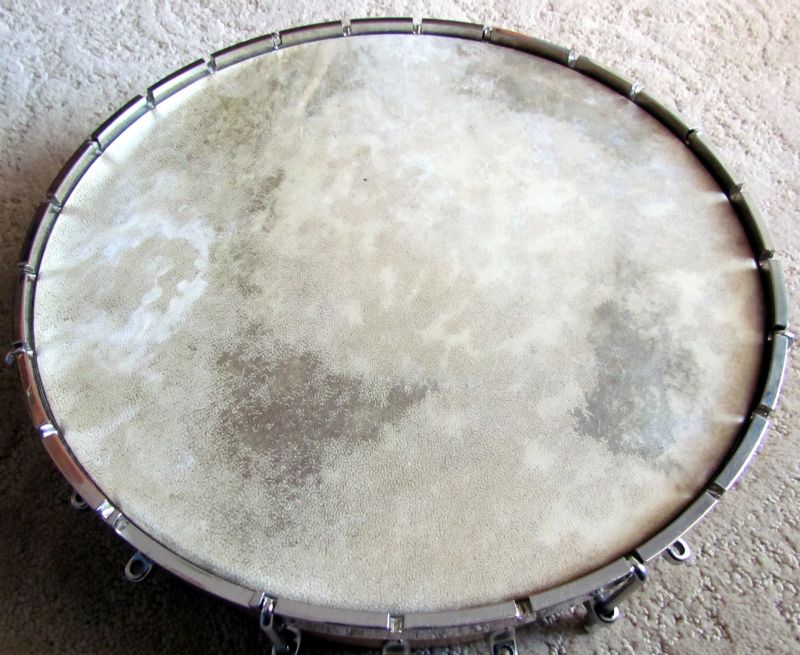 Mug by Nate and Hallie Evans of Allamakee Wood-Fired Pottery
---
9 comments on "Natural Beauty"

kona Says:
Sunday, January 19, 2014 @2:37:06 PM
very nice...looking forward to getting one of these on my Reiter IR. Which head style do you like for your IRs?

I'm currently living 50' from the ocean. Outside humidity fluctuates wildly. Been measuring inside for about a month now, ranges from 30-45% with the heat on. In summer, I think its considerably higher. Will these ranges require a lot of attention to head adjustment? I'll probably wait for one until I move to Minnesota next summer, although I'll expect similar fluctuations there.

jbalch Says:
Sunday, January 19, 2014 @2:45:29 PM
The humidity here in Tennessee ranges from near 100% in the summer to below 20% inside in the winter with the gas heat running. I don't mind the minor occasional adjustments that are necessary. It is just really no big deal (IMHO).

I use natural (unstained) 4-star goat hides on most of my banjos. I do have Stern Tanning Co head on one - it sounds awesome.

jbalch Says:
Sunday, January 19, 2014 @2:46:27 PM
BTW living 50 feet from the ocean sounds awesome...lots of folks here would be jealous.

kona Says:
Sunday, January 19, 2014 @3:08:41 PM
Thanks for the feedback. Dispels the myth I heard about consistent tension maintenance in variable humidity. One of your heads is definitely on my list. My finances are still reeling from an excellent but opportunistic banjo purchase. I'm sure you understand what that is like :)

Yes, Cape Cod is as dreamy as I'd always heard. WHOI is a great place to work and off-season rentals in Woods Hole Village are surprisingly affordable. I wish I could stay indefinitely but the Twin Cities will be great too. I'm a fortunate guy - in so many ways.

jbalch Says:
Sunday, January 19, 2014 @3:16:56 PM
I don't mean to say the no adjustments are required ... only that they are needed rather infrequently ( especially after the head seasons and matures a bit). Also, I decided a long time ago that the improvement is sound is well-worth any very minor inconvenience of the occasional tension tweak. I consider it no more if a hassle than tuning the banjo strings.

kona Says:
Sunday, January 19, 2014 @3:25:25 PM
That is great info for rookies like me. Maybe you've explicitly addressed the question somewhere on BHO, but I hadn't previously read it. Might be nice to include in your price / info list...

nevans Says:
Sunday, January 19, 2014 @6:24:40 PM
Hey John, That looks great! I'm super excited to get it! Nate
DEmery Says:
Tuesday, January 21, 2014 @5:54:18 PM
John is this a new cup you bartered on for a head? I need me one of those hand tossed cups. Nice. David E.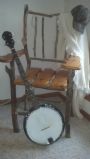 Big O Says:
Thursday, January 23, 2014 @8:49:59 AM
Good Mornin everyone needless to say I rather be south and anywhere but here in Wisconsin want some of our snow be glad to get rid of it and it only January lol. The Head looks awesome nice work maybe someday? The cup looks really inviting warm. Imagine with it in your hand sitting in front of a wood burning stove :)
You must sign into your myHangout account before you can post comments.