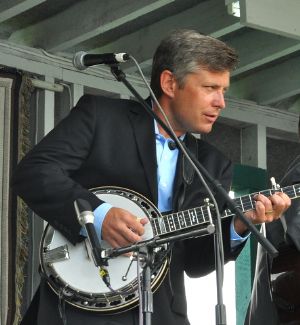 From Roy Clark to Entertainer of the Year…Again!
Eric Gibson Interview
For BHO by Michael York
I walked into the big hall just as lunch was about to start. Looking around for a seat toward the back of the room I saw an empty chair and looked across to ask if it was available. Sure, I was told and I sat down just across from Eric Gibson.
Eric and I talked after the luncheon that day in Raleigh. Just after he had won the Songwriter of the Year award, and just a few hours before winning back-to-back Entertainer of the Year awards and a couple more IBMAs for good measure.
I knew then I'd love to hear more of Eric's stories and how he came to be a part of the Gibson Brothers and the success and recognition that he and Brother Leigh are enjoying.
So when we agreed to do a short interview for Banjo Hangout I was really looking forward to talking again with Eric. For almost an hour he spoke about his youth, his family, his Dad, his heroes, music and banjo. Excitedly! Passionately! Anyone who could have been listening that night might find themselves taking up the banjo, or committing to becoming better at it.
Here's a few of the questions I asked Eric, and best I could capture, his commentary. I could have added many more exclamation points, but even that wouldn't do justice to his excitement and enthusiasm in talking about the times of his life…so far.
BHO: What Caused You to Want to Become a Banjo Player? (How Did You Get Here?)
I don't think banjo player first, I'm such a band guy. I think about the band and my role in the band.
I do love banjo though, I love it! My first recollection of the banjo is seeing Roy Clark on Hee Haw.
I didn't know what Scruggs style was back then, I just thought he was really good. I saw Grandpa Jones and his frailing style, but I think I was more drawn to Roy's playing.
Hee Haw was a big deal around our house. It was a family event watching that show. I loved it.
I actually wanted to play guitar. I would lay in the floor watching Roy play guitar, I was 8 years old. I asked my Dad if I could have a guitar and he got me one for Christmas. I didn't have a teacher, didn't even know how to tune it.
And nothing much happened. So in my head I was a failure at guitar.
A couple years went by and we came home from school one day and Dad said there's a guy giving lessons on stringed instruments. We got a banjo, we got a guitar, so one of you boys need to learn guitar and one learn banjo. Dad had got us an old Kay banjo. From Sears and Roebuck I think.
He said, there's this guy in town giving lessons on stringed instruments.
So in my mind I'm thinking, I already know I'm no good on the guitar, so I figured I'll give banjo a try.
So that's how that got started. Dad and Mom listened to a station that would play Bluegrass music on Saturday nights.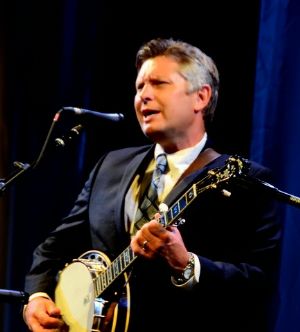 BHO: How Did You LEARN or BEGIN LEARNING to Play the Banjo?
My teacher Eric O'Hara was so patient with me. I got an Earl Scruggs book, and at first I couldn't understand why he was making me learn those rolls. I played saxophone in school, I knew about the spacing of the notes so I could pick out melodies like Grandfathers Clock or Red River Valley, but I'd get to my lessons and he'd say "You really need to learn how to do these rolls…Believe me, you're gonna' wanna' learn to do these rolls!"
He started me on Cripple Creek and then he gave me a cassette of Flatt and Scruggs at Carnegie Hall. And that was it! That's when it all clicked. Those melody notes, right in the middle of those rolls—I can remember in the sixth grade riding on the roller coaster singing, I Wonder Where You Are Tonight.
I was listening to all different kinds of banjo players.
This guy, Bob Fuller had a huge record collection and he recorded a bunch of them on cassette, all first generation Bluegrass. He showed up at our farm and gave us a bag of cassettes (this was early 80s), he told us to learn these 'before New Grass ruins you.' We'd been playing a little, then our name started getting out and we were playing on both sides of the border.
I get so excited about that time in my life.
I remember this record that had a sticker on it that said 'FEATURING THE 5 STRING BANJO' like it was some new discovery.
BHO: What Styles of Banjo (Players) Were You Attracted To?
Bill Emerson, Alan Shelton, Don Reno, J.D. and Earl and so many others.
I tried a bit of melodic at that time, but my dad hated it. He was straight Scruggs.
I even went to a Bill Keith clinic in the mid80s.
I loved it for fiddle tunes, but I didn't get very far with the melodic style. In my teens I really got into the banjo. If it said in Earl's book, play it a hundred times then I would play it a hundred times.
I really bought in!
On that Carnegie Hall record, I just remember listening to it over and over. And really I don't know what excited me more, hearing Earl playing those breaks, the sound of Earl's banjo, or hearing the applause after he played it. I put on that album just the other day and I got the same chills just listening to it.
Hearing him play Flint Hill Special and the crowd went nuts and then he steps up and plays it another time through. The excitement that he generated with that banjo was amazing.
Getting into the banjo at that time has influenced, really dictated what I've done with my life.
You don't know that when you're 12 years old, that this banjo is going to take you all over the world.
I'd never been off the farm, I'd never gone anywhere.
Growing up on a dairy farm, we only left to go to school or church or to play baseball.
A few times to Vermont and Canada, and now we've played over 40 states and several countries, all because of the banjo. We've been treated great wherever we've been. And it's so great to meet your heroes and find out they're nice guys too.
I love Tony Trischka. I'm a huge JD fan, Noam Pickelny, so many great people to draw from…it's an exciting time for banjo!
(Eric and I talked about a modern-day "Roy Clark" moment that many people might have experienced when Steve Martin became known as a "serious" banjo player. Not just as a part of his comedy, but his comedy becoming part of his music.)
There are gonna' be kids 30 years from now who say 'I got into banjo because I heard Steve Martin.'
I really believe that. Just like what happened to me with Roy Clark.
BHO: Can You Talk a Bit About Your Banjo?
In 2010 I think, I'd been at Augusta Bluegrass heritage week. Tony Trishka and Terry Baucom were there and they were both playing Deerings. So, I started thinking, maybe I need one of those.
I love mahogany, I have a TB3 conversion from the 30's, but when I started talking with Janet (Deering) about the time we started to win a couple awards, I was trying to convince her that we were on the way up, you know sometimes you gotta' sell yourself. She agreed to send me a banjo.
And the first banjo she sent me I loved it. I played it and loved it.
That Deering Tenbrooks banjo is on our latest recordings and it sounds amazing. Rings like a bell all the way up the neck and has a big fat fourth string sound that I love in a banjo. I like that fourth string to growl. I love it!
But now that banjo is going into the Country Music Hall of Fame for a Bluegrass exhibit they're doing. They asked for one of Leigh's guitars and one of my banjos. So now I have another Tenbrooks that sounds just as good, but that first one is going (to Nashville) on display with one of our Entertainer of the Year Awards. Pretty exciting…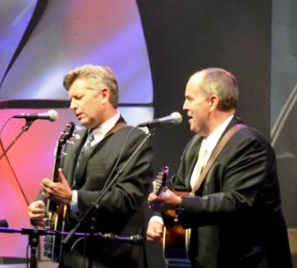 BHO: You and Leigh Were Just Asked to be a Part of Country Family Reunion: Simply Bluegrass, How Was That?
It was unbelievable. Leigh and I were so thrilled to have been asked in the first place.
Skaggs is such a big deal to us, always has been. He's the man. If you had asked me back in 1981 'who would you like to meet?' I'd say Ricky Skaggs. Fast forward to 2013, and I've known Ricky for awhile, but it's still a huge thrill to have the phone ring, I answer it and he says 'Hi it's Ricky.'
He's such a hero of ours.
That whole room was full of heroes of ours. Del McCoury, Jesse McReynolds, Mac Wiseman, Sam Bush and Jerry Douglas. They had us all in rocking chairs and I'm looking around at all these rocking chairs and I was intimidated!
These are the guys I was listening to on those cassettes all those years ago.
When Mac Wiseman sang I'll Be All Smiles Tonight, I cried like a baby.
I just thought of my Dad, he loved Mac. One of the first bluegrass records we had, a picture of Lester Flatt and Mac, and all those memories rushed through me. I think people are gonna' love those DVDs, beautiful moments and beautiful stories, great performances…it was incredible.
To sit there with my brother, and that's another thing—I get to do this with my brother!
It's been a great ride and I hope there are a lot of miles ahead. I just felt like we were a part of something historic there. We get along, you hear stories about brother groups, but I wouldn't want to do this without him. We get along great.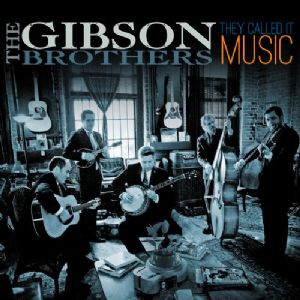 BHO: What Did it Mean to You to Win the IBMA SONGWRITER OF THE YEAR Award?
I was very proud of that. I said that day I'm not even sure I'm the best songwriter in the band.
I've done more of it lately, but when Leigh gets on a roll…man. Sometimes he'll write one or two songs in a year and they're the two best songs we have. He's such a perfectionist. I don't know how many songs he's written that he hasn't shown me.
I found a piece of paper onstage in his guitar case one day, a song he'd written. He didn't like it, wasn't even going to show it to me. Finally he sings it, I loved it--It was Help My Brother, the title song to our album. It was number one for I don't know how many months, won album of the year, and he wasn't even going to show me that song.
I love writing. I have such a passion for it. It's, I think, an act of bravery to even show someone one of your songs. I'm not as intimidated as I used to be, but they can't all be great. I keep trying to hone my craft and I think I'm getting better at that.
BHO: What Advice Would You Give on PLAYING (BECOMING BETTER at Playing) Banjo?
What's worked for me is just LISTEN!
For me, I like to hunt a bit and I love baseball, but my hobby is music.
If you want to be a good banjo player, listen, soak it up. That's the key.
I love listening to Telecaster (guitar) players. I find that working its way into my banjo playing.
I would say really immerse yourself in the music.
Become a good student. Don't just listen to the hot new players today, listen to those early guys and hear what they were doing too.
Number one songs and albums and magazine covers and awards are as much a part of the Gibson Brothers today as their crisp musicianship and perfectly-blended harmonies. But talking with this BHO member of the brother band is like hanging out with a friend. That is if that friend is the most excited person you know about getting the most out of life and his music and being thankful to all that have played a part in helping him arrive at this place in time.
Travel easy Eric.
We'll be listening.
Michael York
BHO member
---
10 comments on "Another Gibson Banjo Story (From Eric)"

bulldogging Says:
Saturday, January 18, 2014 @2:12:02 AM
Good interview.

pickn5 Says:
Saturday, January 18, 2014 @5:21:34 AM
Great interview. He is an inspiration.

wbalsam1 Says:
Monday, January 20, 2014 @11:28:30 AM
I know Eric and that's the way he is. He's a natural country boy. He lives on a farm just north of my hometown. I'm so proud of them both!

Bill Stokes Says:
Monday, January 20, 2014 @12:58:09 PM
I've known Eric and Leigh since the early years of their band. Anyone who has had them as friends knows that they are the poster boys for talent, inspiration, captivating story-telling, just plain friendliness, loyalty........all the things you'd want in the guy that marries your daughter.

claudiacc Says:
Monday, January 20, 2014 @3:41:25 PM
Erik and Leigh are so genuine....when they come here, they holler at you as if they had just seen you last week.....makes you feel special! When they play for you, your feel special. Erik let me play the Tenbrooks......( I still love my Vinny better HAHA ) Can't wait for their return....already got tickets!

ronbrown1947 Says:
Monday, January 20, 2014 @5:14:46 PM
My first experience with the Gibson Brothers was at the Midwinter Bluegrass Festival in Denver last year. What impressed me before they opened their mouths or started picking is they cared what they looked like and it just got better from there. For the next four hundred miles, all I could do was hum Ring The Bell until I got home, copied down the words and started playing it myself. Quite a pair of genuine people.

Tom Berghan Says:
Monday, January 20, 2014 @5:28:37 PM
Great interview. I loved this part:

"This guy, Bob Fuller had a huge record collection and he recorded a bunch of them on cassette, all first generation Bluegrass. He showed up at our farm and gave us a bag of cassettes (this was early 80s), he told us to learn these 'before New Grass ruins you.' "

janineadam Says:
Tuesday, January 21, 2014 @8:10:15 AM
The Gibson Brothers are my personal favorite. We love seeing the band perform at Gettysburg Bluegrass Festivals and have enjoyed them at Winter Village Bluegrass Festival in Ithaca NY. I love the informal workshops the Gibson Brothers have given where the stories are captivating....just being themselves. It was the Gibson Brothers who hooked me on bluegrass. Great interview.

buckholler Says:
Tuesday, January 21, 2014 @11:45:33 AM
Eric's been a big influence in my music career. If anyone has picked up on some of the threads about the Gibson Brothers I'm a huge fan. I grew up in Eric's hometown, my sister was in his class. I grew up on a dairy farm only a few miles from Eric's family farm. He has directly molded some of my playing by some personal experiences that will stay with me for life. I own him a personal thank you, which I've told him more than once. This was a great interview, it truly shows how good hard work will pay off. I guess that's what growing up on a farm will teach you. Great interview on a great man. Thanks

Jimmy Mac Says:
Sunday, January 26, 2014 @7:38:46 AM
Great interview. Really like the Gibson brothers music. finally got to see them live at Delaware Valley Festival in New Jersey last summer. As a struggling (new) banjo player Eric's comment about more practice is key for me.
You must sign into your myHangout account before you can post comments.