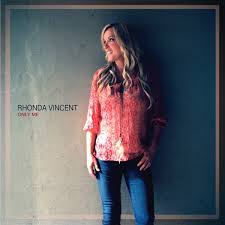 Releasing 1/28/14, this is a 2 CD set with the first CD being bluegrass and the second being traditional country songs. Each CD has only 6 songs but they pack a lot of music into six songs.
People have asked whether Rhonda's singing is bluegrass or country and this project answers that question: she can do both and very well!
The first CD starts out with a fantastic bluegrass song and is followed with 5 love ballads, some happy some sad.
Busy City starts this CD and starts it fast and lively. The banjo break gets your attention immediately, and the breaks by guitar, fiddle and dobro are noteworthy. Rhonda's singing is superb. I could listen to this song for hours.
The love ballads run the gamut from sad and lonesome to happy and elated. I had heard "I'd Rather Hear I Don't Love You" before and it's slow, sad love ballad. "Only Me" is an up beat love song with Willie Nelson as a guest singer. It has an excellent banjo backup to Rhonda's singing. "I Need Somebody Bad Tonight" tells a sad tale of love gone wrong. "We Must Have Been Out Of Our Minds" is a medium tempo love ballad that has Daryle Singletary as a guest singer. "It's Never Too Late" is the gospel number in the CD and is about a prisoner who wants to go to heaven. It quickly became a favorite of mine.
The second CD is comprised mostly of traditional country songs. The first song was written by Rhonda Vincent and is entitled "Teardrops Over You". It's a sad love song. The rest of the songs are good old country songs that we've all heard: "Once A Day", "Beneath Still Waters", Bright Lights and Country Music", "When The Grass Grows Over Me" and "Drivin' Nails" and are all excellent country music songs and when Rhonda sings them, you just want to listen. "Drivin' Nails" is the one I like the most, although all are good.
The only thing I'd change in the entire album would be to add more upbeat, fast and breakdown speed bluegrass songs rather than so many love songs.
---
Be the first to comment on "Album Review - Rhonda Vincent - Only Me"
You must sign into your myHangout account before you can post comments.