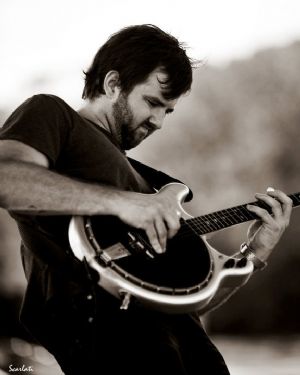 If you play banjo, in the three-finger style, you know who Ryan Cavanaugh is, or you'd better. Having developed a wickedly efficient single string style he's shown 5-string players new worlds long thought inaccessible to the instrument—if dreamt of at all.
Where others may have successfully fit the banjo into straight-ahead jazz settings, Cavanaugh has taken it a few steps further, making serious statements in modern jazz and fusion. He has a profound knowledge of the genre and its many forks and twists over the last 60-odd years. With it, he's worked a regular gig with tenor sax man Bill Evans, of Miles Davis fame, and his band Soulgrass. Cavanaugh has also put out his own jazz album with his band No Man's Land. And those interested in hearing his inventiveness with more traditional instrumentation should definitely check out his Songs for the New Frontier, an album filled with quirky, riffy compositions that ought to be prog-grass classics. What's not found in the recordings can be heard live: exploratory, perfectly executed runs that wow whoever hears them. Cavanaugh's playing manages the seemingly impossible: simultaneous taste and pyrotechnics.
With those kinds of chops it may come as a surprise to learn that Cavanaugh's latest single, which can be found on iTunes, is the well-worn Reuben, recast as Reuben's Cube. As soon as you hit play the difference between Cavanaugh's version and that of Earl Scruggs will wallop your eardrums. Bitches Brew drumming electrifies the track, and the blare and skirmish of the sidemen turn it into an outright assault. Hit play again and you'll notice something else entirely—the similarities between Cavanaugh's version and that of Earl Scruggs. Most of the banjo part is stuff Scruggs might have played himself, with nary a single-string lick in sight.
I had the good luck to sit down with Cavanaugh one afternoon and find just what he was up to with this first of four singles he plans to release over the next few months.
Ukeridge: So, what makes a banjo player accustomed to sailing roiling uncharted seas turn to banjo homeport with Reuben?
Ryan Cavanaugh: Lately I've been focusing on tunes that mean something to me, tunes I've been playing since I was 10-years-old. I was driving John McLaughlin to a rehearsal in North Carolina. I was 27. He was going through the CDs in my car and he's like "How about this CD, how about that CD?" I said "No, that's bluegrass, don't listen to that." I was trying to impress this fusion master of modern music.
He said, "What's this you seem to have against bluegrass?" I told him that I'd been playing it so long that I was bored, that I wanted to jump into a new genre. I'd been going to a lot of these traditional bluegrass jams and trying to play the sound in my head over it and was getting a lot of flack for it.
McLaughlin's like, "Maybe you need to go back to bluegrass, and think about it really hard and ask yourself what made you enjoy playing it in the first place."
I started thinking about the nostalgia I felt as a young kid hearing Flatt and Scruggs, how exciting that music was—it had a sense of urgency. He said "Well you need to go back and listen to it. We all have roots. All us guitar players have roots, roots in blues. You guys that come from bluegrass have roots in that and it's as old as the blues."
U: How did you zero in on Reuben?
RC: It was one of the last in the line of tunes I'd re-examined really closely. I like it because it sounds African. It's got American blues in it, sounds delta bluesy. I decided to take this journey with it.
It also sounded Indian—the key center doesn't change. The chords around the key center may change but it has this droning going on. It has a tribal feeling, pentatonic scales that relate to every culture's indigenous music. That song speaks to some primal part of our music listening subconscious.
I didn't think super deep on it, but that's why I liked it and decided to put it out first. It was the last thing on my mind at the recording session.
U: How did you convince these fusion giants to play a two-chord bluegrass tune?
RC: We had an hour left in this session and we were out of scores. The drummer goes 'Hey man, why don't we burn down a bluegrass classic? Why don't we just burn one down?" Everyone concurred, but thought we should change it. I can play Reuben without re-tuning, so I added a bridge between solos, added some scale chord things, and modulated to the four chord.
When I got the suggestion from these monster jazz guys I was playing with I thought maybe I should leave the fusion up to them. But the drummer started playing a Johnny Cash beat behind it. I said "No. Here's the catch: the bass isn't going to play the boom boom alternating baseline and the drummer can't play the train beat. You have to interpret this song as the rock fusion jazz musicians you are."
U: And yet you yourself didn't interpret it as the rock fusion jazz musician you are.
RC: I took it as a challenge: I'm going to play straight bluegrass banjo over this. I search for integrity and I didn't want that technique or heavy fireworks to take over. It was really tempting to play single-string and put on the fusion banjo player hat. The people that are looking for that will be indulged in the next few tracks for sure.
I'm trying to play like a modern day Earl Scruggs. What if Earl was 25 today?
I'm always using forward rolls and forward-reverse rolls—right out of the Scruggs book. The rhythm moves a bit on my part. It reminds me of how Earl Scruggs would speed up and slow down to the metronome that is the band. The track could be at the end of the Scruggs book and you'd be like "Oh yeah." You'd know everything there. That's the joke.
U: Of course, the Reuben in the Scruggs book is in D tuning. You played it out of standard tuning. Did that require some exotic fingering?
RC: I just played it in standard tuning because I liked it. It was surprisingly easy—if you practice playing in the key of D a lot. I do the hammer-on and the slide and the pull-off, the flat five to the four pull-off that gives Ruben that bluesy vibe. I also wrote parts to make it interesting and new, some simple parts.
U: You may have created the tune most likely to offend purists. Jazz purists will get turned off by the sound of the banjo and bluegrass purists are likely to get turned off by the sound of everything but the banjo. Drums in bluegrass, of course, having their own pedigreed history of controversy.
RC: I think art is controversial. There wouldn't be art without controversy. I think the music should move forward, I just want the music to grow and I want to seed it with this. But I'm really just experimenting, that's all it is really. If it's not fun, I'm not doing it.
Addendum: It's worth noting that Cavanaugh has now released the second tune in this series of singles, Back Country, available here.
---
7 comments on "Ryan's Reuben's Ruminations: Ryan Cavanaugh talks about his latest single."


alan munde Says:
Monday, February 17, 2014 @10:49:08 AM
Excellent. Reuben is one of my favorites.

geraldh Says:
Monday, February 17, 2014 @11:46:17 AM
Awesome interview of one of my favorite musicians, banjo player or otherwise.

JAFO Says:
Monday, February 17, 2014 @4:04:35 PM
Super interview, sorry you didn't catch Ryan at Grey Fox this past year, but you get another shot. I assume you guys hooked up for some face time? He's not that far from you. I had a great visit with him 10 days ago, glad you got this in print. Nice work. It;s good to see Ryan getting his name heard a bit more. A killer player that has a lot to share.
Tom

Bob Miller 3000 Says:
Monday, February 17, 2014 @5:59:07 PM
Ryan cavanaugh is Freaking great..

ranzamaceanruig Says:
Tuesday, February 18, 2014 @10:12:29 AM
This is crazy...how is it that I've never heard of this guy until now? I'm sure it has nothing to do with the rock that I've been living under...no, can't be that.

Zephinie Says:
Wednesday, February 19, 2014 @5:55:35 PM
Loving Reuben's Cube to PIECES. It is AWESOME. I hope I get the chance to meet Cavanaugh in person sometime.
You must sign into your myHangout account before you can post comments.