Posted by tjolson81 on Thursday, January 9, 2014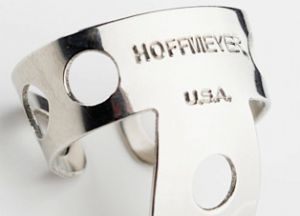 When you first open a pair of Hoffmeyer picks one thing is obvious: They were made by someone who cares about banjo picks. The workmanship is top notch and the edges and finish indicate the maker was a craftsman. These aren't coming out of some factory, that's for sure.
I have been wearing another set of quality picks for the past year, the set endorsed by Sammy Shelor. I'll start by saying it took me weeks to get used to the Shelor picks because to me they are fairly soft metal with very deep-dished, spherical blades. By comparison the Hoffmeyer Customs couldn't be more different. The Hoffmeyer picks are harder nickel silver alloy and have a fairly shallow dish.
The Hoffmeyer picks were the first picks in a while I couldn't get adjusted correctly by hand and I finally had to get a small pair of pliers to get them to fit just right. Once I did they just disappeared and felt like the perfect extension of my fingers. The nice thing about playing with a sturdy metal is it doesn't change shape on you no matter how hard you play and eventually your brain just forgets there are picks there.
I found Dean Hoffmeyer's picks to be very clear and perfect for hard driven playing. My 4th string is as deep as I can remember hearing it. The highs sound great too with nice separation and a good balance of sustain and decay. I suspect it is due to the well shaped edges on these picks that they grab the strings so well, especially the wound strings. I'm finding myself pulling the strings harder than I do with any other pick just to get that great (and loud!) tone.
Dean makes these picks in a Standard and Custom shape. The standard is intended to match the original old Nationals, and the Custom with a larger band utilizing smaller holes. The Custom is intended to create a little more stability but really it comes down to your hand size, playing style, and what feels right. I am a pretty traditional bluegrass player and have average hands and fingers. I wear a large in most picks and gloves. I found the Custom picks to be a perfect fit, especially coming from a wide band on my Shelors.
There are a lot of vintage-inspired picks on the market these days. For $25 you need to make sure Dean Hoffmeyer's picks are on your short list. You won't be sorry. They'll be my go-to pick until someone gives me a good reason to try something else (or I get told to turn it down). Thanks to Dean for taking the time to research those old picks and ensuring this product is so well made.
Keep on pickin'
​-Todd
---
10 comments on "Review: Hoffmeyer Picks"

gospelman97 Says:
Monday, January 13, 2014 @8:25:30 AM
Good review Todd. I'm curious about your comment about your 4th string being as deep as you can remember. Are you attributing that to the fingerpicks? I would think that it would be your thumb that hits the 4th string. Did you get a new thumbpick too? Thanks!

tjolson81 Says:
Monday, January 13, 2014 @9:41:26 AM
Nope, same bluechip as always. I play all the way down to the 4th sometimes, especially with single string triplets. Gotta stretch those fingers!

gospelman97 Says:
Monday, January 13, 2014 @9:45:35 AM
Got it. About the only time I play the 4th string with my index is a couple of JD Crowe licks. These picks have been on my short list for a while. Hopefully, I can get a pair in the near future.

arkred Says:
Monday, January 13, 2014 @2:55:20 PM
$25 for a set of fingerpicks? That's almost as bad as $40 for the bluechip picks. How did Monroe, Flatt and Scruggs, Wiseman, Watson, J.D. , Martin, Fairchild, Keith, and all the bluegrass legends ever get by in the early days without these "holy grails"? When I saw some custom(?) fingerpicks at IBMA a few years ago for $45, I knew then the "hype" was on. Yes, the times they are a-changin'.

Dillardsound Says:
Monday, January 13, 2014 @4:40:50 PM
Try a pair and you"ll know why they are worth the money.

DHoffmeyer Says:
Monday, January 13, 2014 @8:18:26 PM
Todd- thanks for the nice comments. The nickel-silver I use is the best I can find, and every pick gets inspected and shaped completely by hand, by me. It takes my son and I about 12 days to turn blanks into a small batch of picks.

banjo ron Says:
Tuesday, January 14, 2014 @3:34:33 PM
Dean's Picks are the real deal. They are by far the most comfortable picks I have ever worn! And they come shaped, polished and ready to roll. I got the custom set, and noticed better tone immediately because they fit my fingers differently & better than the NP2s I had been using. I just bought a spare set.

orioletb1 Says:
Saturday, March 28, 2015 @6:52:21 PM
Anyone who talks about fingerpick "hype" has never had real nationals on their finger (Oh and I play blue chips flat picks too). I've played old nationals for over 10 years and I never thought I would find anything that compares. It's far more than the alloy, the shaping is perfect with the Hoffmeyers.

I'm convinced these are the best new picks on the market and one of the best picks ever made.

I'm gonna stick back my nationals and play these. They are just as good!
JHBanjo Says:
Sunday, March 29, 2015 @2:07:59 PM
arkred, check out this inflation calculator bls.gov/data/inflation_calculator.htm . Those $45 picks would have been about $3.75 when Earl was buying them in 1946!

I'll have to get some of these. I've been using old nationals since I started playing, and these are the best replicas I've ever seen.

jgapril Says:
Tuesday, March 19, 2019 @2:16:50 PM
just got a pair and the difference is extremely apparent
You must sign into your myHangout account before you can post comments.